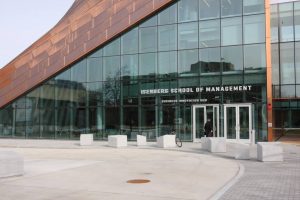 University of Massachusetts (UMass) Amherst's Isenberg School of Management has added 6503-m2 (70,000-sf) of hyper-collaborative study and social space with the creation of the Business Innovation Hub at the heart of the campus.
Designed by the Bjarke Ingels Group (BIG) and executive architect Goody Clancy, the $62-million project features classrooms designed to accommodate distance learning and connections with business leaders, labs, and student-facing spaces, including an expanded career center, advising spaces, and learning commons, as well as the addition of faculty offices to the school's extensive facilities.
The new, copper-clad annex accompanies the renovation of select spaces in both the original 1964 Isenberg building and the 2002 addition named for Harold Alfond. Together, the new and renovated facilities will combine to create a single unified facility. This flexible space, designed to accommodate future growth, will also house entrepreneur-in-residence programs and experiential learning spaces for students.
"The new Business Innovation Hub at the Isenberg School of Management is conceived as an extension of both the building and the campus mall. The linear structure is bent to form a full loop framing an internal courtyard for the life of the students," said Bjarke Ingels, founding partner of BIG. "The façade is pulled away in a domino effect to create a generous invitation from the Haigis Mall to the learning commons. The mall and the courtyard—inside and outside—form a forum for the students, faculty and the profession to meet, mingle, and mix society and academia."
The new expansion and partial renovation of the Isenberg School nearly doubles the school's current size to address Isenberg's growth in the last decade, while introducing new facilities for faculty, staff, and 5000 students in undergraduate, master's, and PhD programs.