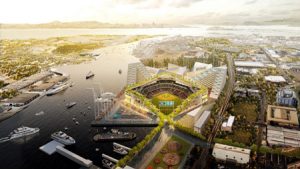 Danish architect firm Bjarke Ingels Group (BIG) continues to meet with public officials, fans, and community members to gather more input and refine designs for the 34,000-seat Oakland Athletics ballpark stadium in California. One key update to the design is a more circular shape.
This geometry offers the following four key benefits over the initial concepts:
better ability to capture fan energy inside the ballpark for a more exciting and intimate experience;
a continuous rooftop park for use by fans and the community;
better views of the water and Oakland from inside the ballpark; and
a more seamless, efficient, and fluid access to the ballpark from the surrounding neighborhood.
The Oakland A's new arena, located on the Howard Terminal waterfront, would form part of a new development including high-rise towers, offices, and retail space. The project also involves the transformation of the team's current stadium, located nearly 7 km (6 mi) southeast of the new site, into a tech and housing hub.