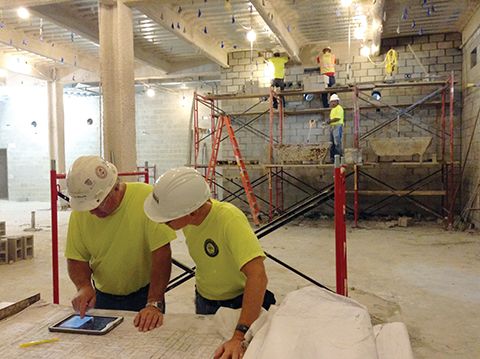 By Dave Sovinski and Scott Conwell, FAIA, ALA, CSI, CDT, LEED AP
Building information modeling (BIM) is changing the way construction projects are both designed and delivered, offering challenge and opportunity for stakeholders. This interoperability opens up new worlds for alternative project delivery and provides the ability to support masonry design earlier in the project than ever before.
With design-build and various types of integrated project delivery (IPD) systems entering the marketplace in greater numbers, the unit-masonry industry is already looking ahead with its BIM for Masonry (BIM-M) initiative.1 In 2012, a coalition of associations, companies, and individuals met at Georgia Institute of Technology to work out the initial "Roadmap for BIM-M." Professors Chuck Eastman and Russell Gentry provided support, and the group appointed David Biggs, PE, SE, as the project manager.
Primary funding for the BIM-M initiative and project leadership is from the International Union of Bricklayers and Allied Craftworkers (BAC), International Masonry Institute (IMI), Mason Contractors Association of America (MCAA), and the National Concrete Masonry Association (NCMA). Additional support comes from the Western States Clay Products Association (WSCPA), The Masonry Society (TMS), Brick Industry Association (BIA), and various regional and local groups. A partnership with the Charles Pankow Foundation supports the BIM-M efforts.
What does BIM mean for design/construction professionals?
The initiative's first project—to provide a unit masonry data base for developers of BIM software—is well underway. Brick, concrete masonry unit (CMU), and cast-stone manufacturers are sharing data on unit shapes, sizes, textures/finishes, and material properties, including weight, thermal properties, and sustainability-related data such as location of manufacture and recycled content. This way, designers can easily find the exact units for a specific project need. Data also assists with design priorities in modular construction, allowing designers to minimize masonry cuts and partial units—this keeps cost to a minimum and aesthetic to a maximum.
The wall systems project brings information to the building enclosure design. Standard (or 'base') assemblies are provided with multiple options for modification depending on individual needs. This gives design flexibility with information about:
backup systems;
air, vapor, and moisture control layers;
flashings;
anchors;
ties and accessories; and
exterior veneer.
A wall can be single-wythe masonry or a full cavity wall with options to modify system performance based on climate, energy needs, aesthetics, local practices, or design preference.
BIM-M will provide a level of development (LOD)
of 350 for design, and 400 for construction purposes. (An LOD at 350 is generally enough information for construction documents, while a level of 400 gives more detail similar in scope to a shop drawing.) Figure 1 provides examples of a masonry cavity wall at various levels of detail that have been incorporated into the 2014 LOD Specification by the BIMForum.2