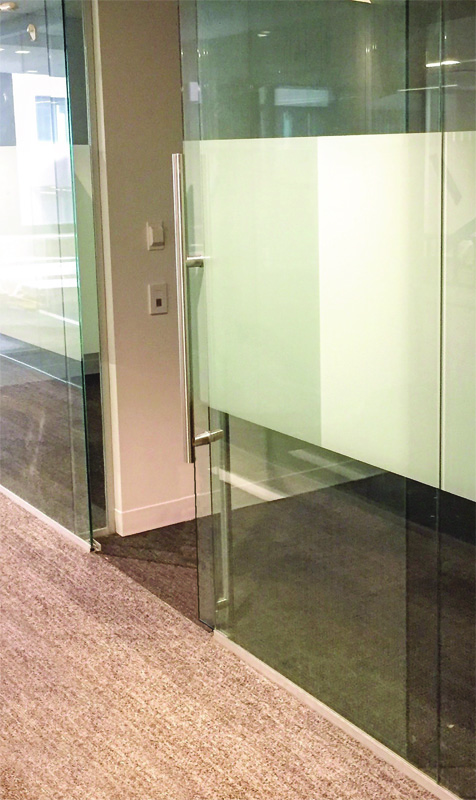 by Michelle Witherby and Paul Witherby
Glass doors and walls in commercial spaces have transformed how people work, play, shop, and socialize. Glass provides a clean, crisp, contemporary look that can allow for natural daylight to flow from one interior space to the next. Study after study, including some by the National Renewable Energy Laboratory (NREL) (for more, see "A Literature Review of the Effects of Natural Light on Building Occupants," by L. Edwards and P. Torcellini from the National Renewable Energy Laboratory [NREL]) and the U.S. Green Building Council (USGBC) (USGBC's October 2014 study, "Applying Research to Boost Productivity in Your Office" by Robert Best), show how natural light can improve cognitive function, mood, and productivity. Glass brings many benefits, but designers need to carefully consider how to make spaces accessible and keep a watchful eye on requirements set forth by the Americans with Disabilities Act (ADA) of 1992.
According to adata.org, "People with disabilities are the largest and fastest-growing minority in the U.S. They control $1 trillion in total annual income. They have friends, family members, and business colleagues who accompany them to events and outings. And they use businesses and facilities that are accessible to them."
Everyone deserves ease of access to government and commercial buildings. That is why related specifications and laws are now incorporated into building codes at federal, state, and local levels.
ADA is a U.S. labor law. Similar to the Civil Rights Act of 1964, which made discrimination based on race, religion, sex, and national origin illegal, ADA prohibits discrimination based on disability. It also goes a step further, requiring employees with disabilities are provided accessibility and reasonable accommodations. Applying to federal, state, and local government agencies, as well as private businesses open to the public, the laws went into effect in 1992. Any building built before this date may need upgrades to be compliant. All buildings constructed or renovated after 1992 must comply.
Interior door and hardware compliance
Federal ADA compliance codes and requirements are a standard for architects and designers to follow during construction or renovation. To help design professionals follow the law, there are multiple resources for reference. Some issues specific to the 2010 ADA are also addressed by International Code Council (ICC) A117.1, Accessible and Usable Buildings and Facilities. This standard is referenced by the International Building Code (IBC), International Fire Code (IFC), and National Fire Protection Association (NFPA) 101, Life Safety Code, for doors on an accessible route. (Read The Construction Specifier article, "Understanding New Accessibility Requirements for Doors" by Lori Greene, AHC/CDC, CCPR, FDAI.)
Briefly, here are the most common ADA compliance guidelines to follow.
Door clearance width
Whether a door opens and closes by swinging, sliding, or folding, it must allow a minimum 810 mm (32 in.) of clear width for accessibility. This distance is measured from the face of the door to the opposite doorstop. In addition, the lower 250 mm (10 in.) of the full width of the door must be free of any projections that would impede the use of wheelchairs and other mobility devices. Any spaces due to kick plates must be capped.