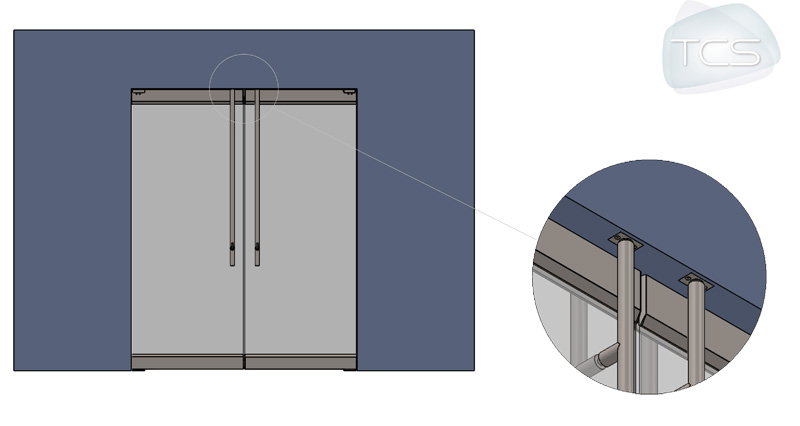 Ladder pull with lever turn
The ladder pull with lever-turn actuator replaces the standard thumb-turn, rotates 180 degrees without a push-button actuator, and must adhere to ADA's operational guidelines. The lever pull handle must be designed and installed no more than 1220 mm (48 in.) above the finished floor (AFF). The margin of height is 965 mm (38 in.) minimum to 1220 mm maximum AFF, or 915 to 1170 mm (36 to 46 in.) AFF in California.
Staggered pull
As the most recent addition to ADA-compliant door hardware, the staggered pull offers a floor-locking option instead of top-locking while meeting accessibility regulations. It requires a compliance of 250-mm (10-in.) clearance AFF on the corridor side while allowing a full-length pull on the office side. The staggered pull design is available in both locking and non-locking ladder styles.
Top-locking pull
The top- or ceiling-locking ladder pull is the most frequently used door handle. Architects and designers make this selection based on ease of use and aesthetics, since this style can be designed in a variety of shapes and finishes. The ladder pull needs to be installed a clear distance of 65 mm (2 ½ in.) from the glass surface to the inside of the pull surface to allow for ease of hand movement. A bottom- or floor-locking ladder pull can also be used, as long as it provides a 250-mm clearance from the bottom of the door.
Other considerations for ADA-compliant pulls include rules for sliding door design, which require no more than 22 N (5 lb) of force to operate and have exceptions for spaces smaller than 30 m2 (300 sf).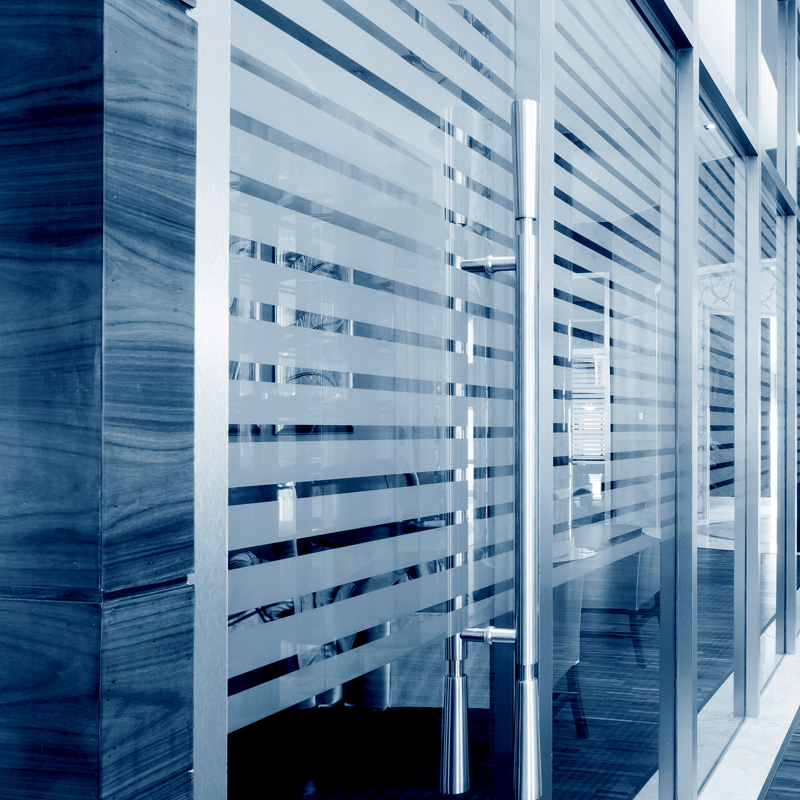 When codes collide
In addition to federal law, accessibility building codes can vary at state and local levels, leaving builders to consider—or, more accurately, 'muddle through'—the different or additional accessibility requirements. Subject to individual interpretation, such gray areas can result in unfortunate, costly mistakes.
California, for example, is a state with its own unique set of regulations. In this state, top-locking, lever-actuated ladder pulls comprise the only approved design solution for ADA conditions. Additionally, the range of dimension of the center of the locking post AFF is 915 to 1170 mm (36 to 46 in.) specifically, whereas in all other states, this is 965 to 1220 mm (38 to 48 in.). Currently, no other states seem to be following its lead.
Enforcing compliance codes
Generally speaking, it has been a challenge for various industries to get a clear understanding of ADA accessibility requirements. As with most regulations, enforcement is up to interpretation as well as ongoing changes to the act by region. When designing pull handles, it is important to consider both national and state requirements.
Responsibility for compliance falls on many shoulders, and is therefore often a gray area. Assumptions may be made that the manufacturer considers ADA when designing, or that the architect or designer has a strong grasp of its requirements. When it comes down to final approval, doors and their hardware are inspected by local building officials and construction inspectors who are well-versed in federal and local building codes. They can inspect buildings at any time during the final installation and determine whether the building receives a certificate of occupancy (CO). Of course, their individual interpretation can either accept or decline installed hardware.