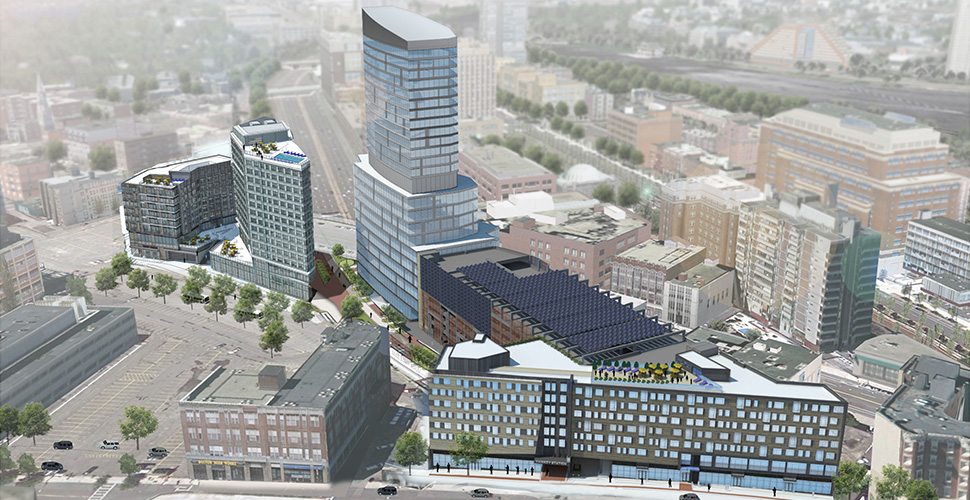 Last week, construction began on Boston's much-anticipated Fenway Center.
Designed by the Architectural Team (TAT), the groundbreaking on the 1.8-ha (4.5-acre) megadevelopment follows 15 years of delays, setbacks, and logistical challenges.
Located adjacent to both the storied Fenway Park and the Massachusetts Turnpike, the first phase of the 120,774-m2 (1.3 million-sf) project integrates 312 units of rental housing with office space and 3437 m2 (37,000 sf) of ground-floor retail across two infill buildings, as well as 200 underground parking spaces. The new buildings and accompanying retail amenities will replace a large surface parking lot and other underutilized plots between city-owned bridges along Beacon Street and Brookline Avenue.
Designed with the goal of smart, community-focused growth, public amenities in the initial stages include an 1115-m2 (12,000-sf) air-rights deck and landscaped pedestrian walkways. The transit-oriented development will also offer access to the Massachusetts Bay Transportation Authority (MBTA) commuter rail line at Yawkley Station.
"By remaking this complex urban site as an attractive destination with a vibrant mix of uses, Fenway Center is poised to be one of the most significant developments Boston has seen in decades," says Mike Binette, TAT principal. "Our firm has grown with Boston for over 40 years, so this is a very meaningful project to us. Leveraging underutilized infrastructure as the connective tissue for residential, commercial, and retail uses has allowed us to serve the mission of creating new jobs and better housing, while tying the community together with walkable spaces that encourage exploration and enjoyment."
The project is anticipated to create 1800 construction jobs and 126 permanent jobs.
Read more about Fenway Center's groundbreaking ceremony at the Boston Globe.