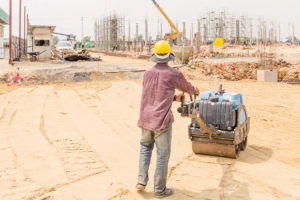 Use of building information modeling (BIM) is quickly gaining ground in the construction industry, according to a new report from Dodge Data and Analytics, Autodesk, and Deloitte. The Business Value of BIM for Infrastructure 2017 SmartMarket Report indicates U.S., U.K., French, and German construction professionals' use of BIM for transportation infrastructure projects has risen since the last report five years ago.
The 2012 report had previously found BIM's popularity in vertical building construction to be lacking, regardless of infrastructure type, with just 20 percent of firms using the method on more than half their projects. However, the new data indicates this number has risen to 52 percent.
"Dodge has been closely tracking the growth of BIM for buildings globally since 2007, and we have seen steady growth in both its usage and the tangible business benefits that its users receive," said Steve Jones, the company's senior director of industry insights research. "It is exciting to now see a similar pattern rapidly taking shape for transportation infrastructure, and the dramatic global growth expected for that segment is certain to accelerate this trend."
According to the new report, many BIM users believe the technology:
introduces positive value (87 percent);
expands their ability to offer services (56 percent);
aids in maintaining business with past clients (52 percent);
makes it easier to teach younger staff how a project is completed (58 percent);
establishes consistency in the project delivery process (54 percent);
allows professionals to spend more time designing than documenting (50 percent); and
offers positive return on investment (ROI) (65 percent, with 28 percent of those respondents claiming the ROI offered by BIM is 25 percent or greater).
A significant number of respondents are new to BIM use, but nonetheless, most state they believe there are further, untapped benefits the tool can offer.
"This report makes clear that BIM is not only for building design, but a 'must-have' for transportation infrastructure projects," said Nicolas Mangon, Autodesk's vice president of AEC business strategy. "With a significant portion of the world's transportation infrastructure funded by taxpayers, BIM reduces risk and waste, enabling a more responsible way to design, build, operate, and maintain roads, bridges, and public transit systems."
The report—available online—also contains articles further examining BIM's value to infrastructure owners, as well as a case study on Glen Canyon Dam and a summary of the tool's use in the United States, United Kingdom, France, and Germany.