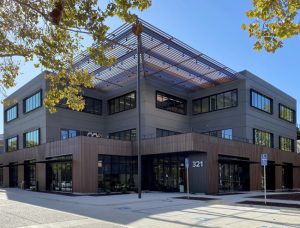 To attract and retain high-tech tenants to the Mountain View Corporate Center, California, the new owners updated three buildings from concrete exteriors to a modern copper-colored metal panel façade.
To achieve the intended appearance, more than 2137 m2 (23,000 sf) of aluminum panels with copper anodize was used. Along with the high-tech aesthetic, the durable anodize supports the property's sustainability goals and protects the aluminum panels.
Originally built in the late 1980s as a corporate campus for a former single tenant, Rockwood Capital acquired the Mountain View Corporate Center's 24,712-m2 (266,000-sf), five-building, 6.5-ha (16-acre) property in 2014. Three of those buildings were selected to benefit from a fresh look. All three were clad in solid aluminum, corrugated panel, and finished in copper anodize. On balconies and canopies for two of the buildings, the copper anodized panels were perforated.
The unique copper anodize finish maintains its initial copper color and does not patina over time. This proprietary and warrantied finish is accomplished through a three-step electrolytic coloring method, rather than the standard two-step process. The resulting finish remains a bright copper color, with no patina as it ages.
The copper anodize also meets the American Architectural Manufacturers Association (AAMA) 611, Voluntary Specification for Anodized Architectural Aluminum, Class I specification. Protecting and maintaining the structural integrity of the aluminum, it retains exceptional hardness and lasting durability. It does not require a clear coat or ongoing treatment to maintain color stability.
Anodized aluminum is also an inert, non-combustible material that is 100 percent recyclable and poses no health risks. It resists the ravages of time, temperature, corrosion, humidity, and warping, further contributing to the long life cycle and minimal maintenance for Mountain View Corporate Center's buildings.
Complementing the metal cladding, an additional 502 m2 (5400 sf) of aluminum metal soffit panels were finished in a black onyx color. Shielded from direct sunlight, but still finished to meet AAMA 2605, Voluntary Specification, Performance Requirements and Test Procedures for Superior Performing Organic Coatings on Aluminum Extrusions and Panels (with Coil Coating Appendix), a 70 percent polyvinylidene difluoride (PVDF) resin-based architectural coating were applied on the soffits.
South Bay Construction, Campbell, California, was the general contractor on the project.