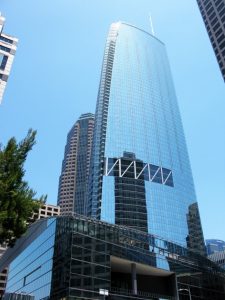 The Wilshire Grand Center in Los Angeles, California, has won the American Institute of Steel Construction's (AISC's) 'National' award in the projects greater than $200 million category.
AISC recognized nine structural steel projects in the 2020 Innovative Design in Engineering and Architecture with Structural Steel (IDEAS2) awards program. The awards are the highest honor the U.S. structural steel industry bestows upon buildings and other structures around the country.
Each project was judged on its use of structural steel from an architectural and structural engineering perspective, with an emphasis on:
creative solutions to the project's program requirements;
applications of innovative design approaches in areas such as connections, gravity systems, lateral load resisting systems, fire protection, and blast;
aesthetic and visual impact of the project;
innovative use of architecturally exposed structural steel (AESS);
technical or architectural advances in the use of the steel; and
the use of innovative design and construction methods.
A panel of design and construction industry professionals identified national and merit winners in categories based on total project cost:
projects greater than $200 million;
projects $15 million to $75 million; and
projects less than $15 million.
Additionally, the panel awarded the Sculpture/Installation/Non-Building Structures Award.
The other 2020 award-winning project in the greater than $200 million category 'Merit' is Sutter Health CPMC Van Ness Campus – Viscous Wall Dampers in San Francisco, California.
For more information on the awards, click here. Awards for each winning project will be presented to the team members involved in the design and construction of the structural framing system at ceremonies held at each of the winning projects throughout this year.