California stadium gets safe standing system with integrated seating
by sadia_badhon | March 11, 2019 1:22 pm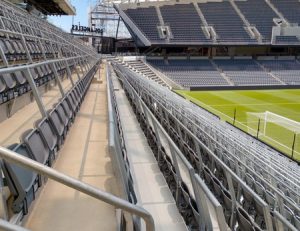 Fans of Major League Soccer[2] (MLS) have a new reason to stand up and cheer. The Los Angeles Football Club[3]'s (LAFC's) 22,000-seat stadium features one of the country's first 'safe standing' supporter section with integrated seating.
The custom-designed system features safety railing with folding seats enabling supporters to stand shoulder-to-shoulder, creating an electrified and unified stadium atmosphere.
The safe standing section at Banc of California Stadium features a unique design inspired by nearly two years of research, design workshops with club owners and supporters, and analysis of projects around the world. Pitched at 34 degrees, it is the steepest in MLS, a key factor in the design of the seating rail system. A fascia mounted metal railing frame angles back slightly, creating a comfortable lean rail for standing supporters, while also increasing headroom for seated patrons. The slim profile, tip-up style seats provide comfort and standing room for attendees, as well as crowd control within the section, allowing for greater fan safety and easier access in an emergency.
Augmenting the appeal and value of the design is that the central portion of the section encompasses a removable stage—built in to allow the stadium to host concerts and other events.
In addition to the 1280-linear meter (4200-linear feet) of railing in the north-end supporter section, the stadium features 4397 linear meter (14,425 linear feet) of railing throughout its interior, as well as fan entrance and exit areas. Railing types include aisle rail, cane rail, painted rail, cable rail, glass guard rail, and concourse drink rail.
Endnotes:
[Image]: https://www.constructionspecifier.com/wp-content/uploads/2019/03/Opener-8.jpg
Major League Soccer: https://www.mlssoccer.com/
Los Angeles Football Club: https://www.lafc.com/
Source URL: https://www.constructionspecifier.com/california-stadium-gets-safe-standing-system-with-integrated-seating/
---