Choosing the right commercial door
by jason_cramp | September 1, 2022 1:29 pm
By Shawn McCormick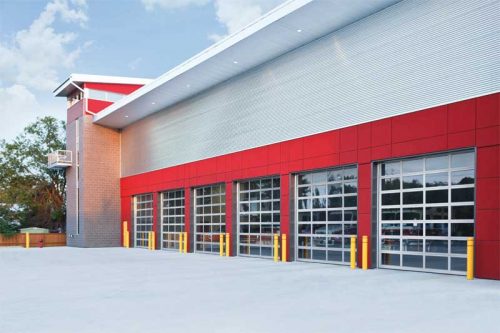 From schools, healthcare facilities, and hospitality spaces to manufacturing plants, event complexes, and shipping centers, commercial garage doors are essential, high-use components of the built environment. Their performance directly impacts the safety, security, and functionality of the structures in which they are installed, as they are often cycled dozens of times a day to help protect people and property, and help keep industries moving.
Moreover, today's manufacturing capabilities can yield design-forward closure solutions that also add aesthetic value to a property. In some cases, the array of style options available can be customized to suit specific color themes, design intents, or brand identities.
Yet, despite their constant use and high visibility, commercial doors can fall victim to being an afterthought in the specification process. This can lead to challenges such as project delays, compliance violations, costly reworking of construction plans, or even expensive maintenance issues down the line if a door's performance is not adequate for its application.
Start with the best resource
The landscape of commercial door products is vast, with an array of style options and performance features designed for different applications and demands. Finding a look and style to align with an architect's design intent is but one small part of the equation. Optimizing performance and ensuring code compliance is a much more complicated endeavor involving an assessment of all aspects of the closure system, from operating speed and cycle rating to headroom and wind loads—not to mention cross-referencing and verifying information with third-party sources when needed.
Maintaining a knowledge base of all doors and options with this level of detail is simply not practical—especially considering they are just one element of an entire building project. Fortunately, it is also not necessary. When considering closure solutions for any project, it is best to start with the experts who have all the details: the manufacturers themselves.
Selection of commercial garage doors is unlike that of other highly visible and functional building products because it is often difficult to ascertain their full function by simply looking at images and reading product descriptions. Some door manufacturers employ in-house design and technical support representatives to help with product selection or solving specification and installation challenges—which is a great step forward in simplifying the selection process.
However, some manufacturers take the level of service and design tools even further by offering a dedicated portal for commercial garage door specification. Online door specification resources are incredibly valuable because they put creative control at one's fingertips while also saving time by streamlining the complicated specification process.
The benefits of a self-service door specification tool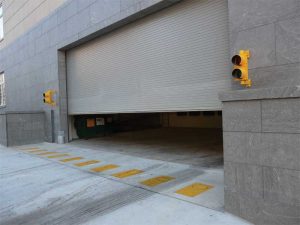 One of the best online specification resources feature a combination of tools covering everything from product selection to real-time customization and rendering. What follows are some of the more valuable features in an online specification tool to save time and effort.
Building information modeling (BIM) objects
A library of BIM objects for a manufacturer's doors is helpful because it allows designers to compare 3D simulations of the products within their designs to make better informed decisions.
Product data sheets
Data sheets are a quick and easy way to assess the essentials of a commercial door. They include information like performance features and design options for panels, windows, colors, and finishes.
Fully editable specification documents
Fully editable specification documents tailored to specific products, provided without requiring any contact information or creating an account and password.
AutoCAD drawing generator
Among all the features of an online specification resource, an AutoCAD drawing generator is one of the most valuable. This powerful tool allows users to simply fill in dimensions and other details and have a complete custom drawing created for their door of choice. It will depict wall and mounting details and indicate the precise clearances required for the door's dimensions.
Codes, listings, and letters
A library of codes, listings, and letters detailing which specific products meet various requirements, thereby eliminating the time-consuming challenge of tracking it down from third parties.
Individually, these elements are all necessary components of the design and specification process for commercial garage doors. Gathering information for them from separate sources can become a confusing maze. An easy-to-navigate portal makes the process significantly faster and simpler.
What to weigh when specifying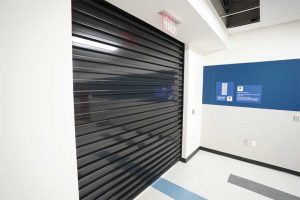 Using an online architectural door resource can ease the specification process. However, there are some basic elements one needs to become familiar with to identify the right door and optimal performance features for the application.
Doors are installed across the full spectrum of commercial building types; therefore, the structures they serve vary in both design and function. The needs of a stand-alone parking facility, for example, are different from those of a loading dock at a manufacturing plant. A general understanding of the different types of closure solution technologies and how they perform is key to avoiding common pitfalls and finding a fit. The following are some considerations to weigh during selection.
Type of closure
One of the most consequential decisions to consider is the type of commercial garage door a project needs. This mostly comes down to the priorities for its intended use. While the two main types—rolling and sectional—function differently, each have their benefits and intended applications.
Rolling doors are typically comprised of steel slats that coil when rolled up into an overhead coil box and interlock when fully closed. They are jamb mounted, so they offer a compact and versatile solution, able to be deployed and retracted quickly. Since they are usually constructed with durable, high-quality metals, they can withstand heavy wear over a lengthy period. In addition, recent aesthetic advancements, such as custom perforations and even unique graphics, means rolling doors can be a part of, rather than detract from, a building's design elements. They are particularly suited for applications like manufacturing facilities where durability is needed, retail applications where aesthetics are often desired, and parking garages where high-performance is a must-have.
Sectional doors feature panels which move upward, rather than rolling into a coil, and are typically supported by a track suspended overhead. These doors are more common in residential garages, but they have a place in commercial buildings, too. With their large panel structure, sectional full-view doors offer much-desired natural light, visibility, and a modern look. Or, if the application requires a door to separate a conditioned and non-conditioned space, insulated sectional doors offer R-values up to 27.2. They are ideal for applications where visibility is a priority, such as restaurants and car dealerships, or where climate control is a concern, such as cool or cold storage warehouses.
Space and mounting options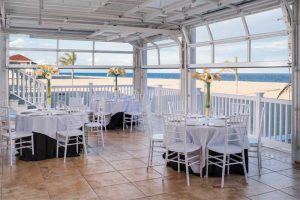 Another factor impacting door selection is the available space for its installation.
Rolling doors require some headroom above the opening to accommodate a fully retracted coil, but little backroom. Sectional doors require just enough headroom for the track and door to lay flat against the ceiling in a standard track configuration, but more backroom for the door to retract inwardly into the space. For both types, it is critical to ensure the available open space after installation is code compliant.
In parking facilities, for example, the Americans with Disabilities Act (ADA) require openings to provide a minimum of 2489 mm (98 in.) of clearance to accommodate vans with lifts. If any component of a commercial door impedes this clearance, it can, in the worst of cases, require a complete re-engineering of the space and even costly re-construction.
Also, particularly with sectional doors, which lay flat against the ceiling in a standard track configuration, avoidance of elements like HVAC systems, lighting fixtures, and sprinklers must be considered in the design.
Therefore, the opening's width and height are not the only space considerations specifiers must account for with door selection. They also must consider the clearance, or room on each side from the opening to the nearest obstruction, both vertically and horizontally. Each one of those spaces must be large enough to accommodate the selected door's side room, headroom, and backroom requirements.
Cycle rating
A door's cycle rating may seem straightforward as it is easy to assume the higher lifetime cycle rating, the better. There are two key factors to consider with cycle ratings: one, the overall lifetime cycles; and two, the peak cycle times of concentrated, high-volume operation.
Overall lifetime cycles, which can range from 10,000 to one million, are an important consideration to ensure the door, its motor, and other operational components offer longevity for applications with a consistent flow of use, such as industrial plants that handle large shipments of materials with around-the-clock operations.
Assessing peak cycle times and specifying the closure solution accordingly will ensure all components are able to handle high volumes and, as a result, offer better protection against failure or need for costly, time-consuming repairs. Parking garages in corporate centers or urban environments are good examples of applications that require doors rated for higher cycles per hour.
Operational speed
Both rolling and sectional doors offer a variety of speed ratings that vary based on the door and operator.
Higher-speed operation is ideal for environments like parking garages that require efficient traffic flow or food processing plants and pharmaceutical supply facilities which require temperature control.
Wind load
As extreme weather events become more common, commercial garage doors with higher wind-load ratings can help protect people and property.
Some specifiers tend to think primarily of static wind load, but there are three main types of forces associated with high winds: uplift (upward force), shear (horizontal pressure that can cause a structure to tilt or crack), and lateral (horizontal pushing and pulling that can force a structure off its foundation). Therefore, doors are, at times, tested for both static wind load, which specifies the force it can withstand while closed, and operable wind load, which specifies the wind load it can withstand while safely operating.
Building code requirements for wind load also vary from one part of the country to the next. To avoid costly violations, it is critical to understand code requirements and specify an adequate wind load rating in any garage door for commercial structures. This is especially important for life safety in areas where hurricanes and tornados are common. Some manufacturers even offer high-performance doors with reinforcement or "wind locks" built into the structure of the door itself, rather than needing add-on elements for reinforcement. Manufacturers can also provide doors that meet the strict FEMA P-361 guidance for safe room construction to help provide protection from extreme wind events such as hurricanes or tornadoes.
Many moving parts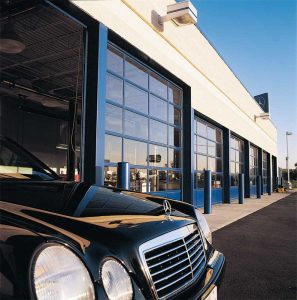 In the specification of rolling and sectional doors for commercial applications, there is an abundance of factors to consider. Those factors can often lead to a thorny process that results in valuable time and effort spent on or, worse, unintended specification errors that require costly re-work.
With rolling and sectional doors being only one part of many in new construction or retrofits, it is not reasonable for specifiers to have a complete knowledge of all the details involved in garage door specification. Thus, knowing generally what to look for and relying on informational sources to guide the process can be a benefit to project time and budget and specification accuracy. This article has touched on just a few of the myriad of things to consider when specifying commercial doors.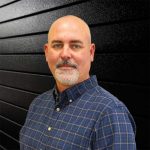 [6]Shawn McCormick is an architect design support (ADS) manager and has been with Clopay Corporation for nearly 20 years. In 2003, he joined the company as a contract engineer where he spent 10 years before moving on to the ADS team for the next 10 years. With a background in fine arts and engineering, McCormick has been able to help architects use Clopay, Cornell, and Cookson products in upscale designs. He has been involved in some of the company's most unique projects, specializing in product applications.
Endnotes:
[Image]: https://www.constructionspecifier.com/wp-content/uploads/2022/09/1589994791_Architectural-Series-904-01.jpg
[Image]: https://www.constructionspecifier.com/wp-content/uploads/2022/09/Federal-CH-Richmond-8.jpg
[Image]: https://www.constructionspecifier.com/wp-content/uploads/2022/09/StormDefender.jpg
[Image]: https://www.constructionspecifier.com/wp-content/uploads/2022/09/Clopay-NY-NJ-137-1.jpg
[Image]: https://www.constructionspecifier.com/wp-content/uploads/2022/09/1424447599_903-Mercedes.jpg
[Image]: https://www.constructionspecifier.com/wp-content/uploads/2022/09/McCormick_Headshot.jpg
Source URL: https://www.constructionspecifier.com/choosing-the-right-commercial-door/
---