What to weigh when specifying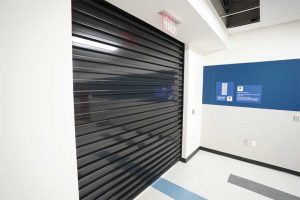 Using an online architectural door resource can ease the specification process. However, there are some basic elements one needs to become familiar with to identify the right door and optimal performance features for the application.
Doors are installed across the full spectrum of commercial building types; therefore, the structures they serve vary in both design and function. The needs of a stand-alone parking facility, for example, are different from those of a loading dock at a manufacturing plant. A general understanding of the different types of closure solution technologies and how they perform is key to avoiding common pitfalls and finding a fit. The following are some considerations to weigh during selection.
Type of closure
One of the most consequential decisions to consider is the type of commercial garage door a project needs. This mostly comes down to the priorities for its intended use. While the two main types—rolling and sectional—function differently, each have their benefits and intended applications.
Rolling doors are typically comprised of steel slats that coil when rolled up into an overhead coil box and interlock when fully closed. They are jamb mounted, so they offer a compact and versatile solution, able to be deployed and retracted quickly. Since they are usually constructed with durable, high-quality metals, they can withstand heavy wear over a lengthy period. In addition, recent aesthetic advancements, such as custom perforations and even unique graphics, means rolling doors can be a part of, rather than detract from, a building's design elements. They are particularly suited for applications like manufacturing facilities where durability is needed, retail applications where aesthetics are often desired, and parking garages where high-performance is a must-have.
Sectional doors feature panels which move upward, rather than rolling into a coil, and are typically supported by a track suspended overhead. These doors are more common in residential garages, but they have a place in commercial buildings, too. With their large panel structure, sectional full-view doors offer much-desired natural light, visibility, and a modern look. Or, if the application requires a door to separate a conditioned and non-conditioned space, insulated sectional doors offer R-values up to 27.2. They are ideal for applications where visibility is a priority, such as restaurants and car dealerships, or where climate control is a concern, such as cool or cold storage warehouses.
Space and mounting options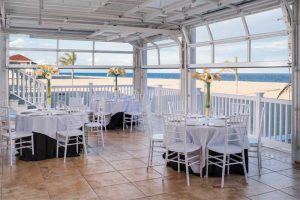 Another factor impacting door selection is the available space for its installation.
Rolling doors require some headroom above the opening to accommodate a fully retracted coil, but little backroom. Sectional doors require just enough headroom for the track and door to lay flat against the ceiling in a standard track configuration, but more backroom for the door to retract inwardly into the space. For both types, it is critical to ensure the available open space after installation is code compliant.
In parking facilities, for example, the Americans with Disabilities Act (ADA) require openings to provide a minimum of 2489 mm (98 in.) of clearance to accommodate vans with lifts. If any component of a commercial door impedes this clearance, it can, in the worst of cases, require a complete re-engineering of the space and even costly re-construction.
Also, particularly with sectional doors, which lay flat against the ceiling in a standard track configuration, avoidance of elements like HVAC systems, lighting fixtures, and sprinklers must be considered in the design.
Therefore, the opening's width and height are not the only space considerations specifiers must account for with door selection. They also must consider the clearance, or room on each side from the opening to the nearest obstruction, both vertically and horizontally. Each one of those spaces must be large enough to accommodate the selected door's side room, headroom, and backroom requirements.