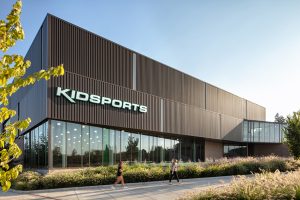 Oregon's new Civic Park's field house is built on a pre-engineered steel structure—meeting the cost requirements of the project's tight budget and providing the needed structural resilience.
The project, which will redevelop the site of the Eugene Civic Stadium, previously destroyed by fire, is divided into two phases. The first phase will create a new 3716-m2 (40,000-sf) field house, a new civic stadium, and sports fields for the community. The complex will house the first facilities for the nonprofit after-school organization KidSports.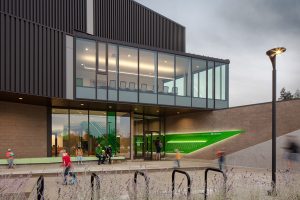 The project's tight budget served as a challenge and an opportunity. The field house's simple modular structure meant the team could economically reimagine the building system to create more room, such as the second-floor corner conference room, which dramatically projects out into the interior volume of the field house. Where possible, materials reclaimed from the original stadium were integrated into the project, such as the wood used for indoor wood benches, the reception desk, and the reception/social counter in the office space upstairs. Other creative low-cost, high-value design features include pops of color, which are showcased via the metal panel cladding and through ordinary acoustic tile.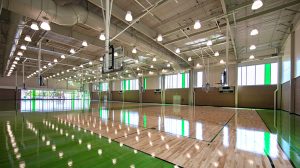 Skylab Architecture is responsible for architecture and interior design of the project, with partner architect Robert Sherwood. Land use planning is provided by TBG Architects + Planners, with landscape architecture by Cameron McCarthy Landscape Architecture. Various engineering services are provided by KPFF Consulting Engineers, Comfort Flow Heating, and New Way Electric.
Located next to Amazon Creek, the project also addresses critical environmental considerations, including the restoration of the site's original watershed ecology. Working in harmony with the existing site topography to create an intimate and holistic environment, all stormwater is now directed to a planted green space, which serves double duty as a key site feature.