by Steve Cooper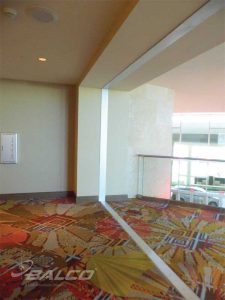 Everyone understands the importance of expansion joint systems. Their placement within floors, walls, ceilings, and roofs provide the wherewithal to stabilize large footprint structures from experiencing structural stress under changing conditions. However, there are some nuances to selecting the correct material for a building.
Under the principles of construction, expansion joints are required to move with the building, conform along with adjacent construction materials, support the required traffic, withstand the elements, provide life-safety fundamentals, and last longer than the warranty. All of these factors are taken into consideration by structural engineers, architects, and general contractors from day one. A variety of materials make up expansion joints, and it takes an expert to determine what is right for the application at hand.
Expected joint size and movement
When it comes to building construction, expansion joints are intentional separations—or gaps—filled with appropriate materials to provide the structure flexibility for movement to occur during temperature fluctuations, wind-loads, ground settlement or seismic movement, traffic vibrations, or added weight loads, with no damage to systems or surrounding area.
The first item to consider is how large the gap opening will be and the associated movement required in the building. This will steer an architect toward a specific set of products meeting that criteria. Secondary items for consideration are whether the said system is intended for interior or exterior applications and what sort of environmental conditions apply, such as weather and fire proofing, as well as structural load requirements for pedestrians or cars.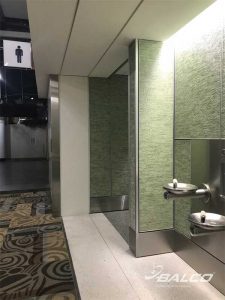 Understanding joint widths
Important points to consider are nominal, maximum, and minimum joint widths. Nominal widths are static and refer to the width of the joint opening at a median temperature. These measurements are determined by the structural engineer. Maximum widths are open, referring to expansion such as one occurring due to falling temps. Minimum widths are considered closed, as in the temperature has gone up and the gap has contracted in size.
For example, when a structural engineer is specifying how much of a gap should exist between two buildings and both are expected to move about 100 mm (4 in.) each, then a 200-mm (8-in.) gap is the minimum needed between the buildings. This is the nominal width. However, that space is going to expand and contract with thermal fluctuations. The buildings sway with wind-loads and seismic movement due to ground settlement or vibrations from traffic. Thus, the structural engineer needs to know the percentage of expected movement to determine the maximum and minimum widths.
The percentage of expected movement is very important when selecting expansion joint systems. If the concern is weather and seasonal changes, the consideration focuses on how well materials expand with heat or contract with cold. Simply put, an expansion joint allows for building parts that are joined together to move without distortion under thermal fluctuations— joints expand as temperatures go down and vice-versa. The larger the temperature variance, the more stress is placed on the structure.
If the concern is wind sway (especially important for tall structures and coastal buildings) or seismic movement (imperative for earthquake-prone and/or densely populated or high-traffic areas), the focus is how much 'give' materials provide. With wind-load, movement for both lateral shear (horizontal or side-to-side) and vertical shear (up and down) are taken into consideration.
Now, back to the example of the 200-mm gap between two buildings—if the expected range of movement is plus or minus 50 percent, then the structural engineer adds half the width of the original 100-mm gap for a 150-mm (6-in.) opening. If the expected range of movement is around 100 percent, then the structural engineer doubles the width of the original 100-mm gap for a 200-mm opening.