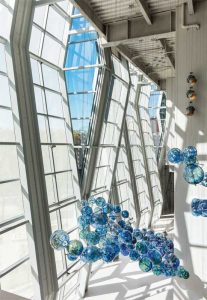 The building must help connect its occupants to nature while also making a positive impact on the surrounding environment. Buildings adhering to LBC standards should incorporate local culture, flora, and fauna. Design teams are challenged to think about holistic solutions as they work to meet these requirements.
When it comes to coatings, LBC guidelines stipulate the exclusion of any chemical on the ILFI Red List. The Red List includes things such as alkylphenols, VOCs, and other related compounds often found in high-performance coatings. The list bans commonly used chemicals known for environmental pollution, bioaccumulation up the food chain, and harming construction and factory workers.
High-performance meets eco-friendly
By definition, sustainable structures are durable. So, the materials used during construction should be designed for longevity. Coatings with low-VOCs—including less-than-100-grams-per-liter zinc-rich primers, epoxies, polyurethanes, and fluoropolymers—perform well over time and comply with many environmental programs.
Only high-quality products endure. Architects, engineers, and builders should choose coatings that have been proven to meet or exceed industry standard testing criteria. Each coating should be qualified for its ability to resist corrosion, UV light, abrasion, and other causes of coating degradation. This emphasis on performance provides long life cycles and limited maintenance. Simply put, high-performance means fewer repaints, and fewer repaints results in less waste and environmental impact.
"When it comes to coatings, performance matters," explained Dresen. "No one coating is superior in all facets, which is why extensive testing using a wide array of methods should be conducted. Extensive testing provides a comprehensive analysis of a coating's quality and durability."
Not only should these coatings last, but also should provide the high-quality performance one would expect from products with high solvents, without the addition of chemicals prohibited by LEED and LBC programs.
The Kendeda Building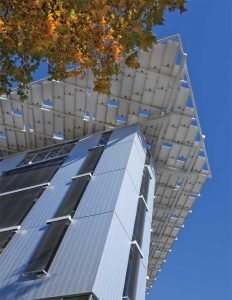 Since the dawn of green building initiatives, architects, engineers, and builders have searched for high-performance coatings solutions that meet stringent environmental standards. Some of the most notable green building projects in the country are finished in high-performance coatings that do just that.
The Kendeda Building for Innovative Sustainable Design, a $25-million privately funded building on Georgia Tech's campus, Atlanta, is one example of these coatings in action. The building—intended for education, research, and outreach opportunities—is the largest LBC building in the Southeast and is working to meet the LBC 3.1 certification. Thanks to its careful design, the building operates as a net-positive facility harnessing more energy and water than it uses.
The materials used in the building had to be non-toxic and have low environmental impact, which ruled out chemicals such as bisphenol A, polyvinyl chloride (PVC), and halogenated flame retardants.
The building's exposed structural steel was primed with a specially formulated, one-component, moisture-cured, micaceous iron oxide (MIO)- and zinc-filled primer at 2.5 to 3.5 mils dry film thickness (DFT). A low-VOC, modified polycarbamide was then applied by brush and roller to 3 to 4 mils DFT, helping to further protect the steel from corrosion and limit UV light degradation.
A modified aliphatic polyaspartic, applied at 7 to 9 m2 (80 to 100 sf) per gallon, was used to protect and beautify the concrete floors in the compost room. The floor coating was broadcast with decorative quartz, in a unique smoke gray hue, and a seal coat of the same polyaspartic coating was applied at 9 to 11 m2 (100 to 120 sf) per gallon to finish the system. The final coat delivered on the high-gloss finish the designers were looking for, in a low-VOC of 11 g/L, 100-percent solids urethane with low-odor characteristics.
The Kendeda Building is still seeking its official LBC certification. Due to the COVID-19 pandemic, the building has not had the opportunity to fulfil the requirement of being fully occupied for 12 months before certification can be issued. Documentation for certification is continuing on schedule while awaiting further guidance from ILFI.
Sacramento Kings' Golden 1 Center
High-performance, environmentally friendly coatings can be found in projects big and small, including at Golden 1 Center, the home to the National Basketball Association's (NBA's) Sacramento Kings. This $556-million project is in a league of its own when it comes to green building design, and it also used low-VOC coating systems throughout the venue.