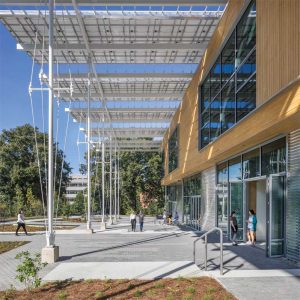 The project architects designed the arena to achieve the LEED Platinum certification. They wanted low-VOC coatings that would also provide high-performance protection all over the facility.
Shop applicators prepared the structural steel in accordance with the Society for Protective Coatings (SSPC) Surface Preparation (SP) 6/NACE International 3, Commercial Blast Cleaning, and primed it with a low-odor, low-VOC, water-based epoxy coating featuring proprietary curing technology for exceptional durability and corrosion.
A unique feature of the arena is its five aircraft hangar doors at the entrance, all of which are treated with high-performance coating systems. Additionally, the arena's overhead deck required more than 13,638 L (3600 gal) of a high-performance, water-borne acrylic primer and finish.
Other low-VOC coatings specified for the project included an aliphatic acrylic polyurethane coating with excellent color and gloss retention; a water-based, high-dispersion, pure acrylic polymer; and a water-borne polyurethane coating for the interior wall and floor applications.
The project primarily used gray, white, and arena silver, in addition to an athletic gold coating that spells out "Golden 1" on the arena's thermoplastic polyolefin (TPO) roofing membrane.
The Golden 1 Center was the first indoor arena to achieve the LEED Platinum certification by USGBC and the first to operate as a 100-percent solar-powered sports arena.
The Bullit Center
The Bullit Center in Seattle, Washington, is arguably one of the world's most unique green building projects. At 4645 m2 (50,000 sf) and an $18.5-million price tag, it is dubbed the "greenest commercial building in the world" and is certified as a "living building" under LBC. This six-story building is home to a number of commercial office tenants, and its primary aim is to advance awareness and adoption of high-performance building.
Due to the careful selection of materials and focus on performance, the building is projected to last 250 years. Architects and builders on the project selected coatings that are known for their performance and durability, especially when it came to the roof, which sees the most weathering.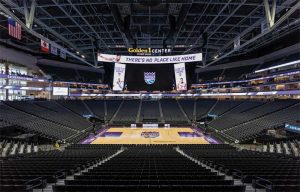 The roof is primarily covered in 570 solar panels generating approximately 230,000 kW-hours of energy in an average year. To maximize solar exposure, the roof includes a steel and aluminum racking system that allows the panels to extend beyond the walls of the building. The exterior steel rooftop also provides shade to the building beneath it. This type of protection was key to ensuring longevity and sustainability.
High-performance coatings made all the difference when constructing the roof, especially in a rainy city such as Seattle. The rooftop was first coated in a specially formulated, one-component, moisture-cured, MIO- and zinc-filled primer known for superior bonding and corrosion resistance.
The primer was followed by a low-odor, low-VOC, water-based epoxy coating featuring proprietary curing technology for durability and corrosion resistance. An advanced-technology, low-VOC finish coat topped off the roof, which allowed for superior color and gloss retention when compared to traditional polyurethanes. Its durable film stands up to exterior weathering and provides long-term, pleasing aesthetics.
The Bullit Center achieved the Certified Living LBC certification just a year after opening and remains one of the greenest commercial buildings in the world.
Putting it into practice
A high-performance coating system can be more economical due to the need for fewer repaints. Life-cycle cost is hardly affected by increasing or decreasing the cost of a coating system at the time of purchase. However, increasing the service life of the coating system can reduce the life-cycle cost. Polyurethane coatings range from seven to 10 years, while fluoropolymers can last as long as 25 years.
High-performance coatings can be green-building friendly, despite misconceptions about their ingredients. When evaluating high-performance coatings, architects, engineers, and builders should consider the following factors.
Has this product been tested for durability and performance? Manufacturers should test and retest their products to ensure they meet the highest standards. The better performance a product provides, the fewer recoats will be needed in the future, and therefore the more sustainable a project is long-term.
Does the manufacturer provide appropriate documentation? LEED and LBC initiatives require substantial documentation to ensure materials and their ingredients meet their standards. Working with a responsive, organized manufacturer simplifies the process.
Have other green buildings seen success with these coatings or manufacturer? Experience makes a difference when navigating the LEED and LBC certification. Reliably compiling the correct documentation, ensuring durability, and offering the best high-performance coatings takes practice. It is advisable to look for a manufacturer with experience in providing proven products for green building.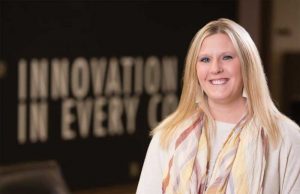 Jennifer Gleisberg, CSI, CDT, LEED GA, is inside sales manager for Tnemec Company, Inc. With more than 18 years of experience in the coatings industry, Gleisberg brings a customer service perspective to coatings projects requiring high-performance solutions. At Tnemec, she provides strategic sales assistance to coatings representatives in the eastern region. Gleisberg is a NACE International coatings inspector (Level I Certified) and a member of the Society of Protective Coatings (SSPC) and the U.S. Green Building Council (USGBC). She can be reached at gleisberg@tnemec.com.