Coating for sustainability
by sadia_badhon | November 20, 2020 9:21 am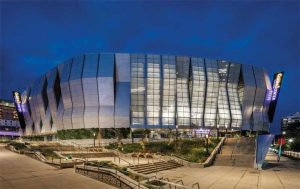 by Jennifer Gleisberg, CSI, CDT
When the project team decided to go green during construction, high-performance coatings might not be the first thing on their minds, but maybe they should be.
Every high-performance coating system is designed to guard surfaces against corrosion and ultraviolet (UV) light degradation, ultimately extending the life cycle of a building. So, the core goal of most industrial coatings is sustainability.
Innovation is key though, since the Leadership in Energy and Environmental Design (LEED) certification and the Living Building Challenge (LBC) standards limit the amount of allowable emissions from coatings. National air district regulations also narrow the field of choices for architects and specifiers tasked with selecting eco-conscious coatings. All of these sustainability requirements have restricted the use of solvent-borne products, forcing the industry to come up with inventive, low-emitting coating systems.
Over the last decade, newer technologies that can further preserve structures have become available. Manufacturers are working to create high-performance coatings with lower volatile organic compounds (VOCs) and to eliminate Red List[2] chemicals from the mix as green building standards become increasingly common. The result is the development of more environmentally responsible and user-friendly coatings.
LEED and LBC
LEED v4, developed by the U.S. Green Building Council (USGBC), and LBC, developed by the International Living Future Institute (ILFI), are two of the most common green rating systems for architecture, engineering, and building.
The LEED rating system focuses on eight areas:
Location and Transportation;
Sustainable Sites;
Water Efficiency;
Energy and Atmosphere;
Materials and Resources;
Indoor Environmental Quality;
Innovation; and
Regional Priority.
Buildings are awarded points based on these categories and earn one of the following certifications: Certified, Silver, Gold, or Platinum.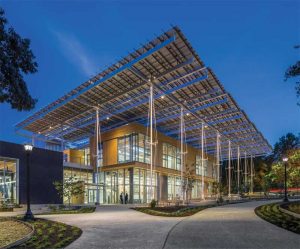 LEED was first introduced in 1993 and continues to evolve. USGBC released LEED v4 in 2015 with new improvements over previous versions, including increased flexibility, an emphasis on materials and resources, and streamlined documentation.
As part of LEED v4, high-performance coatings must meet VOC requirements as well as the California Department of Public Health[4] (CDPH) emissions testing for Low-emitting Materials Credit. CDPH's emissions testing is the standard method for evaluating VOC emissions from indoor sources using environmental chambers. It is one of the most widely used standards to define and measure low-emitting interior products and materials.
"Prior to LEED v4, CDPH emissions testing was not required," said Stephanie Dresen, global regulatory and sustainability specialist with a coatings manufacturer. "With the addition of this requirement, it is important for manufacturers to test their coatings to ensure they meet the newest requirements from the U.S. Green Building Council."
The LBC certification includes a series of stringent performance requirements that a building must meet and maintain over a 12-month period of continuous operations and occupancy. To be certified, a structure is required to produce as much energy as it uses in a year, and capture and treat rainwater for all its needs for at least 12 continuous months. It also must meet the standards for the Red List-compliant materials and quality of its indoor environment.
LBC has the following seven performance areas, called petals, which the building must accomplish:
Place – restores a healthy interrelationship with the natural world;
Water – operates within the natural water balance of the building's location;
Energy – relies only on solar energy;
Health and Happiness – creates an environment that prioritizes well-being;
Equity – supports a just, equitable world;
Beauty – design that uplifts the spirit; and
Materials – uses only products that are safe for all species.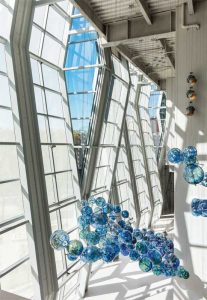 The building must help connect its occupants to nature while also making a positive impact on the surrounding environment. Buildings adhering to LBC standards should incorporate local culture, flora, and fauna. Design teams are challenged to think about holistic solutions as they work to meet these requirements.
When it comes to coatings, LBC guidelines stipulate the exclusion of any chemical on the ILFI Red List. The Red List includes things such as alkylphenols, VOCs, and other related compounds often found in high-performance coatings. The list bans commonly used chemicals known for environmental pollution, bioaccumulation up the food chain, and harming construction and factory workers.
High-performance meets eco-friendly
By definition, sustainable structures are durable. So, the materials used during construction should be designed for longevity. Coatings with low-VOCs—including less-than-100-grams-per-liter zinc-rich primers, epoxies, polyurethanes, and fluoropolymers—perform well over time and comply with many environmental programs.
Only high-quality products endure. Architects, engineers, and builders should choose coatings that have been proven to meet or exceed industry standard testing criteria. Each coating should be qualified for its ability to resist corrosion, UV light, abrasion, and other causes of coating degradation. This emphasis on performance provides long life cycles and limited maintenance. Simply put, high-performance means fewer repaints, and fewer repaints results in less waste and environmental impact.
"When it comes to coatings, performance matters," explained Dresen. "No one coating is superior in all facets, which is why extensive testing using a wide array of methods should be conducted. Extensive testing provides a comprehensive analysis of a coating's quality and durability."
Not only should these coatings last, but also should provide the high-quality performance one would expect from products with high solvents, without the addition of chemicals prohibited by LEED and LBC programs.
The Kendeda Building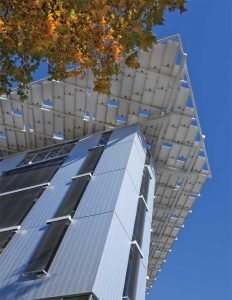 Since the dawn of green building initiatives, architects, engineers, and builders have searched for high-performance coatings solutions that meet stringent environmental standards. Some of the most notable green building projects in the country are finished in high-performance coatings that do just that.
The Kendeda Building for Innovative Sustainable Design, a $25-million privately funded building on Georgia Tech's campus, Atlanta, is one example of these coatings in action. The building—intended for education, research, and outreach opportunities—is the largest LBC building in the Southeast and is working to meet the LBC 3.1 certification. Thanks to its careful design, the building operates as a net-positive facility harnessing more energy and water than it uses.
The materials used in the building had to be non-toxic and have low environmental impact, which ruled out chemicals such as bisphenol A, polyvinyl chloride (PVC), and halogenated flame retardants.
The building's exposed structural steel was primed with a specially formulated, one-component, moisture-cured, micaceous iron oxide (MIO)- and zinc-filled primer at 2.5 to 3.5 mils dry film thickness (DFT). A low-VOC, modified polycarbamide was then applied by brush and roller to 3 to 4 mils DFT, helping to further protect the steel from corrosion and limit UV light degradation.
A modified aliphatic polyaspartic, applied at 7 to 9 m2 (80 to 100 sf) per gallon, was used to protect and beautify the concrete floors in the compost room. The floor coating was broadcast with decorative quartz, in a unique smoke gray hue, and a seal coat of the same polyaspartic coating was applied at 9 to 11 m2 (100 to 120 sf) per gallon to finish the system. The final coat delivered on the high-gloss finish the designers were looking for, in a low-VOC of 11 g/L, 100-percent solids urethane with low-odor characteristics.
The Kendeda Building is still seeking its official LBC certification. Due to the COVID-19 pandemic, the building has not had the opportunity to fulfil the requirement of being fully occupied for 12 months before certification can be issued. Documentation for certification is continuing on schedule while awaiting further guidance from ILFI.
Sacramento Kings' Golden 1 Center
High-performance, environmentally friendly coatings can be found in projects big and small, including at Golden 1 Center, the home to the National Basketball Association's (NBA's) Sacramento Kings. This $556-million project is in a league of its own when it comes to green building design, and it also used low-VOC coating systems throughout the venue.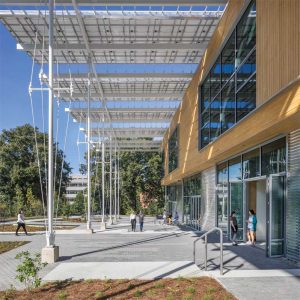 The project architects designed the arena to achieve the LEED Platinum certification. They wanted low-VOC coatings that would also provide high-performance protection all over the facility.
Shop applicators prepared the structural steel in accordance with the Society for Protective Coatings (SSPC) Surface Preparation (SP) 6/NACE International 3, Commercial Blast Cleaning, and primed it with a low-odor, low-VOC, water-based epoxy coating featuring proprietary curing technology for exceptional durability and corrosion.
A unique feature of the arena is its five aircraft hangar doors at the entrance, all of which are treated with high-performance coating systems. Additionally, the arena's overhead deck required more than 13,638 L (3600 gal) of a high-performance, water-borne acrylic primer and finish.
Other low-VOC coatings specified for the project included an aliphatic acrylic polyurethane coating with excellent color and gloss retention; a water-based, high-dispersion, pure acrylic polymer; and a water-borne polyurethane coating for the interior wall and floor applications.
The project primarily used gray, white, and arena silver, in addition to an athletic gold coating that spells out "Golden 1" on the arena's thermoplastic polyolefin (TPO) roofing membrane.
The Golden 1 Center was the first indoor arena to achieve the LEED Platinum certification by USGBC and the first to operate as a 100-percent solar-powered sports arena.
The Bullit Center
The Bullit Center in Seattle, Washington, is arguably one of the world's most unique green building projects. At 4645 m2 (50,000 sf) and an $18.5-million price tag, it is dubbed the "greenest commercial building in the world" and is certified as a "living building" under LBC. This six-story building is home to a number of commercial office tenants, and its primary aim is to advance awareness and adoption of high-performance building.
Due to the careful selection of materials and focus on performance, the building is projected to last 250 years. Architects and builders on the project selected coatings that are known for their performance and durability, especially when it came to the roof, which sees the most weathering.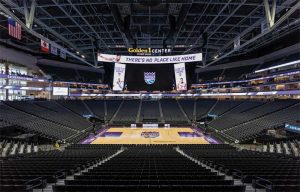 The roof is primarily covered in 570 solar panels generating approximately 230,000 kW-hours of energy in an average year. To maximize solar exposure, the roof includes a steel and aluminum racking system that allows the panels to extend beyond the walls of the building. The exterior steel rooftop also provides shade to the building beneath it. This type of protection was key to ensuring longevity and sustainability.
High-performance coatings made all the difference when constructing the roof, especially in a rainy city such as Seattle. The rooftop was first coated in a specially formulated, one-component, moisture-cured, MIO- and zinc-filled primer known for superior bonding and corrosion resistance.
The primer was followed by a low-odor, low-VOC, water-based epoxy coating featuring proprietary curing technology for durability and corrosion resistance. An advanced-technology, low-VOC finish coat topped off the roof, which allowed for superior color and gloss retention when compared to traditional polyurethanes. Its durable film stands up to exterior weathering and provides long-term, pleasing aesthetics.
The Bullit Center achieved the Certified Living LBC certification just a year after opening and remains one of the greenest commercial buildings in the world.
Putting it into practice
A high-performance coating system can be more economical due to the need for fewer repaints. Life-cycle cost is hardly affected by increasing or decreasing the cost of a coating system at the time of purchase. However, increasing the service life of the coating system can reduce the life-cycle cost. Polyurethane coatings range from seven to 10 years, while fluoropolymers can last as long as 25 years.
High-performance coatings can be green-building friendly, despite misconceptions about their ingredients. When evaluating high-performance coatings, architects, engineers, and builders should consider the following factors.
Has this product been tested for durability and performance? Manufacturers should test and retest their products to ensure they meet the highest standards. The better performance a product provides, the fewer recoats will be needed in the future, and therefore the more sustainable a project is long-term.
Does the manufacturer provide appropriate documentation? LEED and LBC initiatives require substantial documentation to ensure materials and their ingredients meet their standards. Working with a responsive, organized manufacturer simplifies the process.
Have other green buildings seen success with these coatings or manufacturer? Experience makes a difference when navigating the LEED and LBC certification. Reliably compiling the correct documentation, ensuring durability, and offering the best high-performance coatings takes practice. It is advisable to look for a manufacturer with experience in providing proven products for green building.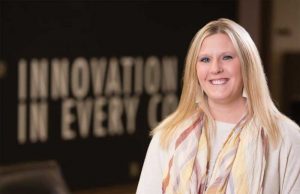 [9]Jennifer Gleisberg, CSI, CDT, LEED GA, is inside sales manager for Tnemec Company, Inc. With more than 18 years of experience in the coatings industry, Gleisberg brings a customer service perspective to coatings projects requiring high-performance solutions. At Tnemec, she provides strategic sales assistance to coatings representatives in the eastern region. Gleisberg is a NACE International coatings inspector (Level I Certified) and a member of the Society of Protective Coatings (SSPC) and the U.S. Green Building Council (USGBC). She can be reached at gleisberg@tnemec.com[10].
Endnotes:
[Image]: https://www.constructionspecifier.com/wp-content/uploads/2020/11/AEC_G1C_0334.jpg
Red List: http://www.living-future.org/declare/declare-about/red-list
[Image]: https://www.constructionspecifier.com/wp-content/uploads/2020/11/Kendeda-1.jpg
California Department of Public Health: https://www.cdph.ca.gov/Programs/CCDPHP/DEODC/EHLB/IAQ/CDPH%20Document%20Library/CDPH-IAQ_StandardMethod_V1_2_2017_ADA.pdf
[Image]: https://www.constructionspecifier.com/wp-content/uploads/2020/11/AEC_G1C_1250.jpg
[Image]: https://www.constructionspecifier.com/wp-content/uploads/2020/11/BC-2.jpg
[Image]: https://www.constructionspecifier.com/wp-content/uploads/2020/11/Kendeda-2.jpg
[Image]: https://www.constructionspecifier.com/wp-content/uploads/2020/11/AEC_G1C_0872.jpg
[Image]: https://www.constructionspecifier.com/wp-content/uploads/2020/11/Jennifer-Headshot.jpg
gleisberg@tnemec.com: mailto:gleisberg@tnemec.com
Source URL: https://www.constructionspecifier.com/coating-for-sustainability/
---