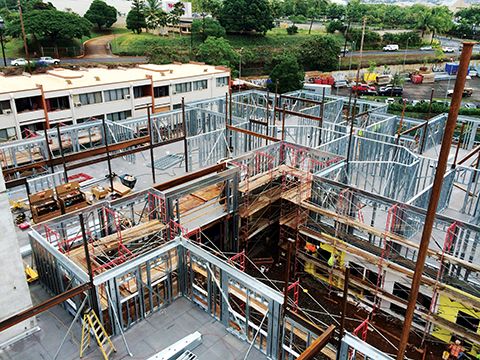 By Robert J. Wills, PE
Since the development of the first specifications for cold-formed steel (CFS) building construction in 1946, the American Iron and Steel Institute (AISI) has been working to develop design standards to improve performance and accessibility for designers and structural engineers. These standards have progressed over the years to incorporate the latest technologies in materials and design. Looking into 2016, AISI is working with engineers, designers, researchers, and other stakeholders to update its suite of design standards to reflect research advancements and innovations in cold-formed steel design.
Cold-formed steel is strong and versatile with the potential to deliver numerous benefits to designers, allowing structures that are thinner with complex geometries. In the manufacturing process, a metallic-coated sheet steel is roll-formed into products such as studs, joists, track, headers, angles, truss members, and other components. By reducing the amount of steel needed to create a durable, resilient, and code-compliant building, CFS contributes greatly to the steel industry's efforts to improve sustainability throughout a building's lifecycle and simplify natural resource management.
Cold-formed steel structures have the potential to deliver high-efficiency building designs by utilizing minimal material and advanced geometric shapes in structural members. Until recently, standards focused on design of the individual cold-formed steel structural members—making it difficult for designers and engineers to take full advantage of the capabilities and benefits of cold-formed steel members working together as a system.
Addressing this issue, the AISI standards currently in development will improve on the previous editions by introducing a more comprehensive and useful suite of standards for professionals. These standards are intended to be adopted into the 2018 model codes including the International Building Code (IBC) and National Fire Protection Association (NFPA) 5000, Building Construction and Safety Code.
AISI standards development
Standards development efforts in the CFS construction industry are led by AISI, which is accredited by the American National Standards Institute (ANSI). To ensure the standards represent and encompass the needs of all stakeholders, AISI utilizes the combined experience of experts from construction industry associations, designers, academics, and others formed into committees and task groups to develop them.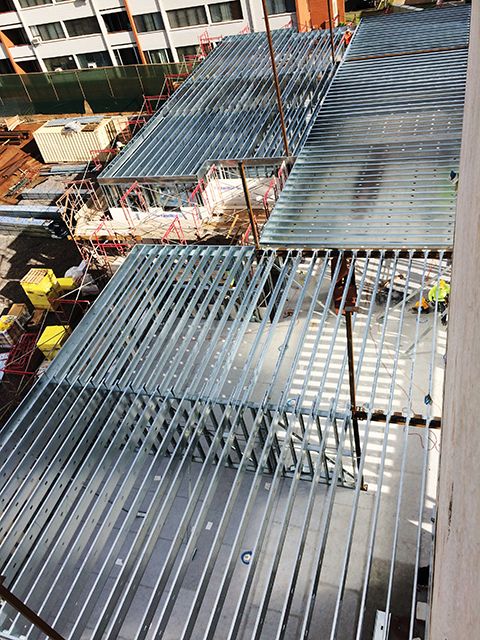 A core value of the AISI standards development process is transparency—open, balanced, and consensus-driven. This process ensures standards are founded in the current body of knowledge and incorporate the most recent research results and data.
As the construction and steel industries evolved, so did the standards process. Since 1966, AISI has represented members from across North America; in 2001, it worked with partners and standards organizations in Canada and Mexico to develop and publish the North American Specification for the Design of Cold-formed Steel Structural Members. Approved as an American National Standard by ANSI in the United States, this 'harmonized' standard allowed building professionals across North America to work from a common source, ensuring considerable time and cost efficiencies.
In addition to routine updates to the suite of AISI standards, the group's standards committees will address the following documents in the next two years:
AISI S100-16, North American Specification for the Design of Cold-formed Steel Structural Members;
AISI S220-15, North American Standard for Cold-formed Steel Framing–Nonstructural Members;
AISI S230-15, Standard for Cold-formed Steel Framing–Prescriptive Method for One- and Two-Family Dwellings;
AISI S240-15, North American Standard for Cold-formed Steel Structural Framing;
AISI S310-16, North American Standard for the Design of Profiled Steel Diaphragm Panels; and
AISI S400-15, North American Standard for Seismic Design of Cold-formed Steel.