COLD-FORMED STEEL RESOURCES
In addition to cold-formed steel standards, American Iron and Steel Institute (AISI) offers several other resources that support the design and use of cold-formed steel. These resources include a suite of standards covering the testing of individual connections, members, and complete systems. AISI also offers design manuals and guides that illustrate the practical application of the standards as well as other design considerations. Most AISI standards are available in downloadable format—free of charge—as a service to the design and construction community.* AISI S100 and other design support resources are available for purchase.**
Designers can also look to the Cold-formed Steel Engineers Institute (CFSEI) for technical notes, case studies, webinars/seminars, and other technology transfer tools covering various important topics beyond structural design such as fire, acoustic, and thermal performance.†
Notes
* For the free download, visit www.aisistandards.org.
** More notes are available for purchase at the AISI Steel Store, visit www.steel.org.
† CFSEI resources are available at www.CFSei.org.
Expanding the scope of the North American specification for CFS
The 2016 edition of AISI S100, is currently being updated with provisions that enable CFS design in various applications such as steel framing, deck, and roof systems. This edition will align closely with AISC 360, Specification for Structural Steel Buildings. By aligning the provisions for cold-formed steel with those for hot-rolled structural steel that are already in widespread use, AISI and other stakeholders hope to foster an increase in the use of cold-formed steel systems in buildings. While some variation is required to incorporate the material's unique provisions, the 2016 standard will shorten the learning curve for designers and engineers who are not familiar with CFS.
Additionally, AISI S100-16 will now include the Direct Strength Method (DSM), originally developed as an alternative to the Effective Width Method (EWM) and previously relegated to an appendix in the main body of the standard. DSM provides a more robust and flexible design procedure.
Under previous methodologies, empirical-based designs and testing methods were not optimized to take full advantage of cold-formed steel design potential. DSM is a powerful analysis-based tool, allowing product development and avoidance of costly, time-consuming, 'make-it-and-break-it' testing iterations. This capability greatly increases efficiency in product development and design processes, reducing cycle time and eliminating delays in product and project development.
Engineers have used DSM for individual product development, but its inclusion in AISI S100-16 will encourage its use for mainstream design. It is anticipated that increased use of the DSM will foster innovation in cold-formed steel design.
AISI S310-16, the profiled steel diaphragm panels standard, is also being revised to incorporate the changes made in AISI S100-16. It will have changes to the safety and resistance factors in Table B1.1 so they are consistent with the theory and calibration method presented in the standard.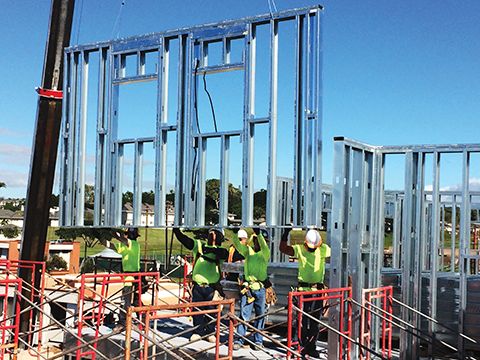 Major revisions to AISI S220-15
AISI S220 was developed in 2011 by a consensus committee, subjected to an independent review process, and approved by ANSI in less than six months. The standard applies to commonly recognized nonstructural members such as wall studs used in interior partition walls and to other members meeting the nonstructural definition and limitations. AISI S220 brought the design and manufacturing requirements for cold-formed steel nonstructural members into one standard, making it easier for design professionals and building officials to specify and approve cold-formed steel for building projects.
This updated version will include the addition of performance requirements for screw penetration, the expansion of testing requirements to reference the new AISI S915 and AISI S916 test standards, and testing requirements for screw penetration.
Combining six standards into one document
Six separate cold-formed steel framing standards are being merged to form a new standard—the 2015 edition of AISI S240. Combining the previous standards, which each independently addressed an individual cold-formed steel frame subsystem, it will allow designers to take a more comprehensive and systematic approach to the design process.
In addition to the consolidation of the six former structural standards, AISI S240 will provide new quality control and quality assurance (QC/QA) requirements for CFS structural framing. These provisions will be coordinated with the model building codes, giving engineers, architects, and construction specifiers assurance the cold-formed steel framing designed under AISI standards are code-compliant and meet their design expectations. In this regard, CFS framing is taking its place alongside other traditional structural materials such as hot-rolled structural steel and concrete, which have well-established QC/QA provisions.