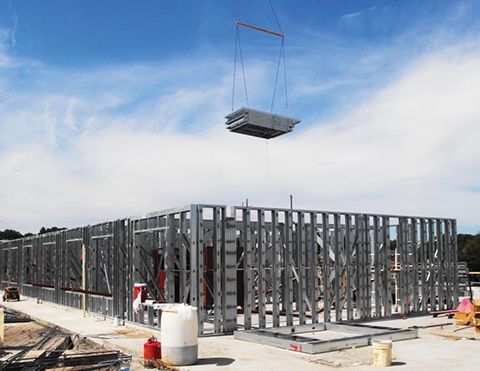 Seismic performance standards
The new AISI S400 represents a joining of two previous standards on the seismic design of cold-formed steel into one comprehensive standard. AISI S400 applies to the design and construction of cold-formed steel structural members and connections in seismic force-resisting systems. This standard will bring together the provisions for existing cold-formed steel seismic force-resisting systems and provide a 'home' for new CFS design solutions for buildings in regions where seismic activity is a concern.
Promoting sustainable building construction with steel
Through ongoing investments in research and development, the reliability and cost-effectiveness of cold-formed steel structures continues to increase. AISI's standards are updated on a regular basis, allowing designers and engineers to benefit from these research advances, producing effective and efficient designs using cold-formed steel. Additionally, the steel industry has made significant progress in increasing the efficiency and lessening the environmental impact of steel production over the years—making cold-formed steel a sustainable choice.
By encouraging the use of cold-formed steel in building designs, AISI helps designers develop more creative designs while using less steel. The increased strength, durability, and resiliency of cold-formed steel gives designers the freedom to create structures using fewer resources while maintaining building integrity and providing a sustainable solution.
Additionally, steel's high recyclability in comparison to other materials allows for steel construction products and systems to be sustainably managed at the end of a building's lifecycle. Where materials such as wood are often disposed of in landfills or downcycled for fuel or mulch, the CFS framing material in buildings can be collected and recycled as any number of steel products, including new steel-framed buildings.
These standards, which make cold-formed steel design more accessible to engineers and design professionals, are another step toward truly sustainable building design.
Conclusion
While the standards currently in development for cold-formed steel structures help increase efficiency and accessibility, future standards continue to evolve to introduce innovations in products and technology to the marketplace.
These standards create a path for the industry to reach the next step in this ongoing process. As building design, engineering advances, and system-analysis software are developed, the industry will be greatly empowered. AISI is currently working with a special task force to develop a roadmap for implementing analysis-based design in a standards environment.
Looking to the future, one can see the new possibilities and advantages that will be delivered by the ability to predict system reliability in real time during the design process. This type of analysis will allow designers and engineers to design seamlessly, while testing their models as they are developed. Cold-formed steel design standards will continue to develop in the coming years to foster innovation in the construction industry while allowing engineers and other design professionals to take full advantage of the material's strength, reliability, and sustainability in building construction.
Robert J. Wills, PE, is vice president of construction market development with the Steel Market Development Institute, a business unit of the American Iron and Steel Institute. He is responsible for overseeing the construction market programs in commercial buildings, residential construction, and the transportation/infrastructure markets, as well as the AISI Construction Technical Program. With more than 30 years of experience in the construction industry, he has served as a structural design engineer and in various roles with the AISI Codes and Standards program. He is a member of ASTM International, the American Society of Civil Engineers (ASCE), the National Fire Protection Association (NFPA), and the International Code Council (ICC).