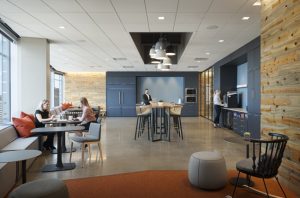 To accommodate its growth in Colorado, the global law firm Greenberg Traurig, LLP, moved to a new 3809-m2 (41,000-sf), two-floor office suite in downtown Denver. The city's first Class A office tower in more than 30 years and one of its tallest, the 40-story property serves as a hub of innovation and collaboration. To achieve its aesthetics and sustainability goals, this next-generation workspace used high-performance ceiling panels.
Inspired by the surrounding Rocky Mountains, the environmentally responsible and modern tower rises into faceted gem crowned in two mountain-like peaks, sculpted with a palette of natural materials and colors. Its exterior façade, designed by Pickard Chilton, is composed of bedrock, glass, metal, and stone. Gensler designed Greenberg Traurig's office interior to showcase complementary finishes including glass, metal, wood, and stone wool ceiling panels.
"As we expand our presence in Colorado, we were looking for a location that could evolve to meet our clients' needs," Greenberg Traurig's Denver co-managing shareholders David G. Palmer and Michael R. McGinnis said in a joint statement. "From a strategic standpoint, our new office is designed to enable flexibility, improve efficiency, and provide collaborative space to facilitate teamwork. The design reflects the changing needs of the global law firm, which requires a sustainable, technologically advanced workplace that facilitates interaction and enhances client service."
Supporting Greenberg Traurig's goals, Gensler specified stone wool ceiling panels to enhance the office's contemporary look and effective acoustics for its 3-m (10-ft) high ceilings.
With a noise reduction coefficient (NRC) of 0.95, the stone wool panels deliver high sound absorption in the offices, conference rooms, and shared spaces. Combined with full-height walls, this approach to optimized acoustics helps Greenberg Traurig's legal team maintain privacy, communicate clearly, and focus on detail-oriented tasks.
Creating the ceiling's neat, clean appearance, Heartland Acoustics & Interiors, Inc., installed the ceiling panels using a 14-mm (9/16-in.) ceiling suspension system. The metal grid was finished in white to match the lightly textured panels' modern aesthetic.
White light-reflective ceiling panels also help carry natural light from the exterior floor-to-ceiling glass façade permeating up to 13-m (42-ft) deep into the interior office floor plan. Up to 85 percent of all light hitting the ceiling panels is reflected and diffused by the ceiling panels, maximizing daylight and comfort for staff. Minimizing the need for electric lighting, this helps the building operate at a 10 percent higher energy efficiency rate than similar structures.
Along with the Leadership in Energy and Environmental Design (LEED) credits for Optimizing Energy Performance, low-emissivity (low-e) materials also contributed to the project's point total. The stone wool products are GreenGuard Gold certified as low-e products, recognized as supporting healthy indoor air quality (IAQ).
Built by Houston-based developer, Hines, construction of office tower was completed in March 2018. Turner Construction served as the general contractor for Greenberg Traurig's interior build-out.