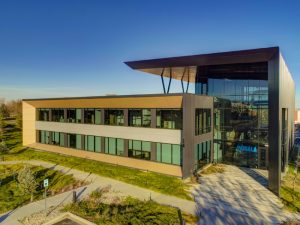 Finnish company Vaisala has opened its new North American headquarters in Louisville, Colorado. Designed by OZ Architecture of Denver, the office building blends Scandinavian style and sustainable, net-zero-ready functionality. Curtain wall and window wall systems contribute to the building's crisp, modern, minimalist, high-performance design. Thermally broken aluminum framing, low-emissivity (low-e) insulated glass, and a thermal pressure plate further support the building envelope's sustainability and energy-efficiency goals.
Naturally welcoming design
Creating a fluid, indoor/outdoor campus, Vaisala's new two-story, 3252-m2 (35,000-sf) building accommodates the majority of the company's Colorado-based employees and a weather-monitoring operations center. It also serves as a conference and training center for customers and researchers from around the world.
The architectural design of Vaisala's headquarters presents an open, inviting, and collaborative facility. OZ described the building's exterior as inspired by the topography of the region, oriented to bring views of the Rocky Mountains into the building. The interiors reflect natural elements of metal, wood, sunlight, and earth.
Realizing this architectural vision, the thermal curtain wall enclose a double-height, day-lit atrium and reception area, and thermal window wall provide views from the offices, training area, and conference rooms.
Thermal and structural performance
Engineered for mid-rise applications like Vaisala's headquarters, the thermally broken curtain wall meets stringent energy codes and net-zero goals. The curtain wall has a 64-mm (2.5-in.) aluminum face, with system depths from 159 to 250 mm (6.25 to 10.25 in.) and optional thermal pressure plates.
Combining the fiber-reinforced polymer thermal pressure plate with warm edge spacers, the thermal curtain wall can achieve a system U-factor of 0.32. The curtain wall's expanded thermal break and thicker gasketing also improves condensation resistance (up to 80 CRFf), as well as provides industry-leading air, water, structural, and acoustic performance.
The thermal window walls are suitable for between-slab 'strip window' applications. For Vaisala's building, the window wall was manufactured with silicone-glazed verticals and dual poured-and-debridged thermal breaks in the perimeter framing members. This system design has been tested to deliver as low as 0.32 U-factors for thermal performance.
The curtain wall and window wall systems are tested and modeled for thermal transmittance per the National Fenestration Council (NFRC) procedures. They also are tested per the Fenestration Glazing & Industry Alliance's (FGIA's) American Architectural Manufacturer's Association (AAMA) standards for air, water, structural, and condensation resistance.In total, more than 1036 m (3400 ft) of curtainwall and 2469 m (8100 ft) of window wall systems were installed.
Durable and sustainable design
Protecting the systems' framing members and enhancing their appearance, the aluminum was finished in a three-coat black 70 percent polyvinylidene fluoride (PVDF) resin-based architectural coating. The finishing provider used a 100 percent air capture system and regenerative thermal oxidizer to safely destroy the volatile organic compounds (VOCs) in the liquid paints' solvents.
The high-performance architectural coatings specified for Vaisala's curtain wall and window wall systems meet the industry's most stringent standards for resistance to humidity, chalking, chemicals, salt spray, gloss loss, and color change. These durable finishes are low-maintenance and long-lasting. Reducing the time and labor needed to maintain or repair office buildings also supports aesthetic, economical, and sustainable building goals.
Along with the curtain wall and window wall systems' high thermal performance, other sustainable materials and features include cross-laminated timber (CLT) in lieu of steel, a high-efficiency heating and cooling system, extra insulation, and advanced water-saving fixtures.