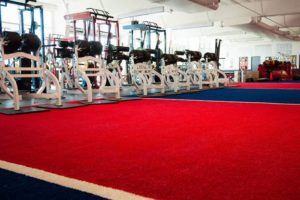 New flooring in the training and field house facilities at Colorado State University–Pueblo enabled the university to provide much-needed amenities to its football players. Surprisingly, the school— a fully accredited university with an enrollment of nearly 5200 students 161 km (100 mi) south of Denver—didn't always have a football team.
"The football program was dropped in 1984," said Lee Meisner, project manager with Friends of Football (FOF), a non-profit that wanted the sport to return to the university. "In 2007, FOF raised enough money to bring back the football program along with women's track and men's wrestling."
In 2016, FOF embarked on a new campaign, called Lift Up the Pack, with the goals of raising money to replace the turf on the university's football field, remodel the existing field house's basement, and build a 929-m2 (10,000-sf) weight training facility—three times the original facility's size. The group raised $3.5 million within nine months.
The 353-m2 (3800-sf) weight room was transformed to include more lockers, an expanded equipment room, and, most importantly, a new training room for student athletes.
The new building also features a new 464-m2 (5000-sf) surface. The former rubber surface was only 6-mm (0.25-in.) thick and was not engineered to have weights dropped on it. Now the entire weightlifting area is a 'drop zone.' The new weight room features 14 custom, inlaid lifting platforms. Designed for extreme strength and conditioning, the new 22.5-mm (0.88-in.) thick surface roll features a 10.5 mm (0.41 in.) roll field united to a 12 mm (0.47 in.) shock pad. The resulting triple durometer system combines the durability and firm footing desired in strength training with the ergonomic demands of aggressive functional training in one surface.
Adjacent to the lifting platforms is a 390-m2 (4200-sf) high-pile turf. This surface features a 35-mm (1.37-in.) thick system comprising a 2-mm (0.98-in.) turf wear layer field united to a 10-mm (0.4 in.) smash pad, made from recycled athletic shoes. This surface's thatch support system also eliminates the need for infill, making it an ideal training turf.
The field house's basement was renovated. A wet room with an underwater treadmill and 12-person cold water tub was added. Due to the continuous presence of water in this environment, a special safety surface 139 m2 (1500 sf) was installed. This 2-mm (0.07-in.) vinyl flooring is ideal for wet areas and is engineered with slip resistant particles and a raised emboss for added slip resistance.
The field house's rooftop was also renovated to include a tailgate area for games.
"It's a party deck built into a hill, and the school has special rooftop tailgates here on game days," said Meisner.