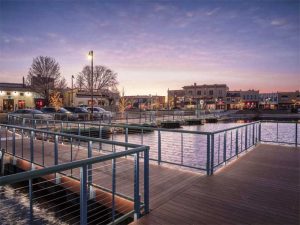 by Brad Adsit, CDT, LEEP AP, and Scott Cathcart
A key factor in successful commercial guardrail application is the attachment of the posts to the substructure (substrate). Many pre-engineered post attachment methods are available to meet diverse needs of commercial projects, including mounting to concrete, structural steel, and engineered wood, or projects with sleeper framing over ethylene propylene diene monomer (EPDM), and fluid-applied membranes.
Additional post attachment options can accommodate fascia mounting with an offset, core mount and block-out, pedestal and paver systems, and several parapet and pony wall applications. All of them can be used in conjunction with various types of connecting hardware, including lag screws, thru bolts, expansion anchors (for concrete), and other specialty connection hardware.
Post attachment options
The most common post mounting option for commercial guardrail applications include base (surface), direct fascia, fascia bracket, and stanchion.
Base (surface) mount
A base, or surface, mount solution is used to mount posts with an attached base plate directly on top of deck, patio, or stair tread surfaces. This type of mounting method can be used on both flat surfaces and angled runs and is a good choice for wide decks or walkways, and cases where there is no concern with posts consuming space on the structure.
In the majority of instances, concrete decks, wall top railings, interior pony walls, and exterior parapet walls will call for surface-mounted posts. Similarly, level wooden decks with at least 76 mm (3 in.) of structural backing at the post locations and rooftop decks with gutters or other obstructions that can prevent fascia mounting are well-suited for surface mounting.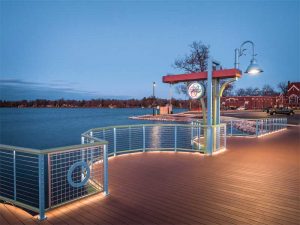 Despite the need for more bolts on a standard install when compared to fascia mounting, surface-mounted posts can be simpler to fix on a level surface. On raised structures, surface mounting enables the installation of posts from the top instead of using a ladder, lift, or leaning over the side of the structure. In most cases, the installer will be able to use shorter bolts since the mounting plate will make direct contact with the surface.
Direct fascia mount
While surface-mounted posts can require up to 152 mm (6 in.) of space around the perimeter due to the size and location of the mounting plates, direct fascia-mounted railing posts do not take up space on top of the deck. Additionally, fascia-mounted posts are less expensive, especially in cases where they are bolted directly through the post, typically utilizing two to three bolts instead of a mounting plate with four bolts.
Direct fascia mounting is usually recommended for smaller surfaces where space is an issue and the surface is uneven. It is important to be able to adjust the posts up or down, as needed. Fascia mounting also lends itself to situations where
a standoff plate needs to be used to avoid a drip-edge flashing or where minimal backing makes it necessary to use a four-bolt mounting plate.
Many decks, especially those on rooftops, use a waterproof membrane to ensure the structure is protected from water. Direct fascia mounting helps ensure the railing posts do not puncture the waterproof membrane. Additionally, it provides a cleaner aesthetic as they hide the deck hardware along the side of the structure.
When using this method, post spacing may have to be reduced to account for the reduced cross-section where the hole is drilled.
Fascia bracket mount
Fascia mount brackets are designed for side mounting to fascia or rim joists when decking or nosing trim extends beyond the edge of the fascia board. These brackets are often used for installation of posts on flat roofs and concrete decks and accommodate both straight and corner runs.
Posts are attached using metal brackets that have a 31-mm (1 ¼-in.) stand-off and are installed flush with the fascia board.