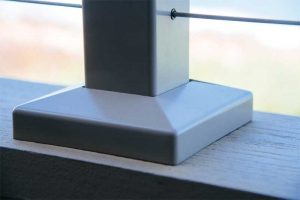 Floating deck systems (pedestal or sleeper framing)
Typical attachment methods include a stanchion or base mount. These systems add distance between the walking surface and mounting surface, which impacts the structural loading on the post and attachment connection. As a result, the moment load is increased due to the elongated lever length. Therefore, the mounting system that is used must be adequately designed and strong enough to accommodate a higher bending strength on the post and larger withdrawal (tension) capacity on the fasteners.
Comparison of pre-engineered and field-fabricated guardrails
Pre-manufactured guardrail systems can offer a number of advantages over the field fabricated systems. In addition to providing more post-to-substrate connection methods, pre-engineered guardrails have a lower risk of corrosion-induced degradation, shorter installation time, and fewer callbacks along both supply chain and product consistency and integrity. Moreover, it has a lower cost of ownership over time, requires less maintenance, and offers more comprehensive warranty coverage.
With pre-engineered guardrails, all structural requirements of the railing frame have been designed and tested in real-world applications prior to the material arriving onsite, and code compliance has already been approved.
When considering a pre-engineered guardrail solution, it is recommended to determine whether the manufacturer has the capability to do one-off engineering reports and/or project-specific analysis, which are often required by some building departments. This will simplify interactions with officials.
In the case of field-fabricated guardrails, a number of challenges can arise. First, 90 percent of all commercial guardrails are constructed of steel, which is prone to corrosion and rusting. When finishing of guardrail is performed in the field, the metal is exposed to the elements until it can be painted.
Guardrail manufacturers, by the nature of their production process, have more control over fabrication. A mass manufacturing, American Architectural Manufacturers Association (AAMA)-accredited facility enables application of more consistent, higher-performing protective coatings and finishes.
Additionally, warranties for field fabricated systems typically do not exceed one year. In the case of pre-fabricated types, the warranties are usually longer in duration and more inclusive.
Finally, factory-produced systems offer more extensive and affordable options, while eliminating the uncertainties that may be encountered during field fabrication. Streamlined material sourcing provides more efficiency and potential scheduling benefits along with increased customizability without sacrificing time and expense.
Long-term cost of ownership
When determining the guardrail for a project, it is important to evaluate the long-term cost of ownership. While traditional steel railing may appear to be less expensive, this is not the case over the life of the product.
When pre-engineered railings are used, change orders and the risk of callbacks and warranty work are minimized, as all calculations have been determined upfront, thereby eliminating guesswork. Additionally, aluminum and stainless steel guardrails require less maintenance than steel guardrails.
Additional specification considerations
Before selecting a guardrail manufacturer, commercial architects and builders should make sure the system and mounting options are IBC code-compliant for all use groups and also check to see if the manufacturer provides engineering reports for its post mounting options. This avoids the need to perform one-off engineering calculations in the field, saving time and reducing the chance for errors.
Additionally, the manufacturer should offer a range of mounting options to meet the varying requirements that can occur within a single project. Finally, it is important to select a company with good ratings for service and a comprehensive warranty that will stand behind its workmanship.
When specifying mounting options for commercial guardrail applications, it is important to carefully consider both the substrate and connection hardware to help ensure structural integrity and safety along with an aesthetically pleasing result. Pre-engineered guardrail solutions offer a number of advantages over field fabricated options, providing an elegant and long-lasting railing solution.