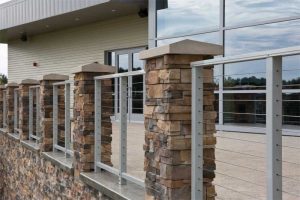 Stanchion mount
Stanchions are used to mount posts to stone or tile-covered concrete slabs, or on roof decks where the penetration of waterproof roofing membranes must be minimized. Short stanchions are attached to the structural members prior to pouring the slab or laying the roof membrane. Railing posts are then sleeved over the protruding stanchion ends and secured with screws. Stanchions are available in steel, aluminum, and stainless steel.
Post fastener method by substrate
Heavy timber beam (Douglas Fir or Western Red Cedar), EWP, glue-laminated timber (glulam), parallel-strand lumber (PSL), laminated veneer lumber (LVL), and treated framing lumber are the most common substrate materials to which guardrails are attached. Other materials include concrete, steel, and a pedestal system over substrate.
The fastener method chosen is often the most critical aspect of ensuring a railing frame can withstand the loads as prescribed by building code.
Heavy timber
Guardrail attachment methods include base, direct fascia, and fascia bracket mount applications. All of these methods can use either lag screws or thru bolts, with specific considerations that depend on project variables and the type of wood being used.
The American Wood Council's (AWC's) National Design Standards (NDS) dictate thread engagement requirements for lag screws into wood and respective tension strengths. This standard is referenced in the International Building Code (IBC).
Treated framing lumber
Guardrail attachment options include base, direct fascia, and fascia bracket mount applications. Lag screws or thru bolts can be used. When opting for the former, it is crucial to ensure adequate blocking to achieve necessary thread engagement. When using thru bolts, sufficient access must exist to install the washer and nut.
It is important to focus on the method of preservation, which may require particular fastener alloys or specially coated fasteners (hot-dipped, zinc-coated, galvanized steel, stainless steel, silicone bronze and/or copper, as specified per IBC requisites).
Concrete
All mounting methods can be used with concrete. The method chosen will depend on unique project specifications/variables. When using an attachment method requiring fasteners, options can include expansion and epoxy anchors and various embed hardware. It is important to pay attention to products designed and tested with both cracked and uncracked concrete, as typically referenced in International Code Council-Evaluation Service Report (ICC-ESR) documentation.
In addition to concrete strength (f'c), effective embedment (depth of anchor), edge distance, and anchor spacing are all important engineering considerations when mounting to concrete. The slab must be an adequate depth to accept proper anchor mounting.
Mounting options may be limited with post-tensioned concrete slabs because the tendons may be (and often are) too close to the slab edge, effectively eliminating the possibility of drilling/cutting the slab. Inadvertently damaging one of the tendons can release a tremendous amount of energy very quickly, potentially causing serious injury or death while irreversibly damaging the substrate.
Similarly, special care should be taken to not collide with or drill through rebar or interfere with rebar locations.
Steel
As with concrete, all mounting methods can be used when attaching posts to steel. Whether fastening to an H-beam, I-beam, C-channel, box beam, hollow structural section (HSS), architecturally exposed structural steel (AESS), or other structural steel members, project specifics need to be taken into consideration. Fastening methods can include drill and tap, welded studs, welded stanchions, and thru bolting.
When welding stanchions to a steel member, it is important to use similar metals and properly account for environmental conditions. For example, in coastal areas or in environments that regularly use de-icing chemicals such as magnesium chloride, potential galvanic reactions can occur when dissimilar metals make contact with one another.