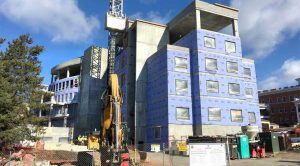 Long known as a cornerstone in the community, the Minneapolis Veterans Home in Minneapolis, Minnesota, has completed its Building #22 project. The modernized and updated multi-story structure will provide state-of-the-art care and service to veterans.
The home underwent an extensive updating process, comprising multiple phases and spanning over eight years. The final phase, which was focused on Building #22, led to the culmination of the project.
Updates to Building #22 include the creation of a new skilled nursing facility, resident rooms, balconies, gardens, a courtyard, and a putting green. The 13,174-m2 (141,800-sf) building project was overseen by the architectural firm Nelson-Tremain Partnership and general contractor JE Dunn Construction. The subcontractor, Exterior Building Services, Inc., was in charge of the installation of air barriers.
The air barrier installation was 'complex,' as the building had many secondary roofs, insets, and corners requiring extensive detailing. Additionally, the project was on an established build site, requiring the installation team to navigate around other structures and people, as they serviced and treated this addition. The space, as a whole, was tight and the crew had to work within the confines of a courtyard complex as well as in the midst of occupied buildings.
The workers installed a water-based air/liquid moisture barrier that cures to form a tough, seamless elastomeric membrane and is suitable for both new construction and retrofit applications, behind both metal panel and brick finishes. The backup wall substrates were poured concrete and gypsum sheathing. Additionally, 1021 m2 (11,000 sf) a flexible membrane flashing product that is nominally 1-mm (40-mils) thick, was also installed at openings, penetrations, transitions, roof tie-ins, and connections to below-grade waterproofing.
The concealed flashing worked well for the project because it is made for masonry concrete, wood and steel frames, and roofing applications. It is designed for use as a thru-wall flashing and dampproofing course. Large quantities of a one-component, cold-applied, non-slump membrane, and a water-based adhesive compound formulated with polymers in a water-based emulsion, were also used.
The project was overseen by an Air Barrier Association of America (ABAA) field auditor who gave Building #22 a quality assurance program (QAP) certification.