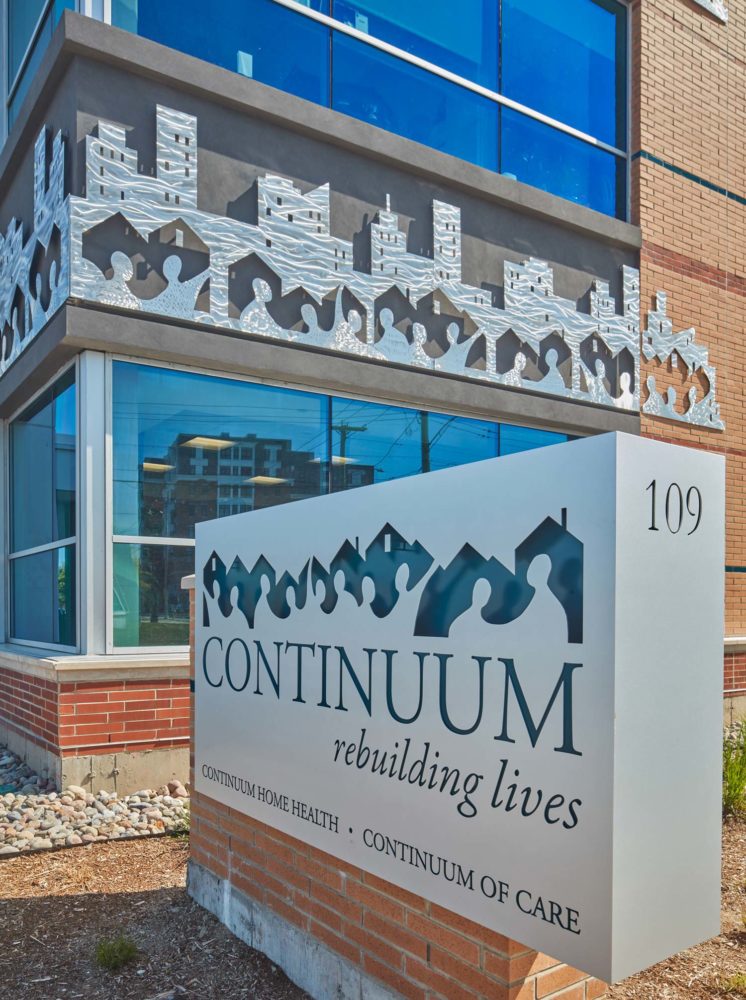 Designing a facility to meet the needs of staff and patients was at the heart of Continuum—a non-profit mental health and addiction services provider serving Connecticut.
Not only did it have to replace the company's previous offices, which were housed in a Victorian brownstone, but the three-story structure also had to bring together several satellite offices and allow for future growth of its home care and continuing care programs. Currently, it has more than 800 employees, including a workforce of over 50 nurses providing care to approximately 2400 individuals in their homes.
"It's essential we can co-ordinate medical care with our community-based residential care," says Patti Walker, president of Continuum. "The beauty of this building is that current and former clients can come here for programs, including job training, exercise, and nutrition instruction."
The 2787-m2 (30,000 sf) headquarters—located in New Haven, features a two-story vaulted lobby with stone veneer panels on the double-height wall behind the reception area, administrative offices, conference rooms, and space for staff training. The facility also includes a café with its own street-side entrance, which will employ some of Continuum's clients. Neighbors and other members of the community can also stop in for a bite, simultaneously supporting Continuum and participating in its efforts.
"Our vision is a world of prosperous, compassionate communities, and Continuum's mission is aligned with that vision," says Chris Bockstael, partner at Svigals + Partners and the project's lead designer. "By creating a network of passionate individuals who provide in-home care to individuals with mental illness and intellectual disabilities who struggle to thrive in our communities, Continuum has given second chances to many people who were at risk of isolation, homelessness, institutionalization, poverty, and unmonitored health concerns."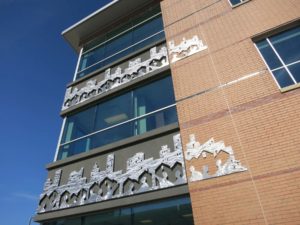 The design also includes architecturally integrated original art symbolizing the care-provider's core principles of 'home' and 'community.' The project team collaborated on the design of these elements with Continuum's staff, a process that included the creation of hand-drawn sketches by Marissa Mead, an architect and artist with the firm. The design depicts abstract human figures holding hands in the foreground with houses and urban cityscapes behind them, evoking a combination of domestic comfort and interconnectivity.
This motif appears in laser-cut aluminum panels on the building's exterior—etched with varying textures to create a dynamic appearance—as well as in several locations throughout the interior. Continuum has adopted the artwork for use in its branding and as its logo.