by Sean D. Browne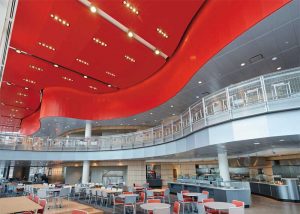 Specifiers who choose acoustical ceiling systems in commercial applications are discovering what the ceilings industry has observed for quite some time: the growing use and popularity of metal ceiling systems is a direct result of their eye-catching visuals, noise control, and long service life.
One of the main reasons for their popularity is the sleek, upscale, high-tech look metal brings to a space. This sophisticated feature makes them ideal for use in high visibility areas, such as lobbies, conference rooms, corridors, theaters, and transportation terminals, as well as in several corporate, retail, and hospitality environments. Long popular in European commercial design, today's metal ceiling systems are offered in a wider variety of sizes, forms, and shapes than ever before.
Durability is another reason for their growth. Metal ceiling panels are often chosen over other options because of their service life, especially in areas where access to the plenum is frequent or where the ceiling is exposed to occupant interaction, frequent cleaning, or other potentially damaging situations.
Most metal ceiling systems are manufactured from electrogalvanized steel or aluminum. Many of them also feature a factory-applied powder-coated finish for added durability. Humidity resistance and low maintenance are other important considerations in the selection of metal.
Aesthetics plus acoustics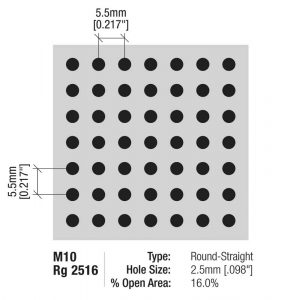 Specifiers do not always associate metal with good acoustics. Yet, metal ceilings can provide very effective acoustical control in addition to their eye-catching aesthetics, making them a versatile and functional design element. To obtain the acoustic benefits, however, the panels must be perforated and backed with a sound-absorbent liner behind the perforations, usually in the form of a thin black acoustical fleece, mineral fiber panels, and/or an encapsulated fiberglass infill.
Thickness, density, and mounting method affect the sound absorption of the backloaded acoustic material. In typical backloading applications, the material is laid on top of the perforated metal panels with an air gap between the material and the deck.
The number, size, and shape of the perforations also impact the acoustical performance of the ceiling panel. Depending on the perforations, sound can pass through the ceiling panels and be absorbed by the material behind them.
Factors determining how much sound can pass through perforated metal panels are:
metal thickness;
number of perforations;
perforation diameter;
distance and spacing between perforations; and
percent of open area of panels.
Larger perforations, closely spaced, on thin metal provide the highest level of sound transparency available while thicker metal with smaller holes spaced further apart will have less transparency, thereby blocking sound from the absorptive material behind the panels (For more information, read "Acoustical Uses for Perforated Metals: Principles and Applications" by Theodore J. Schultz, PhD, at www.iperf.org.).
Consider the perforation pattern in Figure 1. This panel allows more than 95 percent of sound to pass through it to be absorbed by the backing material. Acoustical tests performed at a National Voluntary Laboratory Acreditation Program (NVLAP) facility on the panel yielded the following: with only a thin acoustical fleece, the has panel achieved a noise reduction coefficient (NRC) of 0.80, meaning it absorbs 80 percent of the sound striking it. With both a thin acoustical fleece and a fiberglass infill, the NRC is 0.90.
Perforations vary in size and pattern depending on aesthetic appeal. For years, only limited perforation choices were available, but today they are offered in a myriad of options. It is even possible to have extra microperforated panels where the holes are so small, they are essentially invisible. It is also possible to have custom perforations, allowing designers to transform images to the metal ceiling panels, and offering a unique visual with acoustical performance.
Multitude of choices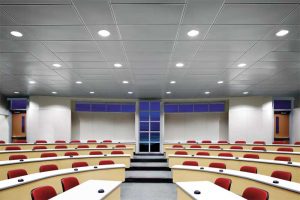 The chosen perforation pattern affects the acoustical absorption of the ceiling. When selecting metal ceilings, there are three general categories of perforated panels to consider when aesthetics and acoustics are needed for a space.
Highly perforated
These ceilings have a perforation area of more than 20 percent of the ceiling area. They are available in a variety of patterns and shapes, including circles, squares, diamonds, bars, and slats. Since the panels are essentially transparent to sound, performance is dependent on the acoustic treatment placed behind the ceiling.
Generally, when the open percentage of the metal is above 20 percent, the acoustical absorption of the backing material is 100 percent preserved. To validate this, the Industrial Perforators Association (IPA) performed an analysis of three perforated metal panels with fiberglass backing. The panels were 46 percent open area, 37 percent, and 23 percent. All were tested for acoustical absorption and compared to the fiberglass alone.
The tests found "there was virtually no diminishment of the fiberglass blanket's sound absorption performance by the presence of any of the perforated metal panels. They were equally transparent with only minor and insignificant variations. Each of the tests followed the performance of the bare blanket very closely at all frequency levels."
Highly perforated ceilings are frequently found in retail applications, especially boutique environments, and hospitality installations such as restaurants. They are also used in many types of high ceiling applications such as gymnasiums. Since there is so much open area, use of a black acoustical backer is recommended.
Moderately perforated
These ceilings have an open area of less than 20 percent. The perforations are predominantly circular, although other shapes are available. These ceilings are commonly used in commercial applications, including office and educational buildings, and healthcare facilities.
If the acoustical goal is to lower the sound of occupant voices, it is advisable to choose a panel with an open area as close to 20 percent as possible. Additionally, the smaller the perforation, the better.
Minimally perforated
These ceilings have an open area of less than two percent, but can still provide good acoustical performance if properly designed and backed with an appropriate infill. Minimally perforated ceiling panels can be installed in a range of applications to reduce occupant sound level and/or the background noise created by an HVAC system.
Visually, the perforations can hardly be seen and give the appearance of an unperforated ceiling. Consequently, if a visible perforation pattern is aesthetically desired in the ceiling, it is recommended to select one of the other choices above.