Variety of shapes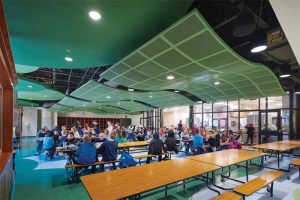 In terms of shapes, the most common design choice is a 0.6 x 0.6-m (2 x 2-ft) panel although metal ceilings are also available in geometric, linear, and plank versions as well as radial and curved systems in an assortment of sizes.
Other choices include undulating 3D metal ceilings available in 'hills' and 'valleys' to create a distinctive serpentine effect. A variety of 'free-floating' ceiling clouds and canopies are also available, many of which are curved to create a 'wave' profile.  Some are available in 'kits' to minimize or eliminate onsite cutting and measuring.
Case study
The myriad of metal ceiling options provides specifiers with the opportunity to create signature ceilings in a wide variety of spaces. A case in point is the conference room at the new National Oceanic and Atmospheric Administration (NOAA) facility in Grandview, Missouri.
The room is used to host everything from staff briefings to national meetings. As a result, the design team at Burns & McDonnell, Kansas City, Missouri, felt it was important to create a space that would not only embody the center's mission, but also provide the staff with a space they could be proud of.
"We wanted to create a space that would leave a lasting impression of the facility," said Rhonda Hulkill, the senior interior designer, "and the best opportunity for making an impression is the ceiling."
The design team achieved its goal by creating a ceiling featuring custom 0.6 x 1-m (2 x 4-ft) metal ceiling panels installed diagonally across the room in "a herringbone pattern. The result is a visual reminiscent of lightning bolts. A 152-mm (6-in.) gap separates each of the bolts, while blue fluorescent lighting behind the panels represents the sky and adds even more interest to the ceiling visual.
All the metal panels are perforated and backed with an acoustical fleece to provide sound absorption.
"Considering the multiple uses of the space, acoustical performance was a key consideration," Hulkill said.
According to the associate architect Vicky Borchers, metal ceiling panels were chosen because of their durability and light reflectance.
"We wanted a certain amount of reflectance to extend the blue light into the room and give the space more life. Since the panels are floating, we also wanted sharp, crisp edges as they are visible," she said.
As far as making an impression, she reports that the conference room has become the facility's signature space.
"It is definitely the space everybody remembers and also the first place the staff takes everyone," she added.
Ease of installation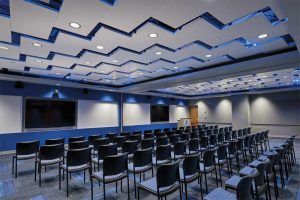 Some specifiers may think metal ceilings are difficult to work with. However, they can be installed easily in standard suspension systems and integrated well with standard light fixtures, including high hats and linear and geometric lighting.
Many metal ceilings are designed for installation in 24 mm (15/16 in.) exposed tee suspension systems, making them ideal for renovation applications as well as new construction. Since there is no need to replace an existing suspension system, renovation projects can be completed quickly. Other metal ceilings can be installed in 14 mm (9/16 in.) suspension systems.
In the case of 'free-floating' clouds and canopies, installation is made easier through the availability of kits containing all the components required for the job. All components are pre-engineered for fit and finish to help ensure consistent visual quality. They also allow faster and easier installation since the system requires no field modification and only assembly.
Assistance available
The increasing popularity of perforated metal ceiling systems for sound control has resulted in the need for much more collaboration between specifiers and ceiling manufacturers, especially in the case of custom installations.
To meet this need, some manufacturers now offer a consultative design service including project management for the ceiling system, from concept to completion. The team is comprised of specialists with expertise in both architecture and engineering whose sole mission is to partner with architects and designers in the implementation of signature ceilings. There are also a myriad of tools and custom reports available to determine the proper acoustical treatments needed when specifying metal ceilings for a specific space.
Sean D. Browne is the principal scientist for Armstrong Ceiling & Wall Solutions in Lancaster, Pennsylvania, where he leads the Armstrong acoustics program. A member of the Acoustical Society of America (ASA) and ASTM, Browne has engineering degrees from Florida State University and the University of Miami, and has been published in the journals of the International Symposium on Room Acoustics (ISRA) and Acoustical Society of America (ASA). He can be reached at sdbrowne@armstrongceilings.com.