Variety of finishes
Metal ceilings are offered in a variety of finishes that coordinate with other interior metal finishes. The most popular colors are white, silver gray, and gun metal.
Today, there are even metal ceiling panels offering the rich, warm look of wood, but at a much more affordable cost than real wood. These ceilings are made possible by a technology embedding a realistic image of maple, cherry, walnut, and other wood species onto the surface of the metal ceiling panel. The powder-coated finish (post-coated) produces a consistent color tone and grain, greatly reducing the variations occurring in real wood panels. And, the panels can be perforated for acoustic control.
Metal ceilings with real wood veneers are also available. These ceilings are usually offered in three standard veneer finishes—maple, light cherry, and dark cherry. Custom finishes are also available.
For a more contemporary look, a broad range of metal mesh panels are available. The mesh family of ceilings is typically offered in three types of panel patterns—welded wire, woven wire, and expanded metal.
 Case study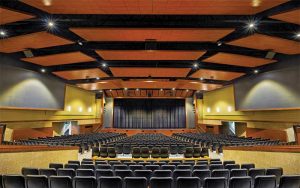 The ability of a metal ceiling to provide aesthetics and acoustics, along with a custom color, was recently demonstrated in Boston. As part of a new multi-use residence hall, the Berklee College of Music desired a space that would serve as a dining area during the day and a performance venue for students at night. Due to the dual function, both aesthetics and acoustics were key considerations in its design.
To meet the challenge, the Boston-based design team at William Rawn Associates created the 'Caf', a two-story, 400-seat space featuring a 10-m (32-ft) high ceiling, a gracefully curved second floor balcony, and a floor-to-ceiling glass wall.
According to designer Brian Putnam, the design team wanted to impart a dynamic quality to the space to complement its urban setting. One way the team accomplished its goal was to use metal torsion spring panels in a custom red color in the ceiling.
"Red was chosen because it is the school color and both eye-catching and highly visible from the street," Putnam said.
Apart from its looks, the light weight of aluminum ceiling panels and their durability were some of the considerations for a metal ceiling.
"Torsion spring ceiling panels were chosen because they have no exposed grid and still allow accessibility where needed," Putnam added.
The ceiling panels are installed in a series of clouds mirroring the balcony's 'ribbon wall,' which has been designed with sweeping curves to redirect sound. All of the metal panels in the ceiling are perforated and backed with a fiberglass infill for acoustic control.
"To create the space we desired, we knew we would be heavily reliant on the ceiling, both in terms of aesthetics and acoustics," Putnam said. "It is amazing how much of a signature element it has become."