Cross-laminated Timber: New projects show how the material is fulfilling 'tall' orders
by Katie Daniel | February 1, 2017 2:56 pm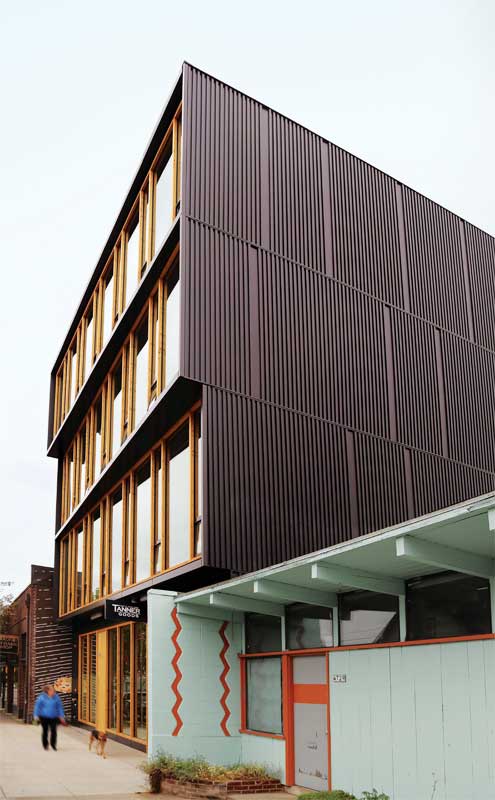 by Kenneth E. Bland, PE
Modern-day technologies and product delivery methods have created a bold new opportunity for wood products, which in turn has given rise to a new category of structural framing systems using mass timber. The possibility of tall wood buildings represents the first significant challenge to concrete and steel structures since their inception in high-rise building design more than a century ago. Cross-laminated timber (CLT) is among the products helping drive this trend.
CLT is a prefabricated engineered wood product made by gluing layers of solid-sawn lumber or structural composite lumber. Each layer can consist of one or more laminations of wood overlaid in perpendicular fashion. This cross-lamination provides dimensional stability, strength, and durability equal to or greater than competing materials in many applications. Size varies by manufacturer, but panels typically include three, five, or seven layers; they rarely exceed 508 mm (20 in.) in thickness.
CLT can be connected in various ways in wall-to-foundation, wall-to-wall (straight or junction), floor-to-floor, wall-to-floor, and wall-to-roof applications. Panels may be connected to each other with half-lapped joints or splines made from engineered wood products to construct large surfaces of CLT. Metal brackets, hold-downs, and plates are often used to transfer forces between horizontal and vertical diaphragms.
Using CLT in combination with other mass timber elements—such as glued-laminated timbers (glulam) and structural composite lumber (SCL)—offers several advantages, including use of a renewable resource, greater environmental performance, cost-effectiveness, reusability, and aesthetics. However, one of the biggest advantages is improved speed and efficiency of installation, given the panels can be prefabricated offsite according to the end-use application, with pre-cut openings for windows, doors, stairs, service channels, and ducts. On arrival from the manufacturing facility, the panels are ready for quick installation, shaving weeks or even months off the construction schedule.
Additionally, CLT meets stringent fire and seismic building code requirements. (For more on the topic, see this author's previous article for The Construction Specifier [September 2016], "Updating Code-conforming Wood Designs." It can be read online by visiting www.constructionspecifier.com/updating-code-conforming-wood-designs[2].) As with heavy timber, CLT chars at a slow and predictable rate, maintaining strength longer and giving occupants more time to exit the building. Structures using CLT for wall and floor assemblies also tend not to have as many concealed spaces within the floor and wall assemblies, further reducing the risk a fire will spread unnoticed.
When seismic performance is considered, CLT structures with fasteners designed in yielding mode offer many of the same favorable characteristics
as lightweight wood-frame construction. Yielding fasteners offer ductility, helping absorb energy from seismic ground motions and distributing forces throughout the seismic-resisting system.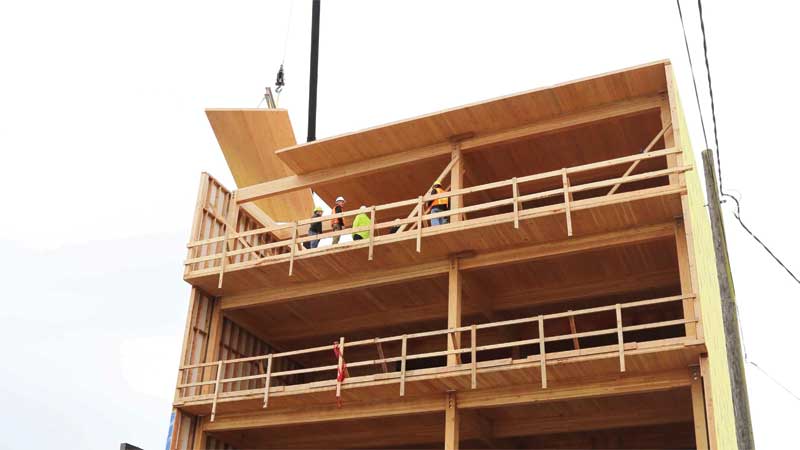 State of the art: Recent CLT projects
Spanning from Oregon to Massachusetts, several U.S. projects are already harnessing the potential of CLT. These projects are not only demonstrating what is 'permissible' when using wood, but also what is 'possible.'
Albina Yard
Designed by LEVER Architecture and engineered by KPFF Consulting Engineers, Albina Yard (Portland, Oregon) is the first structure in the United States to use domestically fabricated mass timber for a building-wide structural system. From the beginning, the design and construction teams collaborated closely on digital fabrication to improve the efficiency of construction while minimizing wasted building materials and maximizing the speed of onsite panel erection. Completed in early fall of 2016, the 1485-m2 (16,000-sf) creative office/retail mixed-use building utilizes a glulam frame with CLT structural panels.
Framework
Another Portland project designed by LEVER Architecture, Framework is the West Coast winner of the U.S. Tall Wood Building Prize Competition, which was funded in part by the U.S. Department of Agriculture (USDA), Softwood Lumber Board, and the Binational Softwood Lumber Council to support the research and development of tall wood demonstration projects in the United States.
Set to be the tallest mass timber structure in the country, Framework is a 12-story mixed-use building featuring a unique CLT lateral-force-resisting system with CLT floors and glulam beams and columns. It will be the first post-tensioned rocking CLT wall system in the United States, and the tallest post-tensioned rocking wall project in the world.
Framework is well on its way to demonstrating the full potential of CLT. Last fall, LEVER successfully demonstrated a mass timber assembly using CLT and glulam members can pass code-required fire-resistive testing for structures of the same height and number of stories. The project team also conducted tests on local CLT in Oregon to confirm the feasibility of locally sourcing wood, fulfilling the USDA grant mission to leverage CLT to propel rural economies. In December, the team completed structural testing to determine the stress-strain properties of the CLT wall panels to be used in the project. It is now beginning testing of the floor assembly to confirm the acoustic performance.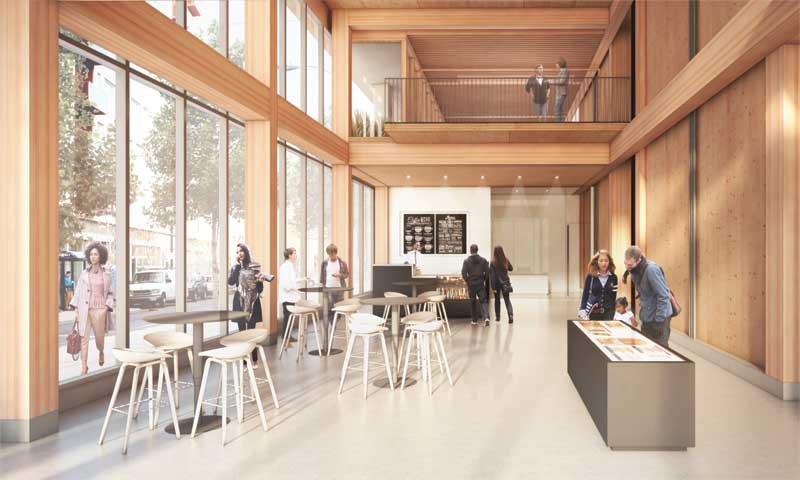 UMass Design Building
Designed collaboratively by Leers Weinzapfel Associates and Equilibrium Consulting, the new four-story, 8100-m2 (87,200-sf) University of Massachusetts Amherst (UMass) Design Building is informed by the school's current research in building technology. It features an exposed glulam timber post and beam structural system with CLT shear wall cores and roof decking. A CLT zipper truss spans the building commons space at the second level. Construction is estimated to be completed in early 2017. The design is targeting Gold certification under the Leadership in Energy and Environmental Design (LEED) program.
The new facility will house the university's multidisciplinary design program—fostering collaboration across architecture, building technology, landscape architecture, and regional planning—and will serve as a highly visible demonstration of sustainable design practice and leading-edge timber engineering. Other sustainable features include automated lighting, an energy-efficient ventilation system, low-flow faucets, nearby access to alternative transportation, and bioswales integrated into the exterior landscaping around the building.
CLT modular classrooms
Another example of CLT application can be seen in Washington state, where five school districts are participating in a $5.5 million pilot program to incorporate CLT modular construction in K−3 elementary classrooms. From both an economic and environmental standpoint, supporters are increasingly interested in growing the CLT industry in Washington, believing it will create local jobs, and make it profitable to thin forests, reducing the danger of wildfires. The CLT used in these projects will likely come from the millions of 'beetle-killed' fir and pine trees that pose a huge forest fire risk and are already marked for removal. (For a deeper look at possibilities with beetle-killed wood, see the October 2014 edition of The Construction Specifier for "Seeing the Urban Forests for the Trees: Secondary benefits of our cities' wood" by J. Gerard Capell, FCSI, AIA, CCS.
Visit www.constructionspecifier.com/seeing-the-urban-forests-for-the-trees-secondary-benefits-of-our-cities-wood-2[5].)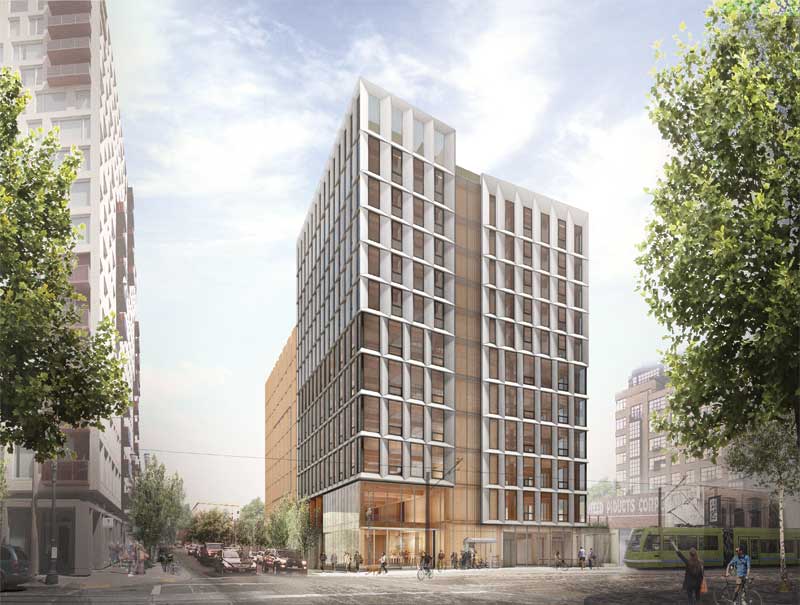 Resources available
There are many resources available to those who are interested in learning more about CLT and mass timber. The 2015 National Design Specification (NDS) for Wood Construction added a new chapter with design provisions for CLT. (For more on NDS [along with other codes and standards, including the International Building Code (IBC)], see our web-exclusive four-part series, "What the 2015 International Building Code Means for Wood Construction" by Buddy Showalter, PE. Part 1 begins with www.constructionspecifier.com/what-the-2015-international-building-code-means-for-wood-construction-part-i[7].) CLT-specific changes reflected in the 2015 NDS include:
general connection provisions revised to accommodate CLT in Chapter 12 ("Dowel-type Fasteners");
new sections applicable for wood screw and nail withdrawal from end grain of CLT;
new sections to address determination of dowel bearing strengths for fasteners installed in CLT; and
new placement provisions for fasteners and lag screws.
The applicable product-manufacturing standard for CLT is American National Standards Institute/APA−The Engineered Wood Association (ANSI/APA) Performance-rated Glulam (PRG) 320, Standard for Performance-rated Cross-laminated Timber. Applicable design values can be obtained from manufacturers' literature or code evaluation reports.
Further, growing numbers of design firms are conducting their own research. Skidmore, Owings & Merrill (SOM), for instance, initiated the Timber Tower Research Project[8] in 2013 to explore the feasibility of a high-rise mass timber structure that would reduce the embodied carbon footprint of buildings by 60 to 75 percent compared to a concrete building. Its successful test of the final, full-scale specimen last summer demonstrated a timber-concrete composite system can satisfy code requirements and compete with traditional construction methods.
Similarly, CallistonRTKL produced a feasibility study of a 40-story mass-timber residential tower in downtown Seattle.  (For more on the Seattle mass-timber tower, see the online article by Amir Lotfi, "How Feasible is a 40-story Mass Timber Residential Tower?" at www.constructionspecifier.com/mass-timber-feasibility[9]. Also, visit www.rethinkwood.com/sites/default/files/Seattle-Mass-Timber-Tower-Research-August-2016.pdf[10].) Work was done to explore the financial, regulatory, and constructability implications of using mass timber technology, particularly CLT, in tall buildings in the 30- to 40-story range.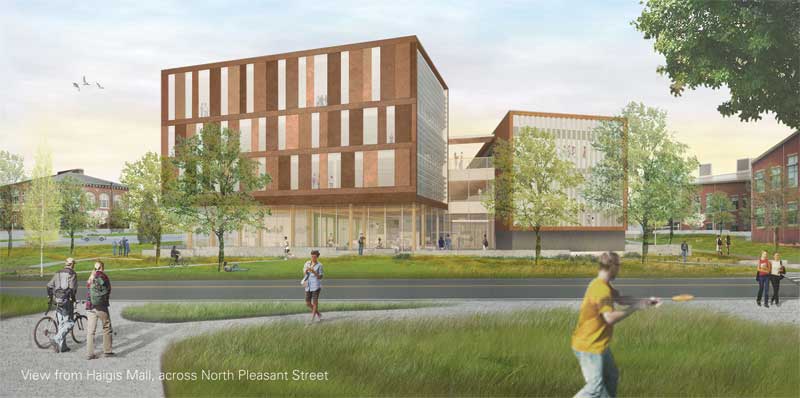 Continuing the momentum
Mass timber solutions incorporating CLT have the potential to revolutionize the built environment and address major challenges related to climate change, rapid urbanization, and the need for sustainable development. However, current building codes only allow combustible construction to be used in a range of low- to mid-rise residential and non-residential buildings up to six stories tall, based on the use of the building.
The International Code Council's (ICC's) Tall Wood Building Ad-hoc Committee, established in 2016, has met several times and heard from designers about their choice of mass timber for projects, including the aforementioned Framework project. That building's architects and engineers provided a summary of the structural and fire testing underway to support their building permit approval.
Additional research, testing, and demonstration projects are needed to help CLT gain broader acceptance in the United States. The American Wood Council (AWC) is helping educate code officials, industry professionals, and municipal and federal legislative and regulatory bodies through performance-based research and guidelines showing how mass timber can safely and efficiently meet or exceed the minimum requirements set by building codes and standards.
Legislators in both chambers of Congress and across the aisle have recognized the wide-ranging benefits of increasing wood use, particularly in tall building applications. Last Congress, the Timber Innovation Act (S. 2892/H.R. 5628) was introduced in the U.S. Senate and House of Representatives. It aims to promote mass timber research and technical assistance to state, local, university, and private sector educators and architects to help familiarize them with the possibilities of building with this material, which, in turn, would provide many benefits to the U.S. economy and environment. As there is a new Congress every two years, these bills will have to be reintroduced in 2017 in order to make headway.
With greater awareness around the impact of the building industry than ever before, organizations and professionals across the board have a reason to explore the use of CLT and mass timber as a solution to lessen the nation's carbon footprint while expanding the possibilities of wood construction and supporting rural economies where timber is sustainably harvested.
Kenneth E. Bland, PE, serves as the vice president of codes and regulations for the American Wood Council (AWC). Prior to joining AWC in 1988, he served in building code administration and enforcement. Bland is a member of the Society of Fire Protection Engineers (SFPE), the past chair of the International Code Council's (ICC's) Industry Advisory Committee, and part of numerous standards development committees in various capacities. He holds a bachelor's degree in architectural engineering in structures from Pennsylvania State University, a master's of science in fire protection engineering from Worcester Polytechnic Institute, and is a licensed professional engineer. He can be reached via e-mail at kbland@awc.org[12].
Endnotes:
[Image]: https://www.constructionspecifier.com/wp-content/uploads/2017/02/Albina-Yard_Courtesy-LEVER-Architecture_01.jpg
www.constructionspecifier.com/updating-code-conforming-wood-designs: http://www.constructionspecifier.com/updating-code-conforming-wood-designs
[Image]: https://www.constructionspecifier.com/wp-content/uploads/2017/02/Albina-Yard_Courtesy-LEVER-Architecture_02.jpg
[Image]: https://www.constructionspecifier.com/wp-content/uploads/2017/02/Framework-Lobby-Rendering.jpg
www.constructionspecifier.com/seeing-the-urban-forests-for-the-trees-secondary-benefits-of-our-cities-wood-2: http://www.constructionspecifier.com/seeing-the-urban-forests-for-the-trees-secondary-benefits-of-our-cities-wood-2
[Image]: https://www.constructionspecifier.com/wp-content/uploads/2017/02/Framework-Street-view-1.jpg
www.constructionspecifier.com/what-the-2015-international-building-code-means-for-wood-construction-part-i: http://www.constructionspecifier.com/what-the-2015-international-building-code-means-for-wood-construction-part-i
Timber Tower Research Project: http://www.som.com/news/new_timber_tower_research_validated_by_successful_test
www.constructionspecifier.com/mass-timber-feasibility: http://www.constructionspecifier.com/mass-timber-feasibility
www.rethinkwood.com/sites/default/files/Seattle-Mass-Timber-Tower-Research-August-2016.pdf: http://www.rethinkwood.com/sites/default/files/Seattle-Mass-Timber-Tower-Research-August-2016.pdf
[Image]: https://www.constructionspecifier.com/wp-content/uploads/2017/02/UMass_Ext-View.jpg
kbland@awc.org: mailto:kbland@awc.org
Source URL: https://www.constructionspecifier.com/cross-laminated-timber-new-projects-show-how-the-material-is-fulfilling-tall-orders/
---