TO BE SPECIFIC
by Peter Kray, CSI
In a new CSI Behind the Build video, Marvin Kemp, FCSI, CDT, a principal at Design Collective, and Mark Dorsey, FASAE, CAE, CEO of CSI, take a virtual tour of the Delaware Innovation Space (DIS), Wilmington, Delaware. Watch the video at www.tinyurl.com/2wbb383d.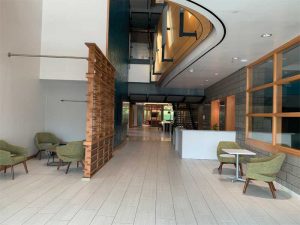 CSI's content strategist Pete Kray also sat down with, Tim Mueller, PhD, vice-president of facilities and operations, DIS, to discuss the impact this space will have on the success of its tenants, and on future of our planet.
What were some of the key factors you first considered when redesigning the Delaware Innovation Space?
Laboratory renovations are highly complex and expensive, so they are, to some degree, always budgetarily limited. In support of our mission, we developed a strategy to lower the barrier to entry into class A lab space for newly formed start-up companies while giving them broader facility support that is unmatched. We spent over a year doing market evaluations, looking at other spaces, and talking to potential clients to really understand the critical must-haves, and this helped drive the basic design principles for the lab and shared equipment spaces.
Our renovated community spaces were designed practically and focused on an area that would encourage a thriving communal and collaborative environment. This mindset fosters a unique supportive atmosphere, which is critical for small, science-based start-ups. Our flex spaces can accommodate virtually any type of event or conference situation and give our founders credibility when they host guests/investors. We wanted a space our client companies would be proud to bring in visitors and call "home."
How is working on an "accelerator space" different from other projects?
The biggest challenge in an accelerator/incubator environment is the dynamic nature of our client base—there is no crystal ball to describe the technology mix and required future facility needs. Science-based research takes on numerous forms and requires a facility with diverse capabilities. Each new year affords new clients, delivers existing client growth, and graduates our success stories. We had to design with core flexibility and functionality to support a wide range of capabilities across a broad technology landscape. Many incubators focus only on one technology vector (e.g. biotech), which affords a more singular design viewpoint. Since we equally support bio-, chem-, and materials-based research we needed to understand these diverse needs and incorporate them into a single design to ensure our client success.
What design features did you consider to help start-ups succeed?
Critical to success is protection of IP, so privacy and security were at the forefront. We spent a lot of effort and time on developing ways to make sure this lifeblood of our start-up community is well protected. For ease of use, we wanted to make sure that, in addition to all the lab requirements, we had advanced AV and IT services that were all plug and play and worked every time. Working with our AV partners, we developed a consistent implementation and equipment profile which is deployed equally from our small phone booths to our large multipurpose rooms. This also includes wireless mics which can be used across multiple spaces and floors.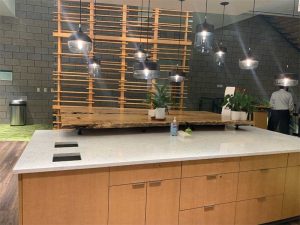 The central concept of community is woven into all the design elements, including our kitchen and meeting spaces. This included centerpiece live edge tables and coffee stations. Pre-COVID-19, the ability to have impromptu hallway discussions, seminars, happy hours, etc., provide an environment for start-ups to work together, learn from each other, and provide support. These partnerships are critical and can make a substantial difference in the success of a start-up business.
What are some of the ways you worked to encourage a sense of community among different tenants?
To be successful in a science-based start-up, it truly takes a village. We developed multiple ways for our communities to engage both formally and informally. Our team and extended partners sponsor simple opportunities like lunch and learns that provide access to modern techniques or partners capabilities that help our community grow. These types of events are perfect for our multipurpose lunch/seminar facility, which was designed to easily support different event types.
Our small conference rooms provide areas where our legal and business support partners work to quickly answer questions and help develop strategies for optimizing start-up success. Our newly launched accelerator program, Science, Inc., is based on a cohort model where sharing start-up challenges and learning in a real-world environment is meant to develop both a broader business understanding and critical business relationships. Our growing EIR (entrepreneurs in residence) work with each of our clients to reduce barriers and are a critical component of our offering portfolio, which continues to evolve and supports all aspects including science, technology, funding, organizational development, and business acumen.