by Ámbar Margarida, CID, IIDA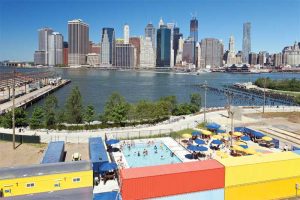 From forks and phones to footwear, design is everywhere. While extolling the virtue of comfortable shoes, do design aficionados think—as the theoreticians would have one believe—good design can save the world? Whether or not one is inclined to agree it can, the lofty concerns of the field's higher order often become obfuscated by the requirements of most jobs comprising commercial practice.
Enter the nonprofit client. Endeavors in this category are often governed by the creation of contemplative spaces, volumes conducive to calm, productivity-inspiring workspaces, and common areas for positively engaging a multitude of at-risk populations, both the young and old. Of course, nonprofit organizations have a large number of challenges attending their projects, many of which can drive a reasonable architect to secret fits of madness. However, the mission of these clients, who serve society's most needy, exploited, and vulnerable members, can endow a humble designer with the nobility of a superhero.
After the imaginary wind in the hair has died down, tours of the facilities and spaces where the work is needed will likely reveal harried caseworkers and mountains of paperwork jammed into closet-size offices. One of the architecture and interior design firm Spacesmith's (this author's firm) favorite mental snapshots from those tours is of a big-box-store desk being dwarfed by the custom millwork installed by the white-glove law firm that previously occupied the property. Budgets, which pose an irritating thorn in any project, regardless of the level of luxury, are particularly challenging within the nonprofit arena.
However, like any good superhero, architects are problem-solvers. Additionally, architects bring innovations in spatial and non-spatial concepts to best support the nonprofit's mission and operations. Evidence shows helping nonprofits implement new strategies, such as workspace sharing, mobile work techniques, and flexible collaboration spaces, not only optimize the use of existing square footage and reduce real estate costs, but also increase employee satisfaction with the work environment and boost productivity, as shown in a seminal 2014 study by the U.K. government on worker well-being and workplace.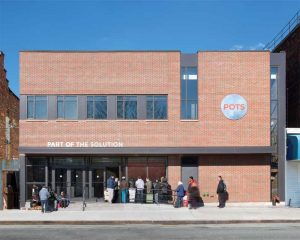 As many of the nonprofit organizations who have undertaken these architectural approaches will attest, the improved workplace designs also optimize service delivery and successful fulfillment of their mission.
Helping nonprofits grow
Faced with budget limitations and with outdated infrastructure, many nonprofits avoid investing too much in facilities, or risk appearing as spendthrift. Yet, the reality is philanthropic groups and social service agencies need to remain relevant, attract talent, and appeal to sponsors, donors, and board members. They compete for resources to fulfill their missions. Additionally, flexibility is often essential, as teams change, grants evolve, and core services contract or expand.
Other unique design requirements for nonprofits include heightened security, durable materials and finishes, and increased privacy in areas for meetings, confidential client consultations, interventions, and giving health-related advice. Reducing the impacts of the facility operating costs and energy use are also beneficial to nonprofit organizations. Limiting these overhead expenses ensures more funds are invested in core activities.
Architects and designers can help nonprofits transform their facilities and spaces to better reflect their brand, mission, and cause. This is essential to attracting not only donors, but also the best talent in social workers, managers, grant writers, and development executives. Interior branding allows visitors to see firsthand what the groups and their missions represent, according to Marc Gordon, AIA, a partner at Spacesmith. He has designed facilities for the International Rescue Committee (IRC) and Part of the Solution (POTS).
Best design practices
Managing nonprofit organizations comes with many challenges, and design innovation should be one of their tools. According to experts like IDEO and Luma Institute, some of the best social entrepreneurs seek effective, yet, unconventional solutions by re-examining their work "from the point of view of the people being served." This means nonprofit architecture and interiors solutions are centered around the individuals they serve, whether they are children, families, the homeless, domestic violence victims, or those with mental disabilities.