A neighborhood's pop-up pool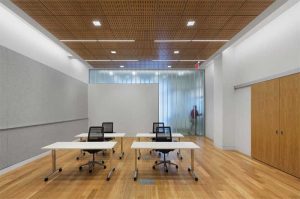 That sense of pride is not only found in purely charitable works, but also in helping civic entities offer valuable amenities to the entire public. Even before climate change took hold, NYC was legendary for its hot summers and the near impossibility of escaping climbing temperatures from subway platforms to blazing urban canyons. In 2012, the Brooklyn Bridge Park enlisted Spacesmith and partner firm Davis Brody Bond to amend its 35-ha (85-acre) recreation ground along the East River with a temporary community pool to be built on the uplands of Pier 2.
Dubbed the pop-up pool, the project's program dictated no major construction, excavation, or disruption. The raw materials of the site included existing concrete foundations and slabs from the previously demolished structures, which were incorporated into the design of the in-ground pool by raising a section of the site to accommodate a 1-m (4-ft) depth. A large, dry-laid concrete block retaining wall was installed and fitted with a ramp for accessibility. The volume within the retaining wall, adjacent to the pool, was filled with several tons of beach sand and planted with sea grass, allowing swimmers to sunbathe or rest beneath umbrellas.
Department of Health rules dictate public pool facilities must include restrooms, lockers, and shower amenities, the plumbing for which would seem to demand some sort of a permanent construction. Since such building was not allowed, these amenities were housed in transportable trailers that were integrated into the overall design.
"One of our main concerns was shielding the pool, visually and acoustically, from the Brooklyn-Queens Expressway [BQE] and Furman Street," says Gordon. "Our solution was to stack shipping containers, two high, to block sightlines and noise from the BQE. The containers served a dual purpose as storage and even contained a small snack bar with a plaza populated with picnic tables."
"The pop-up pool at Pier 2 made a true splash when it first opened and for years has been a summer hot spot for children and families from across our borough," said Brooklyn Borough president Eric Adams, when it was announced the pool would serve another season in 2018 after the organization Love Our Pool lobbied to keep the pop-up open with the hope of securing a permanent site.
"Let us keep a good thing going," followed council member Stephen Levin. "This pool has a special place in the hearts of the community, and I am proud Brooklynites will be able to enjoy it for another year. Kudos to Brooklyn Bridge Park for its continued support of public amenities."
Conclusion
The district's representatives in Congress and the New York State Assembly added their kudos to the pool project, proving the point that everyone loves a success.
Further, nonprofit boards of directors with fiduciary responsibilities worry that directing funds toward capital expenditures is seen as diverting resources from programming.
"The challenges in designing for nonprofits are budget and perception," says Gordon.
The perception problem being, an efficiently designed work and service place is not mutually exclusive from program support.
"The Part of the Solution project attracted corporate funding and elevated POTS's standing as a stalwart community-based organization," says Gordon. "POTS has grown exponentially and is able to serve a larger population due to the increased size and capability of the renovated facility."
Nonprofit projects like these are developing a space standard for fast organizational growth at low costs.
"While many nonprofits hesitate to invest in offices and operations, evidence shows efficient, better-designed workspaces boost success among social entrepreneurs," says business development director Roger Marquis. "By rethinking processes and reconfiguring layouts based on the needs of the people being served, we see nonprofits yielding extraordinary results."
It seems as though good design really can save the world.