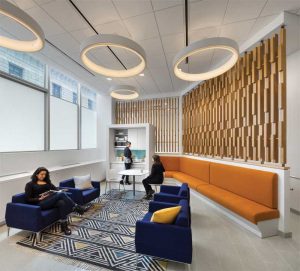 "Nonprofits need to adopt this mindset and follow suit," says Gordon. "Nonprofits must understand the research and best practices behind today's innovative office layouts, amenities, sustainable design elements, and environmental factors such as acoustics, lighting, and ambient temperature. These and even emerging ideas like biophilia, the use of plants and natural finishes, play a role in a modern company's success."
New approaches to workplace design and innovation helped support the mission of the family services provider. Gordon worked with the nonprofit to consolidate its workspaces from three locations to two efficient, centralized facilities with new professional development centers. Adopting a mobile workforce program, staff now spends the majority of their time outside their offices, benefiting caseworkers and therapists. Mobile teams are equipped with tools and technologies needed to work from the road. Back at the offices, desk-sharing and an array of training and visiting rooms, 'phone booths,' and storage zones provide everything needed in that 8-m2 (90-sf) per person versus the 14-m2 (150-sf) per person for a typical nonprofit office in North American cities.
Since a large part of their operation is executed by field agents, the often-empty workspace itself was prone to feel abandoned. Benching, or bench desking systems, was a given from a budget perspective, but the informal office hours offer a greater sense
of space for those tending paperwork as well as quiet contemplation. To keep the workstations from appearing unused, some seats are assigned while others are utilized by visiting colleagues. Staffers can take the sense of mindfulness endowed by the work area into a café space for a screen-free dining experience.
For many nonprofit organizations, developing space standards help them grow quickly and easily at a low cost. For example, consolidating offices created valuable opportunities for the NYC family services provider by matching work processes and setups with mission.
Serving underprivileged families
The design for the Staten Island Family Justice Center had to address the needs of clients who are reconciling with a cascade of issues—from legal to emotional—dealt by domestic violence and abuse. At nearly every turn, the design team asked:
does this choice put visitors at ease and make them feel safe; and
does the layout allow for areas of refuge and adequate separations between office staff and the unexpected visitors?
Daylight inundates the space. Woodwork is in a soothing white oak, green accents offer calm energy in both the waiting and children's play areas, and biophilic carpeting references a pebble-and-slate pattern, evocative of a natural setting. Beyond atmosphere, material selections had to reflect a sense of security. Channel glass allows light to flow while maintaining privacy in meeting areas. Similarly, transparent partitions allow parents and caregivers to keep charges in their periphery while doing business. The relaxed setting, unusual for a city agency outpost, also enables more effective work from staffers.
Flexibility is delivered in the form of a furnished multipurpose room supporting group training and quickly resets as a conference room, presentation venue, or event space. By using tables on casters, stacking chairs, and other effective practices that are seen in workplace and higher-education settings, the purpose-built meeting center offers an example for other city agencies and nonprofits.
Community poverty solutions
Flexibility is a key concept in the nonprofit world as organizations find their missions broadening to meet the changing needs of struggling communities. POTS, a community-based organization in Bronx, New York, offers a simple single-sentence mission: providing services to the local working poor. Located for over 10 years in a three-story walkup, POTS has cooked and served meals seven days a week and provided foodstuffs for those unable to make ends meet. The group also has a range of social services to help the community, as well as clothing for people entering the workforce.
Spacesmith was tasked with the challenge of outfitting this operation with a new, 1394-m2 (15,000-sf) facility.
"The goal of the design was to provide a dignified, accessible facility that speaks to the mission of POTS and how design can inform the narrative of the organization's goals and aspirations," says Gordon. "Our guiding and organizing principles were mind, body, and soul."
The project team identified and evaluated an existing structure for adaptive reuse, and the first task was to fit it with new industrial services and an elevator before building out the interior configuration and façade. The proposed program called for a full-service kitchen, community dining room, food pantry, and offices for social services and administration. Inspired by the ambitions of the organization staff, the final outcome is a facility welcoming the community to the kitchen, dining room, and a food pantry on the ground level, with counselling, legal services, and administration on the upper level. The lower level offers a full medical and dental suite, a barber salon, shower facilities, and a clothing program. The POTS building's expression combines practical, low-maintenance, and durable finishes with a calming modern allure that fits comfortably in the Bronx.
"The project imbued the client team with a sense of pride in their new home and was a beacon to the community as a modernized facility," says Gordon.