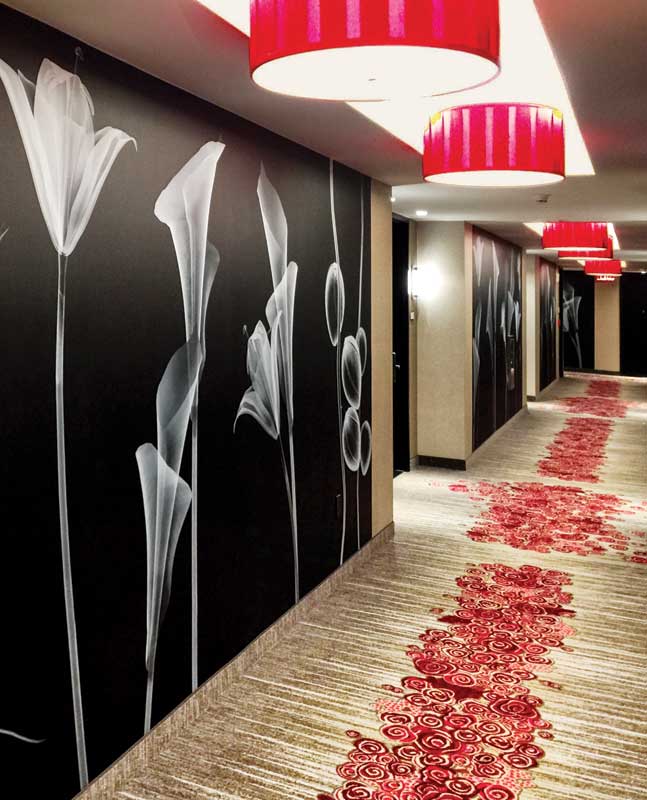 Conclusion
SOSH NY integrated the project with technology—not just in the design itself, but also in the way it operated and distributed information to consultants, and then during the construction process to the general contractor and the installers. During the design and bid-out phase, the team worked with multiple manufacturers and subcontractors to determine the most efficient size and dimension of materials to minimize cuts in the field and construction waste—directly translating to cost savings for the client.
The idea of stacking the hotel tower and creating separate systems for the podium casino dovetailed with RAC's aggressive construction schedule, which allocated two distinct timelines, one for the tower and one for the podium. In essence, the team was constructing two buildings next to each other.
Under SOSH NY's recommendation, RAC supplemented an information dispersal program during the construction process, which entailed project managers, site superintendents, and field workers managing handheld tablets. This efficient method of distributing documents assisted in keeping addendums, RFIs, and submittals up to date as each were approved and dispersed by the design team.
Due to the integration of technology and SOSH NY's dynamic mechanism of delivering immediate data to the general contractor, installers, and builders on the jobsite, everyone was kept up to date with the design and the entire team was able to meet schedule. This, in return, prevented costly construction errors that typically occur when a contractor fails to receive the current drawings.
The Project Team
The Scarlet Pearl Casino Resort's SOSH NY design team included:
Nory Hazaveh, principal
Cheryl Hazaveh, director of interior
Sueyi Rakowski, senior director of projects
Nicholas Colello, senior associate
Betty Ng, senior interior designer
Nory Hazaveh, AIA, PP, is a SOSH NY principal and three-decade design industry veteran, having founded SOSH Architects after graduating from the City College of New York. He has shown leadership in producing thought-provoking designs that not only solve clients' problems, but also take them far beyond their initial visions by creating places of fantasy and escape. He can be reached at nhazaveh@sosharch.com.
Nicholas Colello, AIA, a senior associate at SOSH NY, is a graduate from Carnegie Mellon University. For his architecture degree, he minored in architecture history, photography/digital imaging, and engineering studies. Colello has more than 15 years of experience, ranging from gut rehabs to new construction. He can be reached at ncolello@sosharch.com.
Shawna Thibault is SOSH NY's marketing and media manager, having graduated from the Fashion Institute of Technology with a degree in international trade and marketing. She regularly presents educational lectures to promote and encourage community development, by means of social media, within the workplace. Thibault actively composes editorials for acclaimed design magazines. She can be reached at sthibault@sosharch.com.