Designing with fiber cement to enliven façades
by Katie Daniel | June 7, 2017 3:50 pm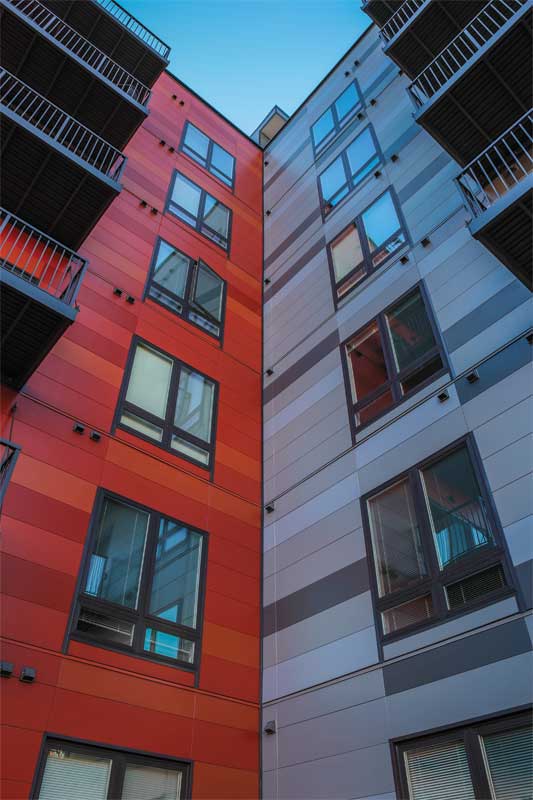 by Carolina Albano
Architects specifying materials for building or remodeling projects consider the performance and aesthetics of construction products, along with material, labor, and installation costs. Too often, however, budget trumps appearance—especially when the client aims for a high-end look.
For commercial projects in well-established neighborhoods, the look of the exterior cladding 
is gaining in importance, as local code officials increasingly insist on structures complementing nearby façades and building owners aim to appeal to younger tenants hoping to live or work in hip, unique surroundings. Still, project budgets are often too limited for the sleek metals, exotic woods, and distinctive stone that lend to an eye-catching elevation.
In response, more design professionals are considering architectural wall panels made from fiber cement. Specialized cladding manufacturers 
are able to fabricate these products in a variety of textures, styles, colors, weights, and thicknesses—usually at more affordable prices than traditional materials for exteriors.
A pair of student housing structures near universities in Minnesota and Wisconsin, for instance, demonstrates the trend toward replacing aluminum with fiber-cement panels sporting a smooth, satin texture and shimmery topcoat, or substituting fiber-cement lookalikes for concrete masonry units (CMUs).
Developers of the newly built Aguilera Student Housing Apartments in La Crosse, Wisconsin, reported they saved approximately 40 percent on cladding materials by substituting fiber-cement panels for terra cotta and aluminum panels. Likewise, the four-story, 66-unit Riverton Community Housing cooperative, built on a tight site in Minneapolis, complied with local zoning restrictions by specifying durable fiber-cement panels.
The city of the Minneapolis required durable materials for building façades, and since fiber cement is flexible by nature and presents a high-quality look, it was the only option that could adhere to the city's requirement. With a nod to the building's student tenants, architects chose three custom colors in a dramatic, bright-yellow façade finish.
Proven formula
For more than two decades, fiber cement has been chosen as an affordable, sustainable, and durable lap siding for residential construction. More recently, the product—in the form of architectural wall panels—is becoming a popular choice on the commercial side, largely because of the ease and comparatively low cost with which manufacturers can fabricate it to mimic wood, stone, brick, metal, and concrete. In comparison to traditional materials, fiber cement is also cost-effective for long-term use. It requires only minor routine cleaning or maintenance and does not need re-sealing or re-coating.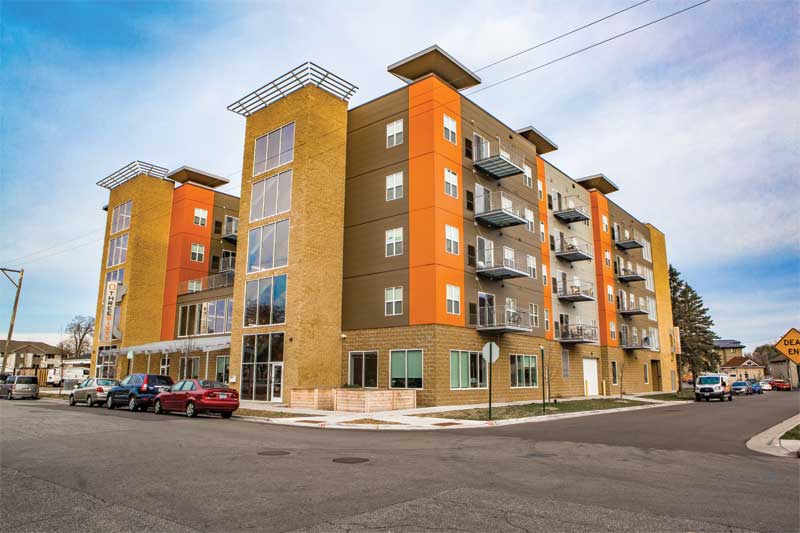 In comparison to traditional materials, fiber cement is also a lighter material to transport and install. For example, some manufacturers offer brick-like panels as light as 19 kg/m2 (3.9 lb/sf), offering the timeless appeal of traditional brickwork without the laborious installation.
Although various manufacturers offer fiber-cement panels in a range of sizes and styles, the basic product is a composite of water, wood pulp, fly 
ash or silica, and Portland cement. As a cladding product, it requires little maintenance; it resists rot, fire, and termites while also warding off wind, sun, humidity, and cold weather. The material can be manufactured to look like stucco, wood, metal, stone, or brick, but at an overall lower cost and the material arrives on site as a prefinished panel.
Some manufacturers offer products that allow contractors to install 0.8 or 1.4 m2 (9 or 15 sf) at one time, offering contractors a reduced installation time and cost savings on labor since there is no need for masonry. Fiber cement is also durable, with some manufacturers warranting architectural wall panels for 50 years.
Organic wood fiber, which manufacturers take from recycled and virgin sources, allows the panels to be flexible, resilient, and less brittle than earlier versions. Portland cement, usually made from limestone, clay, and iron, securely binds the wood fibers and leaves the finished product strong and rigid. Silica—a component of sand—and fly ash are fillers that reduce the weight of the panels. Some manufacturers mix water into the formula.
The mixture is pressed and processed into panels of varying sizes, lengths, and thicknesses. They can be pressed to create textures like ridges, or molded to take on the appearance of wood grain, brick, or stone. Some manufacturers add decorative factory finishes and colors, and all apply protective coatings.
Commercial-grade fiber cement is different from the material used by residential builders. For homes, fiber cement replaces traditional wood siding. Like other residential claddings, it is screwed or nailed to the building and does not require the advanced moisture management necessary for commercial buildings. Installers do not need specialized training in product installation.
Fiber-cement architectural wall panels for commercial buildings, in contrast, generally require an engineered installation system that renders them as a rainscreen. Easy to install by experienced siding contractors, the architectural wall panel system acts as a barrier against moisture. An air gap between the cladding and the substrate—all part of the same system—forces any moisture finding its way behind the panel to drip down the back of the product and out through weep holes punched at the bottom. 
The water then drains away from the building 
or evaporates.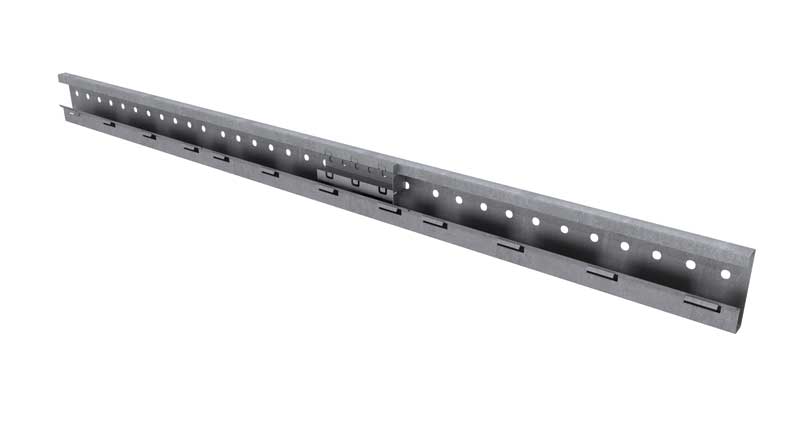 Growing demand
Fiber-cement cladding is used in approximately 15 percent of new, single-family homes. Nonresidential demand for the product is expected to rise steadily this year as construction continues to rebound, and as architects and builders embrace it as a substitute for brick and natural stone. This prognosis comes from market-research firm Freedonia, which says U.S. demand for fiber-cement cladding is poised 
to grow six percent a year through to 2019, from 
204.4 million to 269.4 million m2 (2.2 billion to 
2.9 billion sf), valued at $2.2 billion.
The evolution of the material included some growing pains. The earliest fiber-cement panels—created in 1901 in Austria as an equally fire-resistant alternative to Europe's popular terra cotta roofing—included strength-building asbestos fibers among its ingredients. Now a banned component, asbestos has not been used in fiber-cement products for more than 30 years. Japan was the first to introduce a non-asbestos fiber-cement product, and manufacturers in Europe and the United States followed.
Newer cutting methods have greatly reduced exposure to silica when cutting panels since it has been reported that silica dust may be hazardous when respirable particles are inhaled. Therefore, some manufacturers have replaced silica in their fiber-cement recipes with fly ash—a coal byproduct that might otherwise be sent to landfills.
Today's versions of fiber cement still have a few things in common with the 1901 creation. They are fire-resistant, and fill a need for a strong, dense product that is lightweight, less bulky, and easier 
to install than alternative claddings like stone and concrete. Fiber cement does not require specialized installers like a carpenter or mason, but it does need a professional installer skilled with building materials. Most manufacturers do not demand certified installers for warranty.
Flexible design options
Fiber-cement panels can be crafted to resemble many traditional building materials, so architects who specify them not only cut material costs, but also save time—and therefore money—on labor.
For one, sourcing a product like trendy reclaimed wood can be a time-consuming venture, given the scarcity of that material. A fiber-cement panel manufactured to look like reclaimed wood, on 
the other hand, is in plentiful supply. Second, the designer who specifies multiple materials on a single façade is likely to have to source them from separate suppliers. The building exterior that mixes multiple styles, textures, and colors of fiber-cement panels needs just one source.
Further, most installers of masonry, wood, or 
metal claddings are very unlikely to be experts in 
all three materials. A design that combines multiple cladding products might require multiple installers. The combination of wood, masonry, and metal fiber-cement architectural wall panels all made from fiber cement requires a single installer.
Finally, because the system is the same for each style of fiber-cement cladding, installation is quicker than on an exterior with diverse products constructed from natural materials with inconsistent detailing requirements. Even on an intricate building design, the simplified system can also ease the construction of the exterior skin components, allowing for a more continuous air/water barrier without the difficulties of installing multiple systems. In the midst of a severe labor shortage, efficient installation could mean fewer delays on jobsites.
Multiple looks
A bellwether example can be found in Antioch, Tennessee. At almost 102,200 m2 (1.1 million sf), Hickory Hollow Mall—an enclosed regional shopping hub that was once the state's largest mall—succumbed in the late 2000s to competition from newer malls, the rise of online shopping, and a location in a high-crime community.
Renamed Global Mall at the Crossings in 2013, the shopping center was sold in pieces and reborn as a hub of learning and recreation. Today, it houses two National Hockey League (NHL)-sized ice rinks where the Nashville Predators hold hockey camps (i.e. Ford Ice Center), along with a satellite campus for Nashville State Community College, a library, a community center, and some local businesses.
Its revitalization presented a challenge to architects tasked with creating three distinct spaces within the existing, beige-brick mall structure—each unique, yet complementing the others. Their solution involved the use of fiber-cement architectural wall panels in different custom colors: the Predators' blue and gold panels for the hockey center (as shown on the cover), blue mosaic panels for the community center, and white panels with mosaic glass for the library.
Dan Meehan, a principal with Cleveland-based HBM Architects, which designed the center, said the revived structure has a "great feel" and "a new, strong identity for all three parts."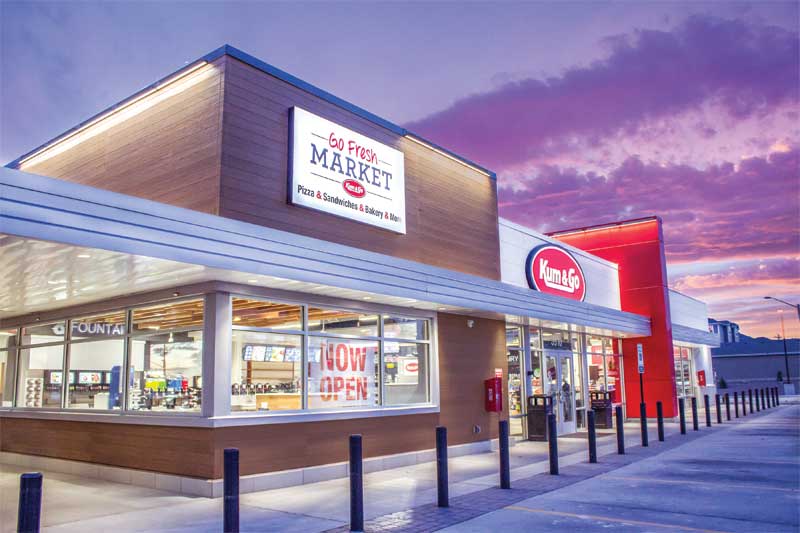 Blending in
Designers of a 204-unit apartment building in the Warehouse District of Minneapolis' North Loop faced a very different challenge. They aimed to create a façade that paid homage to existing structures while still appealing to tenants' desire for a contemporary aesthetic. The architects used fiber-cement architectural wall panels in a variety of colors and shapes on the three sides of the Third North Apartments complex abutting sidewalks and facing existing warehouses (including many that have been converted to office space or condos).
Long, rectangular panels in six hues of red and gray complement the brick and concrete façades of the nearby warehouses without mimicking their dated look. The panels' smooth texture and high-sheen finish introduce the modern aesthetic sought after by potential young renters. The project was the first in Minneapolis to win an exception to a city code limiting fiber cement to 30 percent of a building's façade. The initial restriction was to guarantee the façade would be aesthetically pleasing and cohesive with other exterior elements. However, officials granted the waiver after approving of the commercial appearance of the cladding and its rainscreen system.
Similarly, Charleston, South Carolina, allowed the city's first fiber-cement architectural wall panel apartment building after its Board of Architectural Review was convinced the product met its rigorous requirements for quality and aesthetics. The newly built 400 Market Street Apartments, a student housing project, had a tight construction budget, and architects had settled on a modern building in a historic area.
Designers persuaded officials to introduce fiber cement to the historical city's palette by mocking up three wall designs that maintained the integrity of the local architecture. The resulting façade combines three shades of gray on architectural wall panels laid out like a checkerboard, chosen to enhance the building's contemporary architecture. Charleston has since approved the use of fiber-cement architectural wall panels on several other new buildings.
Cost savings
The use of fiber-cement wall panels on apartment building façades is growing, as is its placement on commercial structures like gas stations and convenience stores, along with office buildings, hospitals, and schools. Aside from its aesthetic draw, the product appeals to architects limited by tight budgets and hurried construction schedules.
For example, architects from Kansas City-based BRR Architecture said they chose fiber-cement architectural wall panels for nearly two dozen new Kum & Go stores as the 400-store chain introduced its 'Marketplace' design concept. For the first store in the new series—in Rock Springs, Wyoming—designers shied away from the brick that clads the chain's existing convenience stores because of the expense and time required for installation. To brighten the store's exterior, architects chose factory-finished panels in white, accented by a gray stripe around the building. A fiber-cement cedar-look accent panel added a warm note.
BRR Architecture's design manager, Todd Felger, said the prefinished panels eliminate the expense of onsite painting and guarantee a color match on every store. The use of fiber-cement architectural wall panels allowed siding trades, rather than more-expensive masons, to do the installation. Plus, Felger said, the job became "much simpler without multiple subcontractors."
As Kum & Go has stores in 11 states—including several in northern and western climates—architects selected a material that resists weather and wind. Additionally, Felger says fiber cement may be installed at any time of the year, "even when your fingers can't move," without tenting or heating.
Conclusion
While many projects can select fiber cement as 
their cladding of choice, there are certain projects like skyscrapers or radiused and angled-wall buildings that are not ideal for the use of this material. Additionally, buildings that also have bump-outs and design features requiring small cuts and unusual shapes are not ideal. However, these are only a few exceptions to the use of fiber cement in today's construction.
Often, today's buildings require a mix of cladding styles. With the growing popularity of fiber-cement architectural wall panels in commercial construction, the design options are limitless, from color, texture, to material choice. Coupled with outstanding performance, this makes fiber-cement cladding a simple choice to break up monotonous facades without breaking the budget.
Carolina Albano heads up Nichiha USA's technical division, running the team of technical field representatives that supports installation, provides installation training, and ensures product performance, code compliance, and design innovation in North Amerca. Albano also manages the architecture and engineering group within Nichiha, which works with architects and specifiers, conducting research regarding current installation methods and building science and making it easier and safer to install more products in different building envelope types. She holds bachelor's and master's degrees in mechanical engineering from the Georgia Institute of Technology, and is a member of Structural Engineer's Institute (SEI), American Society of Civil Engineers (ASCE), and several committees in ASTM. Albano 
can be reached at calbano@nichiha.com[5].
Endnotes:
[Image]: https://www.constructionspecifier.com/wp-content/uploads/2017/06/Image-4_Third-North-Apartments.jpg
[Image]: https://www.constructionspecifier.com/wp-content/uploads/2017/06/Image-1_Aguilera-Student-Housing-Apartments-in-La-Crosse_WI.jpg
[Image]: https://www.constructionspecifier.com/wp-content/uploads/2017/06/Image-2_Ultimate-Clip-System.jpg
[Image]: https://www.constructionspecifier.com/wp-content/uploads/2017/06/Image-5_Kum-and-Go-Rock-Springs_WY.jpg
calbano@nichiha.com: mailto:calbano@nichiha.com
Source URL: https://www.constructionspecifier.com/designing-with-fiber-cement-to-enliven-facades/
---