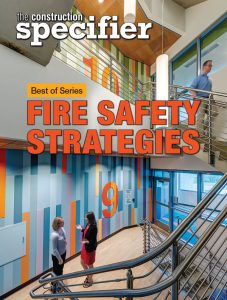 Recent high-rise fires around the world have shown professionals must be vigilant against potential fire hazards. The Construction Specifier's series of sponsored e-books continues with a multifaceted look at fire behavior in buildings and designing for occupant safety.
Fire Safety Strategies is a four-part e-book covering perimeter fire protection, fire-rated glazing and smoke control.
Readers will learn how ineffective curtain wall design, perimeter void fire protections, or spandrel protection can allow fire to spread to adjacent floors at the exterior wall.
Also, know the questions to ask when specifying fire-rated glazing in doors and how fire protection engineers and computer modeling can play an integral role in design and commissioning of smoke control systems
Plus, fire resistance of wall assemblies is discussed, in the context of materials, layers, and performance.
Download the "Fire Safety Strategies" e-book in two different formats—pdf or digital edition—by visiting https://www.constructionspecifier.com/ebook/owens-corning-fire-safety-strategies-e-book/