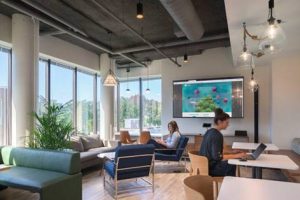 For Infinity Pharmaceuticals' headquarters in Cambridge, Mass., Dyer Brown designed open-plan offices using aesthetically integrated, cutting-edge tech controlling light, sound, microclimate, and user enjoyment.
For the new 929-m2 (10,000-sf) administrative head office, the design goal was to support the company's active, nature-loving employees who wanted to bring their everyday passions into their workplace.
Dyer Brown's design team addressed a range of complex challenges, including ensuring everyone has access to quiet zones, activity areas, and nature-inspired spaces across one triangular-shaped floor of a 1970s, Brutalist-style building. Acoustic ceiling panels and white noise systems were aesthetically integrated into the biophilic design to minimize distraction and create a tightly controlled environment that supports a range of work style preferences.
Natural materials and motifs are used liberally throughout the open-plan office zones, which house a variety of tech-enabled work and conference spaces with varying degrees of privacy. Plush, noise-diffusing chairs, soft light-emitting diode (LED) task lighting, and smart scheduling technology ensure easy and comfortable daily experience for employees and visitors.
By varying the ceiling heights throughout, Dyer Brown's designers evoke the rhythmic effect of moving beneath a tree canopy—a concept reinforced underfoot by warm wood flooring and a "path-in-the-woods" carpet motif. A palette of subtle greens and blues evoking Infinity Pharmaceuticals' brand colors helps define the spaces, complemented by natural wood paneling and a full-height living green wall in the lobby.