Bridging the specification gap with engineered wood
Legacy specifications go a long way in determining what claddings go on a building. Increasingly, corporations are developing 'prototype standards' for their physical locations that set out a particular design aesthetic, but leave the exact execution (and materials specification) up to the architects, designers, and contractors on the ground.
However, this approach can create issues, especially when regional considerations are not taken into account. For example, if an architect's design was developed for the American West, the materials specified could be wholly unsuitable for the intensely wet conditions of the Northwest. Understanding the variables and seeking out alternative (and improved) solutions is critical to the overall success of a new structure.
For many building owners, it is all a matter of cost: delivering on the design specification at the lowest-possible price point. Ultimately, it is all about risk and reputation for specifiers. Without understanding the advantages and disadvantages of a particular product, some may be reluctant to opt for a new and untested product, especially if they have not experienced it for themselves.
"Education plays a major role in helping architects and designers select the best products for their particular project. However, there are almost too many new products to keep up with," says Gary Marion of American Building Contractors (Burnsville, Minnesota). "Too often, this means that a specifier is going to stick with their 'standard' rather than trying something new."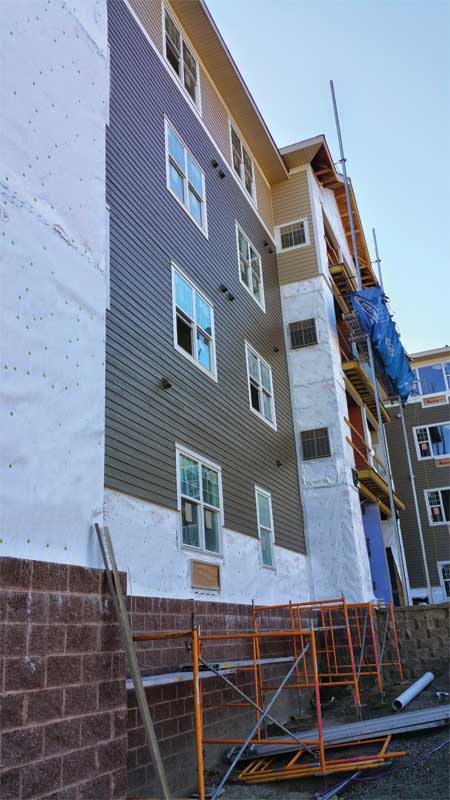 However, standards can be modified, especially when there is provable return on investment (ROI) from other projects and a strong working relationship with every member of the project team.
"The best architects seek out the advice of the installers and GCs during the pre-planning and specification phase of any project," explains Marion. "They're the ones with a lot of the product expertise and who know all of the real benefits and downsides to a product, since they've been hands-on with nearly everything."
Often, it only takes one great project to change perceptions and specifications.
"I had to fight for approval to specify engineered wood cladding on a recent project, as the original plans specified vinyl siding, which would not have been viable for the climate we were working in," said Vargas. "But once I was able to have the team touch and feel the engineered product and show them successful installations on other projects, they were hooked. That project provides us with a true 'proof point' on engineered wood, especially since its surrounded by buildings with other claddings that haven't stood up as well in the long run."
Ultimately, it is important to evaluate the needs and challenges of each project on an individual basis to determine the right products to specify based on all project parameters. However, if natural beauty, durability, sustainability, and ease of installation are key criteria, engineered wood is worth another look.
Michelle Johnson, CSI, is a segment marketing manager for LP SmartSide engineered wood trim and siding, and is currently focused on the growth within light commercial and multi-family realms. She can be reached via email at michelle.johnson@lpcorp.com.