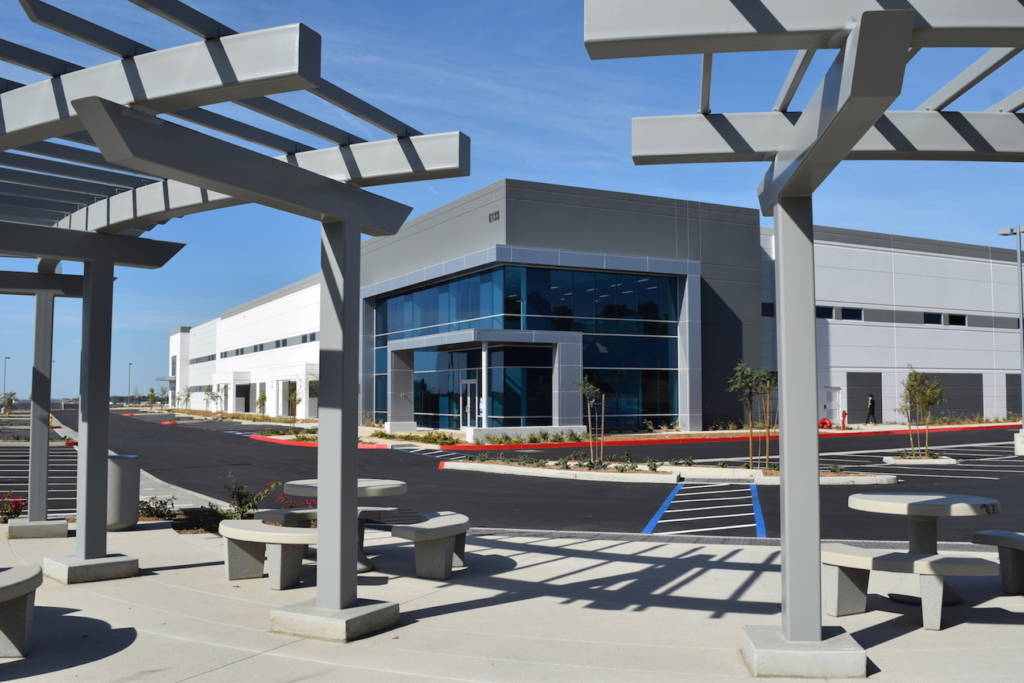 A 3-ha (8.3-acre) site in Carlsbad, California, has been transformed into a Class-A industrial complex thanks to extensive work by a collaborative project team. On behalf of Shea Properties, Smith Consulting Architects completed the design, entitlements, construction documents, and construction administration for the project.
The Shea Center Carlsbad is a 10,639-m2 (114,522-sf) complex incorporating primarily warehouse space (which takes up 4772 m2 [51,372 sf]), along with two stories of move-in-ready offices. All this is spread out across two identical 5320-m2 (57,261-sf) buildings. Since the project's completion, 2994 m2 (32,227 sf) of space has been leased in one of the two.
In the design process, the project team was challenged by two primary goals:
maximizing floor space; and
minimizing visual contrast with a nearby residential community.
The latter objective was partially achieved by employing glazing—use of floor-to-ceiling glass helped the structure's height appear less imposing. The project team also ensured each building's four loading docks were completely concealed from the public eye. Meanwhile, the floor space goal was supported by the 12 x 18-m (40 x 60-ft) column spacing and 9-m (30-ft) clear height featured in both buildings.
Each of the structures also features three grade-level doors and a parking ratio of 2.9 cars for every 93 m2 (1000 sf). Safety is considered with early-suppression, fast-response (ESFR) sprinkler systems, while cost savings are supported in the design of the office area's curtain wall, with tilt-up concrete frames used in place of the usual steel.
To ensure project success, consulting firms were involved in the structural, civil, electrical, and mechanical engineering aspects, as well as landscape architecture. They included:
Overseen by Shea Properties' development manager Steve Perales, Smith Consulting Architects was represented by project executive Pete Bussett, project designer Gary Baker, project architect Rick Cotton, and interior designer Katie Hale. TFW Construction served as general contractor.