by Donato Pompo, CTC, CSI, CDT, MBA, ITS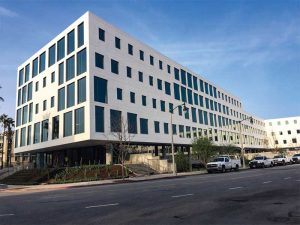 Located in the Los Angeles community of Playa Vista, the Brickyard Campus comprises two, five-story buildings of 27,870 m2 (300,000 sf) and 9290 m2 (100,000 sf) each. Completed in 2017, the two structures are clad with 10,219 m2 (110,000 sf) of thin brick with a white engobe coating. Quality assurance (QA) testing was performed on mockups and during the installation. A quality control (QC) Program was also implemented during the installation. These helped the project team avoid delays and installation problems.
Building details
Designed by Michael Maltzan Architecture and Gensler, the Brickyard Campus was developed by Tishman Speyer. Hathaway Dinwiddle was the general contractor (GC). Premier Tile & Marble carried out the installation and this author was the thin brick veneer consultant. Simpson Gumpertz & Heger was the building material engineer consultant.
The Brickyard project was unique in many ways. It had the stark, white thin brick façade, several window sizes and shapes, and a contemporary design (Figure 1).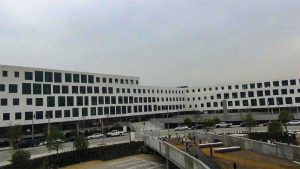 Bricks sized 92 x 297 x 20 mm (3 5/8 x 11 5/8 x 3/4 in.) were installed with an adhered application over steel studs, sheathing, moisture barrier, lath, scratch, and brown plaster assembly. A liquid-applied waterproof/crack isolation membrane meeting the American National Standards Institute (ANSI) A118.10, American National Standard Specifications for Load Bearing, Bonded, Waterproof Membranes for Thin-set Ceramic Tile and Dimension Stone Installation/A118.12, American National Standard Specifications for Crack Isolation Membranes for Thin-Set Ceramic Tile and Dimension Stone Installation, was sprayed over the plaster base. The thin bricks were adhered with a thin-set mortar adhesive compliant with ANSI A118.15, American National Standard Specifications for Improved Modified Dry-Set Cement Mortar, and grouted with a high-performance cementitious grout as per ANSI A118.7, American National Standard Specifications for High Performance Cement Grouts for Tile Installation. Movement joints were installed extensively over closed-cell polyethylene (PE) foam backup strips using a silicone sealant compliant with ASTM C920, Standard Specification for Elastomeric Joint Sealants (Figure 2).
In this author's experience, the key to a successful specification and installation is to follow MasterFormat and industry standards. MasterFormat offers a structure to provide installers and the responsible oversight parties complete, concise, correct, and clear instructions for a successful installation of the product or system for the intended application. Of course, this depends on the specifier fully utilizing this format and vetting the respective methods, products, and standards. This author has often seen incomplete specifications, as a result of cutting and pasting from other specifications rather than performing the due diligence, thereby causing confusion, potential problems, and misuse of products.
Further, members of the construction team often do not know all the standards and are therefore unequipped to avoid the potential problems that could be encountered in their scope of work. An expert consultant could offer the knowledge, experience, and insight needed to ensure a successful installation.
In this author's experience, a critical part of MasterFormat often overlooked or not budgeted for are the QA and QC sections. QA can be used to verify:
suitability of products and methods for the intended use;
installers have the necessary experience and qualifications; and
products perform as specified.