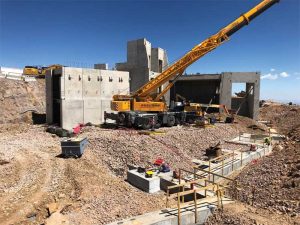 by Tom Savoy
Known as the inspiration behind the familiar "America the Beautiful" lyrics, Pikes Peak, America's Mountain, is a famed Colorado landmark as recognizable as the time-honored tune. This rugged Colorado "fourteener," a nickname given to mountains that exceed 4267 m (14,000 ft) in elevation, soars 4302 m (14,115 ft) above sea level. Perched at the top sits the 1960s-era Summit House, a bunker-style visitors' center that permanently closed its doors to the public January 2021.
By early summer, a new $60-plus million state-of-the-art facility will once again welcome sightseers and hikers visiting Pikes Peak. The design team and project partners enlisted to reimagine the new Summit House, which is more than double the size of the former structure, were met with a unique set of opportunities and challenges: revitalizing the sky-high attraction while adhering to the highest green building standards.
Big dreams for the new Summit House
From the former Pikes Peak Summit House, visitors explored winding hiking trails and admired the panoramic views of Colorado Springs, Colorado, beneath them. As the structure began to age, accommodating the nearly 750,000 annual visitors it attracts became unfeasible. The need for an updated facility prompted the City of Colorado Springs— in partnership with the U.S. Forest Service, U.S. Army Research Institute of Environmental Medicine, Colorado Springs Utilities, and others—to embark on a journey to revitalize the historic landmark attraction.
To offer sightseers an immersive mountaintop experience, the new 3539-m2 (38,000-sf) Summit House will host a multitude of indoor and outdoor interpretive exhibits, restaurants, and continue to offer its legendary "world-famous donuts" with the help of a 0.45-kg (1500-lb) donut making machine. Towering, multi-story glass windows, tested to withstand 386 km/h (240 mph) winds, will provide unobstructed views of Mount Rosa and beyond. Across the complex's exterior façade, project designers are employing rustic-looking steel and concrete to match the earthy hues of the surrounding mountaintop landscape.
Challenges
The Pikes Peak Summit House project is one of the highest ongoing construction sites in North America. When ground broke in June 2018, general contractor, GE Johnson Construction Company, was met with a list of challenges, including:
short work seasons (late spring to late fall, weather permitting);
short work shifts (to protect crew members from the nauseating effects of high-altitude);
complicated transportation logistics; and
operating in compliance with the highest energy and sustainability standards.
Living building challenge requirements
As environmental stewards committed to preserving the natural resources of the mountaintop location, the teams at GE Johnson Construction Company and RTA Architects are designing and constructing the new Summit House to meet the standards of the Living Building Challenge (LBC), one of the most rigorous sustainable building programs in the world.
The challenge surpasses the Leadership in Energy and Environmental Design (LEED) certifications by promoting regenerative building design practices, minimal disruption on the surrounding environment, and the use of safe, clean building materials. As both a philosophy and a certification program, meeting LBC standards means Summit House designers will pursue rigorous green building goals, including reaching net-zero energy (NZE), net-zero waste (NZW), and net-zero water (NZW) consumption. Once complete, the new Summit House will be both the first project in Colorado and the first building more than 4267 m in altitude designed to achieve LBC accreditation.
To become a certified Living Building, the new Summit House must score high marks across seven performance areas, also known as 'petals,' which focus on symbiotic building and environmental themes surrounding: place, water, energy, health and happiness, materials, equity, and beauty. The 'materials petal' is one of the more challenging designations to achieve because the project cannot contain any one of tens of thousands of materials, chemicals, or elements on the Red List.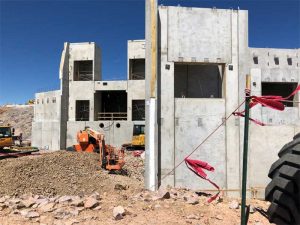 This list is intended to identify and eliminate the chemicals and building materials most detrimental to humans and the environment. The International Living Future Institute (ILFI), the proprietors of the Red List, hope to significantly curb the specified ingredients from the building and construction industry manufacturing processes. According to Eden Burkman, vice-president of ILFI, "the Red List provides people with a shifted mindset that is going to really impact the way we think about products," and she deems it "a shining light on where the industry needs to go."
EPS insulation
To meet LBC qualifications and adhere to the high standards of the materials petal, the project team turned to expanded polystyrene (EPS) insulation. The rigid, closed-cell foam offers performance in a clean package and is one of the few types of building insulations that does not include a barred Red List substance.
EPS began changing the way professionals build beginning in the 1930s, when Carl Munters and John Gudbrand of Sweden received a U.S. patent for polystyrene foam as an insulation product. In its concentrated form, polystyrene is a plastic resin that is as strong as aluminum, but less dense and more flexible. When exposed to pressurized steam, manufacturers can 'expand' and mold the polystyrene beads into desired shapes and densities. The final insulation product is composed of 98 percent air, has very low thermal conductivity, and can dispel moisture at a faster rate than comparable insulating materials. While lightweight, the rigid foam material is also engineered to exhibit sufficient compressive strength to effectively absorb movement without transferring stress to the interior or exterior finish at the joints.
Today, the versatile product continues to defend its reputation as a high-performance insulator across a variety of applications—ranging from single-family homes and commercial buildings to highways and cold storage facilities. Contractors and architects further rely on EPS for exterior, interior, and cavity walls, as well as continuous insulation (ci) sheathing. Employed within precast concrete sandwich panels, EPS insulation will help support continuous insulation—insulation that is continuous across all structural members without thermal bridges other than fasteners and service openings. It must be installed on the interior, exterior, or is integral to any opaque surface of the building envelope. To underline this best practice, the International Energy Conservation Code (IECC) has required ci across building envelopes in most climate zones both commercially and residentially since 2012.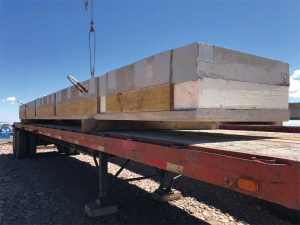 Employing EPS across the Summit House walls will help project designers achieve continuous insulation and, in turn, maximize the performance of HVAC systems put in place. Properly designed systems will remove common indoor pollutants, provide filtered air to breathe, and help maintain a constant temperature throughout the 3539-m2 (38,000-sf) structure. Since applying EPS insulation supports a nearly airtight seal across the building envelope, Summit House facility managers will not need to worry about potential air leakage curtailing the positive impact of these features on the building's indoor air quality (IAQ) or energy consumption.
Further, because HVAC systems can also dehumidify incoming mountain air, employing them alongside EPS can be an effective strategy for controlling condensation. The hydrophobic, closed-cell structure of EPS does not readily absorb moisture from the atmosphere, it delivers excellent moisture resistance for wall cavities and other damp, dark places that benefit from insulation. This means, in application, EPS insulation can play a fundamental role in mitigating the risk of mold growth throughout the new Summit House. Third-party testing conducted by SGS U.S. Testing Company Inc., supports this claim, finding that EPS scored no traces of mold growth over a 28-day incubation period.