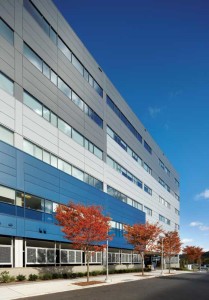 Impact of the codes
Most new commercial buildings must be designed and constructed to comply with regulatory requirements in model codes. From the standpoint of environmental load control, the building enclosure must meet demands related to weather protection, energy efficiency, air leakage, and vapor diffusion control.
Weather protection
Weather protection (more specifically, defense against rainwater penetration) is critical to a properly functioning enclosure. Performance requirements are listed in Section 1403 of the 2012/2009 International Building Code (IBC). The provisions in this section require exterior walls to be designed and constructed to:
prevent water accumulation within the assembly;
provide a means for draining water through a water-resistive barrier (WRB) and flashings; and
offer protection against condensation.
The provisions for vapor flow control listed in IBC Section 1405.3 are highlighted in subsequent sections. The code provides exceptions to the requirements for means of drainage with WRBs in Section 1404.2 and flashings in Section 1405.4. Compliance to the exceptions can be met when the exterior wall assembly resists water penetration in accordance with ASTM E331, Standard Test Method for Water Penetration of Exterior Windows, Skylights, Doors, and Curtain Walls by Uniform Static Air Pressure Difference.
Energy efficiency
Energy performance requirements for new commercial buildings may be found in the model code, such as the International Energy Conservation Code (IECC) referenced in Chapter 13 of IBC. IECC establishes minimum levels for energy efficiency using prescriptive and performance-based provisions.
A project need only comply with one method. The prescriptive approach is the easiest to apply and the most commonly used. The requirements for opaque thermal enclosure components are provided in a tabulated format and listed separately for each component and climate zone in terms of a maximum U-factor or a minimum R-value. The latter becomes applicable in cases when insulation materials are used in the assembly, such as board stock insulation in combination with cavity insulation. In instances when the insulation material is an integral part of a building enclosure component, the use of maximum U-factor criteria for the assembly is the correct approach in representing energy efficiency for the product. In Section C402 of the 2012/2009 IECC, the code is clear—the maximum U-factor can be used in lieu of the minimum R-value criteria:
C402.1.2 U-factor alternative. An assembly with a U-factor, C-factor, or F-factor equal to or less than specified in Table C402.1.2 shall be permitted as an alternative to the R-value in Table C402.2.
Air leakage
The control of unintended airflow is of primary concern within an energy efficiency context. Air leakage typically occurs through any cracks, gaps, discontinuities between adjacent materials, and openings. It can have a negative impact on energy efficiency, as well as the envelope's long-term moisture performance and durability.
Some consequences stemming from air leakage include degradation of materials resulting from interstitial condensation and moisture accumulation, thermal discomfort, and increased energy use. An understanding of air leakage's effect on the building's energy efficiency is growing in the design/construction community. The codes followed suit and, during the last two cycles, IECC expanded its air barrier requirements. The current 2012 code defines the air barrier, along with construction requirements, compliance options, and applicable testing.
Water vapor diffusion control
As indicated, controlling air leakage is critical in achieving an optimal building enclosure. Unlike air leakage, which can transport a greater quantity of moisture, the transfer of water vapor via diffusion occurs through the material surface and across its porous matrix. The property that relates the quantity of water vapor diffusing through the material in question is called 'permeance.' In Section 1405, IBC list three types of vapor retarders:
Class I: permeance below 0.1 perm;
Class II: permeance between 0.1 and 1.0 perm; and
Class III: permeance exceeding 1.0 perm.
Additional language in this section requires Class I or II vapor retarders on the interior side of frame walls in Zones 5, 6, 7, 8, and Marine 4—states positioned north of the Mason-Dixon Line.
Achieving barriers with IMPs
Insulated composite metal panels are typically manufactured with metal facers on both sides of a closed-cell polyisocyanurate (polyiso) or polyurethane core. The formed facer edges connect the panels structurally and achieve panel-to-panel seals, leading to performance barrier continuity without thermal conductivity through the panel thickness.
All the constituent materials of the IMPs are 'tight,' relative to moisture absorption and vapor diffusion. The metal is impervious to vapor diffusion, and the other components—including a closed-cell foam core and non-curing butyl sealant—have a permeance of less than 0.3 perms, as per ASTM E96-95, Standard Test Methods for Water Vapor Transmission of Materials. The moisture absorption of the foam is a 0.3 percent weight change when tested in accordance with ASTM C209-98, Standard Test Methods for Cellulosic Fiber Insulating Board.