When detailed and installed with a seal plane on the liner side, the product houses the air, water, and vapor seal on the liner side, with the thermal barrier to the exterior. In cold climates, the vapor barrier is on the wall's liner, or heated side, and easily resists the inside-to-outside vapor drive. This liner-side seal detail also functions in hot and humid climates—where the vapor drive is reversed. Should condensation occur, it would take place on the exterior of the vapor barrier (liner) and drain to the outside. Since the foam exposed within the joint is closed-cell, it is resistant to holding water or vapor diffusion. Hence, the same product installation details can be used in all climates without a concern for moisture entrapment within the wall.
IMP assemblies can achieve high performance levels for air infiltration and water penetration when they are tested in accordance with:
ASTM E283, Standard Test Method for Determining Rate of Air Leakage Through Exterior Windows, Curtain Walls, and Doors Under Specified Pressure Differences Across the Specimen;
ASTM E331; and
American Architectural Manufacturers Association (AAMA) 501.1, Standard Test Method for Water Penetration of Windows, Curtain Walls, and Doors Using Dynamic Pressure.
Air infiltration levels that are less than 0.15 L/s/m2 at 75 Pa (0.03 cfm/sf at 6.24 psf) can be achieved, as well as passing a static or dynamic water test at 718 Pa (15 psf).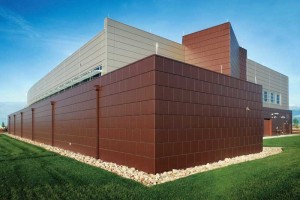 IMP products are typically tested in accordance with ASTM C1363, Standard Test Method for Thermal Performance of Building Materials and Envelope Assemblies by Means of a Hot Box Apparatus, as per the assembly U-factors listed in Section A9.3.2 of American Society of Heating, Refrigerating, and Air-conditioning Engineers (ASHRAE) 90.1-2010, Energy Standard for Buildings Except Low-rise Residential Buildings. This documents the efficiency of the panel-side joint. Subsequent modeling can be done to depict actual job conditions or assemblies as required.
Conclusion
Insulated metal panels can achieve the high performance standards for water, air, vapor, and thermal barriers as required in codes today. Due to the non-absorbing properties of the panel materials, the same details using liner-side seals can be used in any climate, thus facilitating the complexities involved with multi-component wall systems, barrier selection, and location within the assembly.
Keith Boyer, PE, is the director of architectural wall technology for Centria. He is involved with long-term product development for architectural wall products and participates with industry councils and professional organizations. Boyer has been with the company for more than 36 years. Extensively involved in the industry, he has served on several ASTM committees for standing-seam metal roofs, has recently been involved with an American Architectural Manufacturers Association (AAMA) task force to develop testing protocols for rainscreen wall systems, and holds numerous patents on wall and roof systems. Boyer can be reached at kboyer@centria.com.
Marcin Pazera, PhD, is a senior research and development associate with Centria. He has worked as a consultant on building science issues related to building enclosure design, performance, and durability. Pazera is a member of the editorial board for the Journal of Building Physics and has authored more than 30 publications in peer-reviewed journals, industry publications, and conference proceedings. He is a member of several committees in ASTM International, and chairs the Western Pennsylvania Building Envelope Council (BEC) Chapter. Pazera can be contacted via e-mail
at mpazera@centria.com.