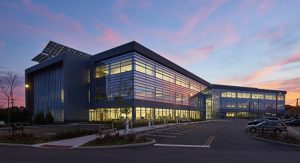 An ultra-green office building was created in Princeton University, New Jersey, using high-performance materials and cutting-edge technology. The facility was awarded the Leadership in Energy and Environmental Design (LEED) Platinum certification.
More than 4274 m2 (46,000 sf) of fabricated glass was used for the facility. Jacobs Engineering Group designed the three-story, 12,077-m2 (130,000-sf) building.
"Using a two-way, butt-glazed system, the area is expressed as a glass box that is visible from the highway," said John Jackson, senior associate at Jacobs Engineering group. "The glassy façade is intended to identify both the tenant and the activity going on within the building."
"With a large expanse of glazing facing almost due south, high-performance glass was required to insulate and limit solar heat gain, while not being overly tinted or reflective. In addition to the strict performance specification, the glass had to be sufficiently flat and free of distortion in order to achieve the desired aesthetic."
Insulating glass units (IGUs) were used in multiple configurations, featuring high-performance, low-emissivity (low-e) coated glass on the walls and entrances. The IGUs also incorporated the warm-edge spacer system, minimizing the units' primary seal migration to provide straight sightlines, as well as maximizing their structural stability and thermal efficiency.
The contractors used 836 m2 (9000 sf) of glass systems for the building's interior, including precision-fabricated laminated clear glass partitions and doors.
The building also features 929 m2 (10,000 sf) of solar panels, rainwater and daylight harvesting systems, a green roof, two wind turbines, and more than 30 electric vehicle charging stations.