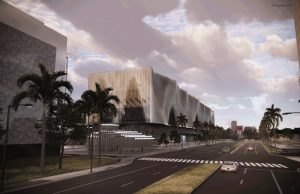 The Citizens' Brigade to Save LACMA, an activist group that is against Swiss architect Peter Zumthor's design for the Los Angeles County of Museum of Art (LACMA) has unveiled the six finalists of its LACMA not LACKma international design competition.
The group describes Zumthor's design as "inadequate and dysfunctional."
LACMA includes 32,516 m2 (350,000 sf) of built interior space in its four core buildings on 2.4 ha (6 acre) of land. LACMA is about to enter a major construction project: the four existing buildings on the east campus (the Ahmanson, Hammer, and Arts of the Americas Buildings, and the Bing Center) will be demolished and replaced by one new building.
In the corrective competition, the group invited architects to submit ideas for alternative solutions that would expand gallery space rather than shrink it, and use less land, while providing a home for the collections and services needed for their care.
Participants in the idea competition had month to submit their ideas. A total of 28 proposals from around the world were submitted. The jury selected three schemes from each of the two categories, 'Existing Buildings' and 'Ground Up.'
The six firms are:
Barkow Leibinger (Berlin);
Coop Himmelb(l)au (Vienna);
Kaya Design (London);
Paul Murdoch Architects (Los Angeles);
Reiser + Umemoto (New York City); and
The Evolved Architectural Eclectic (TheeAe) (Hong Kong).
"We are not proposing that any one of them be built as is, but simply suggesting that the public, the museum board, and the County Board of Supervisors view them as possible starting points for developing alternatives that truly capture people's eyes, hearts, and minds, and showcase LACMA's collections in a practical and architecturally stimulating environment," the group said. "LACMA needs a building that sustains and enhances rather than diminishes its leadership role among American institutions."
See the ideas designed from the Ground Up here. To see the ideas using existing LACMA buildings, click here. The public can vote on their favorite in each category until May 15.