Finishing options for aluminum wall cladding
August 28, 2019
by Tammy Schroeder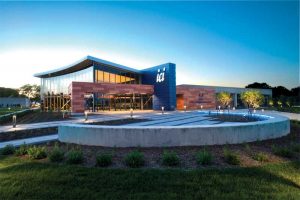 Aluminum wall cladding systems provide a modern aesthetic to commercial buildings. Specifying factory-applied, durable finishes to meet a project's climate and performance needs allows the property to maintain its intended look with minimal maintenance of its cladding.
High-performance, polyvinylidene fluoride (PVDF) resin-based coatings can be selected in nearly any conceivable color or combination. Anodized finishes provide the highest performance, but in a narrower range of hues. A better understanding of these finishes will help minimize color variation, meet performance requirements, select a finishing partner, and achieve the desired result of the installed work.
Color range and options for aluminum cladding
The range of aesthetic design choices possible with architectural coatings for aluminum is one of its key advantages. Pigments impart the majority of paints' color. White shades remain the most popular choice for architectural aluminum products. As anyone who has looked at a color deck knows, whites can vary from bright blue-white and beige yellow-white to sage green-white, rosy pink-white, and more.
For metal cladding systems, a bolder palette may be of preference for accents or full walls. Paint coatings can be matched to an organization's logo, school's colors, team's uniforms, or a company's identity standards. Specialty painted finishes, such as spattercoat, combine several color selections in patterns to resemble marble or other decorative designs. Textured coatings add a tactile element to aluminum wall cladding, such as mimicking shades of terra cotta. Metallics and micas add vibrancy to the coatings. The metal flakes within the pigment catch the light to create a shimmer or sparkle.
Anodized finishes emphasize and enhance the natural metallic look of aluminum. The inherent chemistry of the architectural anodizing process limits the range of available colors. Clear, black, bronze, and champagne tones are industry standards. At least one manufacturer also offers brushed stainless steel and copper color options for anodized aluminum wall cladding systems.
Coating composition and classification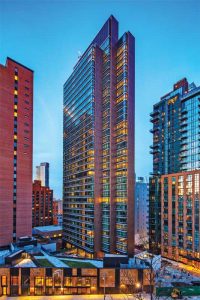 High-performance PVDF resin-based coatings contain resin, binder, and pigments. These coatings are applied in a thin layer of plastic film on top of a properly pretreated aluminum substrate to provide protection and a decorative organic coating on metal wall cladding systems.
A gallon of high-performance paint for aluminum extrusion typically would contain 10 percent pigment, 20 percent resin, and 70 percent solvent.
Pigments
Pigments are added to the paint to give it color or to enhance certain physical properties of the coating. The selection of pigments is based on physical needs, durability, gloss, color fastness, and chemical exposure. Pigments are both naturally occurring and synthetic.
Resins
These are the compounds in the paint that form the film and hold the pigment in place. The resin system incorporated into the paint is the determining factor in the specific characteristics and performance properties. In the architectural industry, two primary resin systems are involved in finishing of metals: fluoropolymer based (PVDF) and 'baked enamel' type, usually composed of acrylic or polyester resins.
Solvents
These are used to dissolve or disperse the different components used in a paint formulation, such as pigments and resins, to achieve the desired consistency for application. After paint is applied, the solvent evaporates, allowing the resin and pigment to produce a coating of paint, and to dry quickly. Reducers and additives may be added to the paint, along with the solvent. Additives are related to paint type and specification, and may be added to enhance gloss, hardness, and other characteristics. Reducers serve different purposes—using an active solvent will decrease the viscosity. Diluent solvent is employed to extend a solution, but will weaken the power of the active solvent. Thinner solvent can extend a solution, but does not impair the power of the active solvent.
Paint coatings can be classified by curing system, volatile components, function, and resin system. Curing systems include air dry, air dry/force dry, bake/cure, catalyzed, and radiation.
Volatile components are the solvents, which may be waterborne (water based and water reducible) and 100 percent solids. Function refers to the filler, surfacer, size coat, primer, tie coat, and clear coat.
The resin system determines the performance
and properties of the paint, such as acrylic, epoxy, polyester, polyurethane, vinyl, and PVDF. Some specifiers and other industry professionals mistake resin brand names (e.g. Hylar and Kynar) as generic terms for resin systems.
Painted coating performance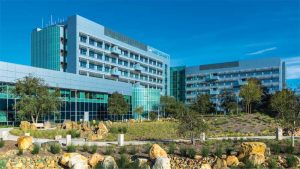 Retaining the color and resisting degradation from ultraviolet (UV) radiation are notable performance strengths of high-performance architectural painted coatings on aluminum wall cladding systems. Paint also protects and maintains the structural integrity of the aluminum and withstands salt-spray.
To ensure optimal performance of coated aluminum, reputable finishing service providers, and product manufacturers follow the American Architectural Manufacturers Association (AAMA) voluntary specifications. The specification series, most recently updated in 2017, is known by its document numbers:
AAMA 2603, Voluntary Specification, Performance Requirements and Test Procedures for Pigmented Organic Coatings on Aluminum Extrusions and Panels (with Coil Coating Appendix);
AAMA 2604, Voluntary Specification, Performance Requirements and Test Procedures for High Performance Organic Coatings on Aluminum Extrusions and Panels (with Coil Coating Appendix); and
AAMA 2605, Voluntary Specification, Performance Requirements and Test Procedures for Superior Performing Organic Coatings on Aluminum Extrusions and Panels (with Coil Coating Appendix).
AAMA 2603: Typical for interior specifications
Required to show only 'slight' fade and chalking after one year, AAMA 2603 has no specifications for gloss retention and erosion resistance. Baked enamel (acrylic/polyester) paints should meet AAMA 2603. These painted finishes are less expensive than PVDF resin-based coatings, but have poor resistance to color fading and chalking. Baked enamel coatings are harder than PVDF and can be used for interior applications where color retention is not required.
AAMA 2604: An 'intermediate' specification
AAMA 2604 specifications are more demanding than AAMA 2603. For a finish to qualify, five years after its application the color must have faded no more than five delta E (Hunter), the chalking will be no higher than eight, the finish still retain 30 percent of its gloss and no more than 10 percent of it has eroded (Chalking is measured in accordance with the procedures explained in ASTM D4214, Standard Test Methods for Evaluating the Degree of Chalking of Exterior Paint Films). This finish will provide good color and gloss retention. It also will offer good hardness and abrasion resistance. Painted finishes meeting this specification typically are 50 percent PVDF resin-based coatings and are commonly applied on aluminum storefront framing, entrances, or other high-traffic areas.
AAMA 2605: The specification for high-performance building exteriors
The highest-performing organic paint coatings meet AAMA 2605, Voluntary Specification, Performance Requirements, and Test Procedures for Superior-performing Organic Coatings on Aluminum Extrusions and Panels. Ten years after it has been applied, an AAMA 2605 paint will have faded no more than five delta E, the chalking will be no higher than eight, at least 50 percent of its gloss will still be retained and only 10 percent of the film will have eroded. These finishes exhibit outstanding resistance to humidity, color change, chalk, gloss loss, and chemicals. Painted finishes meeting this specification typically are 70 percent PVDF resin-based coatings.
Regardless of specification, all coatings should be visibly free from flow lines, streaks, blisters, or other surface imperfections in the dry-film state on exposed surfaces when observed at a distance of 3 m (10 ft) from the metal surface and inspected at an angle of 90 degrees to the surface.
Painted finishes for aluminum wall cladding installed on building exteriors are typically specified to meet AAMA 2605. For interior wall cladding applications, AAMA 2604 or 2603 may provide an acceptable performance specification.
Decreasing the number of touchpoints often increases the clarity of communication and the opportunity for success. There are a few finishing service providers in the United States that are able to offer a single-source solution for aluminum wall cladding and other architectural products. Beyond offering both painted and anodized finishing services, some of these companies offer value-added services, such as:
sourcing flat sheet and brake metal;
fabricating brake metal;
stretch forming (curving) aluminum extrusions;
adding thermal strut, or thermal pour and debridge, to aluminum extrusions;
managing customers' material inventory;
custom packaging and shipping;
dedicated trucking routes; and
repairing and restoring installed, finished material.
Anodize process and performance
Unlike architectural coatings, anodizing is an integral part of the aluminum substrate. The anodizing process produces an oxide film that is uniform, hard, and protects the aluminum substrate from deterioration—providing excellent wear and abrasion resistance. Anodized finish is durable and the hardness of the surface is comparable to a sapphire, the second-hardest substance on earth. This characteristic makes anodizing sulfate for aluminum wall cladding systems—both on the exterior, where finishes must withstand continuous exposure to weather and pollution, and on the interior, where finishes must hold up to constant wear and tear by the people within the buildings.
AAMA 611, Voluntary Specification for Anodized Architectural Aluminum, provides the industry standard for Class I anodic finishes. Finishes meeting or exceeding all requirements of this standard are shown to resist the ravages of time, temperature, corrosion, humidity, and warping.
To meet AAMA 611 requirements, Class I anodize must have a minimum dry film thickness (DFT) of 18 μm (0.7 mils) and should also pass the following stringent guidelines.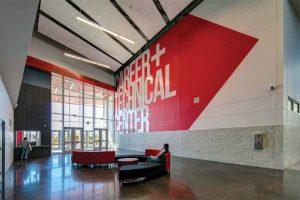 Abrasion resistance (Michael Clarke test)
A go/no-go abrasion test using abrasive papers coated with silicon carbide, garnet, and glass, respectively. This is used to discriminate between films of the correct hardness and those that may give poor service because they are too soft. The specification grade of abrasive paper is:
Abrasive Type: Glass, Grade: "Flour;" and
Mohs' Hardness Scale Number: 4.5-5.5.
Corrosion-resistance testing (previously referred to as salt-spray resistance)
Expose the sample for 3000 hours according to ASTM B117, Standard Practice for Operating Salt Spray (Fog) Apparatus test, using five percent salt solution. Test samples shall show no more than a total of 15 isolated spots or pits none larger than 1 mm (0.04 in.) in diameter, in a total of 4 m (12.5 ft) of test area grouped from five or more test pieces.
South Florida exposure
The coating shall maintain its color and gloss retention and erosion-resistance properties for a minimum of 10 years on the on-fence testing site in south Florida.
Gloss retention
Gloss uniformity shall be within established gloss range.
Color retention
Maximum of five delta E units of color change after the minimum 10-year exposure test.
Consistency in color and appearance for painted wall cladding
Beyond color retention and other performance specifications, maintaining a consistent appearance throughout a project's wall cladding system is often a top priority. Reducing variation can be a challenge and involves diligent aluminum material selection, quality control in the manufacturing and finishing processes, and in product installation, as well as in the color and finish selection.
Choosing a mica or metallic architectural paint coating will present the greatest opportunity for variation in appearance within a project, or even within a single part. Mica's reflective qualities create depth, brilliance, make these coatings aesthetically desirable, and ensure the painted surface looks different depending on the viewing angle, the angle of the light source (i.e. the sun), and the intensity and type of the light source. Additionally, the general orientation of the metallic flakes in the paint will also affect the brightness of the color. This is sometimes referred to as the 'flop of the flake.'
Perhaps the largest opportunity to reduce variation in a mica or metallic paint application is through color selection for the project. Lighter colors, specifically in the silver-gray color family (such as pewter and zinc), have a higher level of transparency. As a result, these colors tend to exacerbate the variation. Selecting darker, bronze-tone colors helps to reduce the intensified variation found in the silver and gray mica and metallic coatings.
In selecting an architectural wall panel manufacturer or brake metal fabricator, it is important to find out if their systems use flat sheets from continuous aluminum coils, aluminum brake metal plates, aluminum extrusions, or a combination of these components. Extruded aluminum typically composes the framing on a cladding system. Flat sheets and brake metal plates are most often used for aluminum wall cladding panels.
A project with a larger number of wall cladding panels is more likely to reveal variation than a project with panels separated by masonry or other materials that disrupt a side-by-side comparison. Similarly, inconsistencies in shaded wall sections will be more apparent than in those in full sunlight.
The larger the panel and the more complex the shape, the greater the likelihood for variation and for those differences to be noticed. If the material is considered oversized by the paint applicator, it may need to be finished on different equipment, which can also increase the risk of variation.
Material guidelines for optimal finish
Metal free from defects will produce a higher quality finish and more consistent end result. The aluminum should be carefully packaged to ensure the metal arrives at the finisher dry and free of scratches and dents. Storage and handling of mill aluminum can affect the resulting finish. Aluminum should be kept in a dry and controlled environment. If moisture is allowed to build-up between the aluminum pieces, it will cause corrosion that cannot be removed in the pretreatment or finishing process. Tapes, adhesives, or residues left on the aluminum also can negatively impact the finish quality.
Additional material precautions when preparing aluminum for optimal finishing include the following. PVDF coatings need to be baked (after the paint is applied to the aluminum) as part of the application process.
For painted finishes
If extrusion wall thickness varies significantly across a project's components, color uniformity can be a concern. This is due to the differential in baking temperatures to properly cure the paint. If a heavy walled extrusion is painted with a thin bead die, the bead die may over-bake, resulting in a darker appearance and lower gloss, as well as possible warpage of the metal.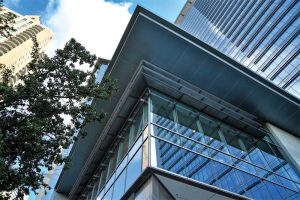 Flat sheets cut from coil, leveled and sheared, may return to coil memory when baked in a cure oven. This may cause some tolerance issues of curvature in the sheet.
Welded or stud-welded attachments may cause flat sheet or brake metal to distort when baked. Once distorted, the sheet or brake metal may not return to its original shape when cooled. Welding will almost always cause distortion on aluminum sheet that will be noticeable after painting.
When finishing assembled parts, solution entrapment from the pretreatment process can be problematic. Material that will carry water must be drilled to allow drainage of the water in capture areas. It is recommended that manufacturers make provisions for this prior to sending for finishing. Enclosed tubes also will require drain holes for the entrapped liquid to escape.
For anodized finishes
Mixed aluminum alloys or tempers will not produce uniform results. For best results, it is advisable to use 6063 alloys for extrusions and 5005 alloys for flat sheets.
Due to the hardness of anodize aluminum, post-production bending can lead to 'crazing,' which produces a series of small cracks resembling a spider web in the finish.
Welded parts will show a color difference on the weld versus the rest of the aluminum material. The heat developed from the welding process can also disturb the metallurgy on nearby metal and cause a localized discoloration after anodizing. It is advisable to use 5356 alloy welding wire and the lowest heat possible.
SUSTAINABILITY AND LONGEVITY
Environmentally responsible finishers can manage liquid paints' volatile organic compounds (VOCs) in their facilities before the coated material returns to the product manufacturer or arrives at a jobsite. Such management includes techniques such as using a 100 percent air capture system that can safely destroy the VOCs with a regenerative thermal oxidizer. Some finishing applicators re-use the heat energy byproduct to improve the process' energy efficiency. This re-use is completed before the material exits the paint line.

Anodized aluminum is an inert, non-combustible material that is 100 percent recyclable and does not pose any health risk. In the early 2000s, finishers changed from the traditional caustic etching process to a more eco-friendly system. Small surface defects, such as die and flow lines, are hidden by the anodized finish's 'frosty' matte appearance.The improved,
eco-friendly etch process has the viscosity of water and will not collect in the small recesses of aluminum extrusions or narrow aluminum tubes, which enhances the durability and life cycle of the finished product. The aluminum removed during the eco-friendly etch process is reduced by 80 percent, down to 0.25 mm (0.5 mils), allowing for a more consistent extrusion tolerance between painted and anodized aluminum.

Specifiers and designers seeking the longest life for aluminum wall cladding systems should specify either an anodized finish to meet AAMA 611, Voluntary Specification for Anodized Architectural Aluminum, or a 70 percent polyvinylidene fluoride (PVDF) resin-based coating to meet AAMA 2605, Voluntary Specification, Performance Requirements and Test Procedures for Superior Performing Organic Coatings on Aluminum Extrusions and Panels (with Coil Coating Appendix). While fence testing sites demonstrate these finishes can last decades with basic maintenance, finish warranties range from one to 20 years. At the end of the life of the finished wall cladding system, the aluminum can be stripped and re-used, or recycled into another product.
Rack marks will be visible on the aluminum. Anodizers have a number of options in racking parts, from welding material and spline bars to a screw down bolt system. It is important to consult with the anodize provider to identify how and where the parts can be racked.
When finishing assembled parts, solution entrapment from the anodize process tanks can be problematic. Material that will carry liquid must be drilled to allow drainage from capture areas. It is recommended manufacturers make provisions for this prior to sending for finishing. Enclosed tubes will also require drain holes for the entrapped liquid to escape.
It is pertinent to specify the aluminum be provided as a single batch by one supplier, fabricated by a single manufacturer, and factory-finished by one applicator to minimize variation, maximize quality, and ensure a fully warrantied, finished product.
Detailing the advantages of a single-source finishing solution, it is important to consider qualified manufacturers can have aluminum sourced and shipped directly to the finisher for inspection and inventory. When a material order is placed by the manufacturer, the finisher pulls the material from the manufacturer's managed inventory, and begins fulfilling to meet the project's specifications. This could include fabricating or stretch forming the aluminum, then anodizing or painting the material, perhaps even matching and blending a custom coating in its in-house laboratory. Once finished, the aluminum components for the wall cladding system can then be packaged and shipped to the manufacturer or to the designated jobsite.
When existing projects with finished aluminum wall cladding and materials are in need of repair, or restoration, the original manufacturer may be the first point of contact. Manufacturers who have long relationships with their finishing partner may be able to review the archives and quickly identify the original factory finish.
The hardness of anodized aluminum means it will rarely need to be repaired due to dents and dings. It is advisable to avoid any conditions that can quickly corrode an anodized finish, such as mortar, cement, and other alkaline materials. If damaged, anodized material cannot be touched-up in-place and would need to be replaced or repaired onsite with a painted finish by a licensed professional. Note, the professional themselves does not require a specific license, but the company needs to be licensed by the paint manufacturer to apply the specially formulated onsite air-dry, high-performance paint. Additionally, some states require special licensing, but that is also related to the company and not the individuals.
For renovation projects and historical properties, color-matched architectural paint coatings can be specified. Specialized finishing service providers also can deploy professional onsite applicators with a water-based, environmentally responsible, PVDF air-dry coating system to repair U.S. Green Building Council's (USGBC's) Leadership in Energy and Environmental Design (LEED)-certified projects.
Tammy Schroeder, LEED GA, is the marketing manager at Linetec, an independent architectural metals finishing company. With 20 years of experience in the finishing industry, she serves as an industry educator on high-quality, high-performance architectural coatings and services. She enjoys sharing her knowledge with architects, specifiers, and architectural product manufacturers working in commercial and residential building markets. Schroeder can be reached at tammy.schroeder@linetec.com[6].
Endnotes:
[Image]: https://www.constructionspecifier.com/wp-content/uploads/2019/08/Linetec-DriDesign_IA-Culinary_3962.jpg
[Image]: https://www.constructionspecifier.com/wp-content/uploads/2019/08/Linetec_NY_TheForge_2300ArchPhotoInc-EduardHueber.jpg
[Image]: https://www.constructionspecifier.com/wp-content/uploads/2019/08/Linetec-QMC_CA-KaiserSD_008.jpg
[Image]: https://www.constructionspecifier.com/wp-content/uploads/2019/08/Tubelite_TX-AISDctc_ChadDavisA6010.jpg
[Image]: https://www.constructionspecifier.com/wp-content/uploads/2019/08/Linetec-QMC_TX_HessTwr_4.jpg
tammy.schroeder@linetec.com: mailto:tammy.schroeder@linetec.com
Source URL: https://www.constructionspecifier.com/finishing-options-for-aluminum-wall-cladding/
---