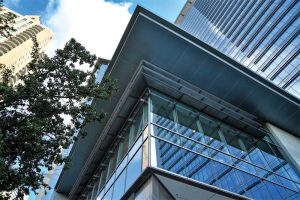 Flat sheets cut from coil, leveled and sheared, may return to coil memory when baked in a cure oven. This may cause some tolerance issues of curvature in the sheet.
Welded or stud-welded attachments may cause flat sheet or brake metal to distort when baked. Once distorted, the sheet or brake metal may not return to its original shape when cooled. Welding will almost always cause distortion on aluminum sheet that will be noticeable after painting.
When finishing assembled parts, solution entrapment from the pretreatment process can be problematic. Material that will carry water must be drilled to allow drainage of the water in capture areas. It is recommended that manufacturers make provisions for this prior to sending for finishing. Enclosed tubes also will require drain holes for the entrapped liquid to escape.
For anodized finishes
Mixed aluminum alloys or tempers will not produce uniform results. For best results, it is advisable to use 6063 alloys for extrusions and 5005 alloys for flat sheets.
Due to the hardness of anodize aluminum, post-production bending can lead to 'crazing,' which produces a series of small cracks resembling a spider web in the finish.
Welded parts will show a color difference on the weld versus the rest of the aluminum material. The heat developed from the welding process can also disturb the metallurgy on nearby metal and cause a localized discoloration after anodizing. It is advisable to use 5356 alloy welding wire and the lowest heat possible.
SUSTAINABILITY AND LONGEVITY
Environmentally responsible finishers can manage liquid paints' volatile organic compounds (VOCs) in their facilities before the coated material returns to the product manufacturer or arrives at a jobsite. Such management includes techniques such as using a 100 percent air capture system that can safely destroy the VOCs with a regenerative thermal oxidizer. Some finishing applicators re-use the heat energy byproduct to improve the process' energy efficiency. This re-use is completed before the material exits the paint line.

Anodized aluminum is an inert, non-combustible material that is 100 percent recyclable and does not pose any health risk. In the early 2000s, finishers changed from the traditional caustic etching process to a more eco-friendly system. Small surface defects, such as die and flow lines, are hidden by the anodized finish's 'frosty' matte appearance.The improved,
eco-friendly etch process has the viscosity of water and will not collect in the small recesses of aluminum extrusions or narrow aluminum tubes, which enhances the durability and life cycle of the finished product. The aluminum removed during the eco-friendly etch process is reduced by 80 percent, down to 0.25 mm (0.5 mils), allowing for a more consistent extrusion tolerance between painted and anodized aluminum.

Specifiers and designers seeking the longest life for aluminum wall cladding systems should specify either an anodized finish to meet AAMA 611, Voluntary Specification for Anodized Architectural Aluminum, or a 70 percent polyvinylidene fluoride (PVDF) resin-based coating to meet AAMA 2605, Voluntary Specification, Performance Requirements and Test Procedures for Superior Performing Organic Coatings on Aluminum Extrusions and Panels (with Coil Coating Appendix). While fence testing sites demonstrate these finishes can last decades with basic maintenance, finish warranties range from one to 20 years. At the end of the life of the finished wall cladding system, the aluminum can be stripped and re-used, or recycled into another product.
Rack marks will be visible on the aluminum. Anodizers have a number of options in racking parts, from welding material and spline bars to a screw down bolt system. It is important to consult with the anodize provider to identify how and where the parts can be racked.
When finishing assembled parts, solution entrapment from the anodize process tanks can be problematic. Material that will carry liquid must be drilled to allow drainage from capture areas. It is recommended manufacturers make provisions for this prior to sending for finishing. Enclosed tubes will also require drain holes for the entrapped liquid to escape.
It is pertinent to specify the aluminum be provided as a single batch by one supplier, fabricated by a single manufacturer, and factory-finished by one applicator to minimize variation, maximize quality, and ensure a fully warrantied, finished product.
Detailing the advantages of a single-source finishing solution, it is important to consider qualified manufacturers can have aluminum sourced and shipped directly to the finisher for inspection and inventory. When a material order is placed by the manufacturer, the finisher pulls the material from the manufacturer's managed inventory, and begins fulfilling to meet the project's specifications. This could include fabricating or stretch forming the aluminum, then anodizing or painting the material, perhaps even matching and blending a custom coating in its in-house laboratory. Once finished, the aluminum components for the wall cladding system can then be packaged and shipped to the manufacturer or to the designated jobsite.
When existing projects with finished aluminum wall cladding and materials are in need of repair, or restoration, the original manufacturer may be the first point of contact. Manufacturers who have long relationships with their finishing partner may be able to review the archives and quickly identify the original factory finish.
The hardness of anodized aluminum means it will rarely need to be repaired due to dents and dings. It is advisable to avoid any conditions that can quickly corrode an anodized finish, such as mortar, cement, and other alkaline materials. If damaged, anodized material cannot be touched-up in-place and would need to be replaced or repaired onsite with a painted finish by a licensed professional. Note, the professional themselves does not require a specific license, but the company needs to be licensed by the paint manufacturer to apply the specially formulated onsite air-dry, high-performance paint. Additionally, some states require special licensing, but that is also related to the company and not the individuals.
For renovation projects and historical properties, color-matched architectural paint coatings can be specified. Specialized finishing service providers also can deploy professional onsite applicators with a water-based, environmentally responsible, PVDF air-dry coating system to repair U.S. Green Building Council's (USGBC's) Leadership in Energy and Environmental Design (LEED)-certified projects.